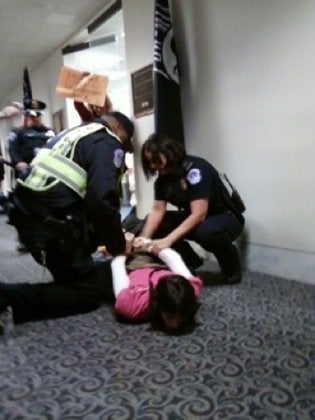 Nine protesters were arrested Thursday in a demonstration at the office of Sen. Joe Lieberman (I-Conn.) to demand that he pledge to stop accepting from the health insurance industry.
Twenty protesters, including four students from the University of Connecticut, marched into the senator's office in the morning and demanded to speak with him. Aides denied their request, offering constituents a closed-door meeting with two legislative aides, which was rejected. Nine protesters then staged a sit-in, saying they would not leave the office until they could have a discussion with the senator in person.
"We're waiting to see if the senator for Aetna is ready to be the senator for the people," explained one protester, Kai, who wouldn't give his last name. Aetna has spent over two million dollars on lobbying in 2009, and has donated $65,000 to Lieberman's campaign committee.
Within 10 minutes of the protesters' arrival, Capitol police were on the scene. They dragged away nine protesters, including two of Lieberman's Connecticut constituents, as Senate staffers watched from the lobby and office hallways.
After the arrests, five of the remaining protesters continued on to Lieberman's committee hearing, which was already underway. They stood in the back of the chamber and quietly held up signs reading "Patients Not Profits" and "Insurance $$$ Makes Me Sick."
"It's ironic Lieberman is chairing this meeting on corporate crimes," said Medea Benjamin, who characterized the practice of accepting campaign donations from health insurance companies as criminal.
The demonstration was organized by the Mobilization for Health Care for All, which has been staging rallies and sit-ins in front of insurance companies since September. So far, 150 people have been arrested, and the organization promises to continue its actions.
The senator's office issued a brief statement: "The demonstrators insisted on disrupting office operations after they rejected repeated offers for meetings with both the Senator's Chief of Staff and Legislative Director to discuss their concerns. After rejecting these meeting offers, refusing to heed warnings from the Capitol Hill police and continuing the disruption, some of the demonstrators were removed by the police."
Popular in the Community