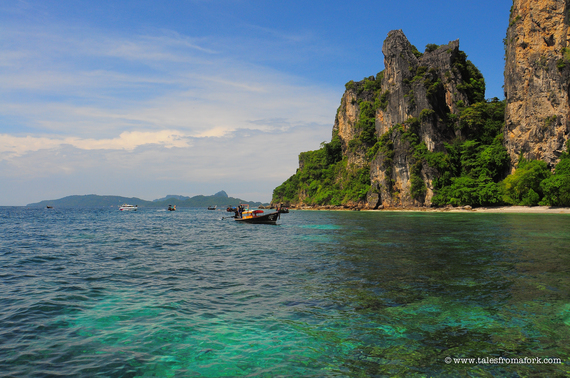 It seems like everyone and their mom has been to Thailand. Because of this, you can pretty much throw a rock out your window, hit someone who's been to Thailand, and ask them what to do there.
But how about getting these travel tips for Thailand that'll make your trip better, cheaper, and overall, smarter?
Check out these nine practical and less common travel tips for Thailand.
1. Buy Thailand's government brand water to save money.
Do not any under circumstance drink the tap water in Thailand. Even when it's boiled, you can get very sick from it, which is quite the circumstance to have in a gorgeous, adventure packed country (speaking from experience).
To save money on bottled water, instead of opting for big brand names like Nestle water, choose the Thai government brand water. You'll know which one it is because it's usually all the way at the bottom of the coolor, has a flimsy matte white plastic with blue graphics on it, and is about 90% less of the big brand water's cost.
2. Pack a pillowcase to avoid unclean hostels.
If you're backpacking around Thailand, you may stay at some budget friendly places at the cost of unclean accommodations.
Pack your own pillowcase to use whenever you encounter questionable sheets on your bed. You'll sleep a little better at night knowing that your face isn't rubbing onto unwashed sheets.
3. Carry hand sanitizer and toilet paper to save money and avoid unclean situations.

Thailand's sanitization levels are much lower than the United States' levels, and this might not be tolerable to many people used to pristinely clean facilities.
Furthermore, a lot of bathrooms don't have soap to wash your hands, and most charge for toilet paper so carry toilet paper or tissues and hand sanitizer on you.
4. Eat at food carts over restaurants to save money and eat better.
One of the most common things you may hear about Thailand is that it's street cart heaven.
Well, it's true! You can literally feel like you died and went to the type of heaven that has whole, filling, and spice-filled foods for only $1 USD.
Opt for street food over restaurants because from experience, the street food can be better than the food at restaurants, and spending less money at a restaurant means you have more money to try out at a variety of food like deep fried crickets--yum!
5. Don't take bike cabs (aka tuk tuks), and take metered cabs to save money and avoid scams.

Tuk tuks are fun to experience, but they generally run a higher fee than cabs.
As for cabs, always ask the taxi drivers to turn their meters on because they have them and can. Some will try to convince you that they can't, then overcharge you.
Lastly, don't take rides from random tuk tuks or cabs because they may overcharge you or bring you somewhere unknown that'll charge overcharge you. Tuk tuks and cabs are generally easy ways to scheme tourists.
On this note, there will be guys outside of big tourist sites saying that the site is closed for the day and that they can bring you to another place for good sales and shopping. Don't buy into this. They are not government officials kindly letting you know to save your energy in walking 10 feet further to see that the site is closed. They are scammers!
6. Pack less to travel lightly.
There are two reasons to pack lightly.
One awesome reason is that clothes in Thailand are really cheap, and you can easily buy $3 shorts or $5 dresses if you find that you didn't pack enough.
The second reason is that getting your laundry sent out is super cheap at about 50 cents a pound, which comes back smelling nice and neatly folded.
7. Carry a raincoat or umbrella to avoid the unpredictable weather.

Depending on the season, you'll never know when it's going to rain so either carry a raincoat or umbrella on you for random downpours.
If carrying an umbrella isn't your thing, then try getting one of those cheap 99 cent raincoats to slip into your pocket as you walk around.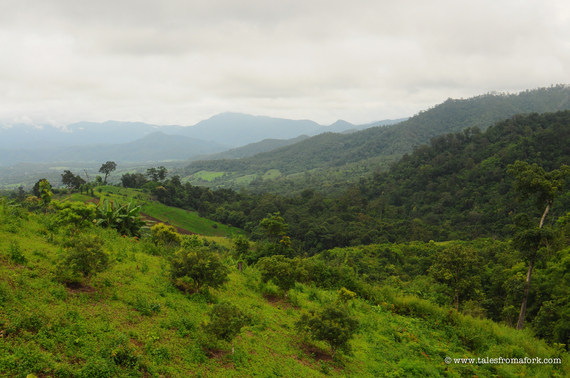 8. Wear sandals with straps at waterfalls or on hikes to make your feet happy.
Although they're not the average person's choice of sandals for fashion, wearing sandals with straps are the best for waterfalls or on hikes because you need a solid grip to walk on the very slippery rocks and paths of the waterfalls.
Boots or sneakers with socks have the grip but soak your feet into wrinkly, old grandma feet whereas regular sandals can have you slipping around 'till you fall on your back.
For example, Merrell sandals with straps do a great job for hiking at waterfalls. However, if you want to save money on shoes you may only wear once, then check out Target or Wal-mart for similar style shoes.
9. Buy leather and silk because why not?
This isn't exactly a practical tip, but you should buy leather and silk in Thailand. The craftsmanship and quality is impeccable, and the prices are very good for what you get.
For those looking for travel tips that you'd find on travel sites such as the currency used or how to get around, check out Fodor's Travel Guide on Thailand.

Otherwise, if you have any other practical and less common tips to share with tourists traveling to Thailand, comment below!
Sarah is the writer and editor of Tales From a Fork, a travel and lifestyle blog focused on foodventures, travel tips, and off the beaten path adventures from around the world. To see how Sarah could make your vacation dreams a bit tastier and more enjoyable, check out her blog, Tales From a Fork or follow her on Facebook, Instagram, or Pinterest.