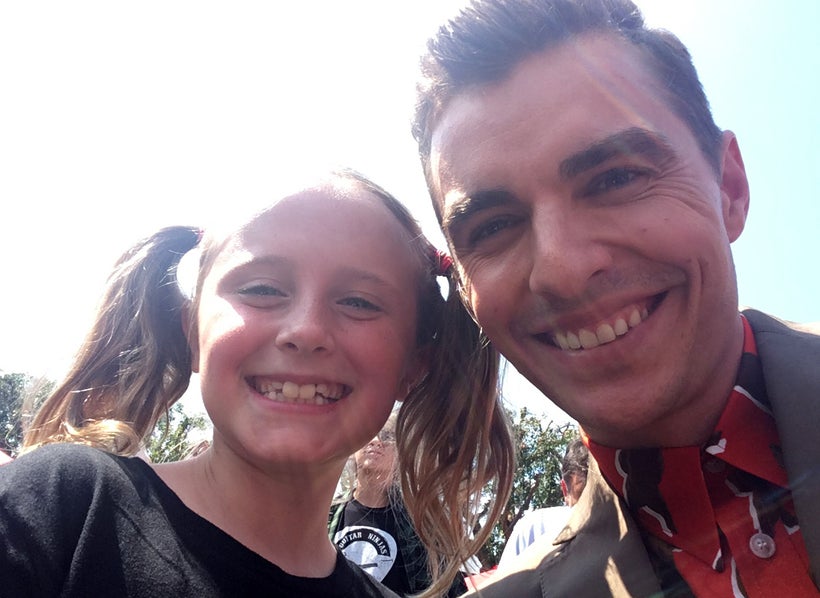 Lindalee Rose is a 9 1/2 year old junior reporter that has interviewed some of the biggest stars in Hollywood like, Tina Fey, Rosario Dawson, Michael Cera, and Melissa McCarthy. This September marks her 5th year of being an on camera YouTube personality. Amazingly, it all got started when Lindalee was only 4 1/2 years old and she did her very first review for an episode of her favorite British sci-fi show Doctor Who. It posted, got an extra push by Steven Moffat the show's Exec Producer and head writer and the rest as they say, is history. Her budding career took off from there with a steady climb of continual weekly Doctor Who reviews, followed by sci-fi convention recaps, red-carpets reports, celebrity interviews, Toy & DVD reviews, a cooking segment for kids and lots more. She's covered many big movie and TV show events over the years including the red carpet premieres of the recent Ghostbusters reboot and Lego Batman. Her celebrity interviews are always very charming and funny. Lindalee Rose has just put her red carpet interviewing skills to work again covering the premiere of the Lego Ninjago movie. She interviewed the cast and crew of the exciting new family film including it's stars, Dave Franco and action legend, Jackie Chan. Check out the fantastic video below of her fun interviews from the Ninjago premiere put together by her talented father, Steve Czarnecki.
Lindalee Rose was kind enough to take some time to answer some questions about her experience covering the Lego Ninjago premiere and her experience as a junior reporter. 
WHAT WAS IT LIKE MEETING THE LEGO NINJAGO CAST?
It was so cool to meet all the actors who played the Ninja's in the movie, I met the voices of Zane, Kai, Jay, Lloyd, and the evil Lord Garmadon.
IS IT STRANGE TO SEE WHAT THE VOICES OF THE CHARACTERS LOOK LIKE?
It's interesting to meet the voice actors because sometimes they look different in person then how they sound or look in a cartoon, but they all are so super nice and seem like they have a lot of fun doing their jobs.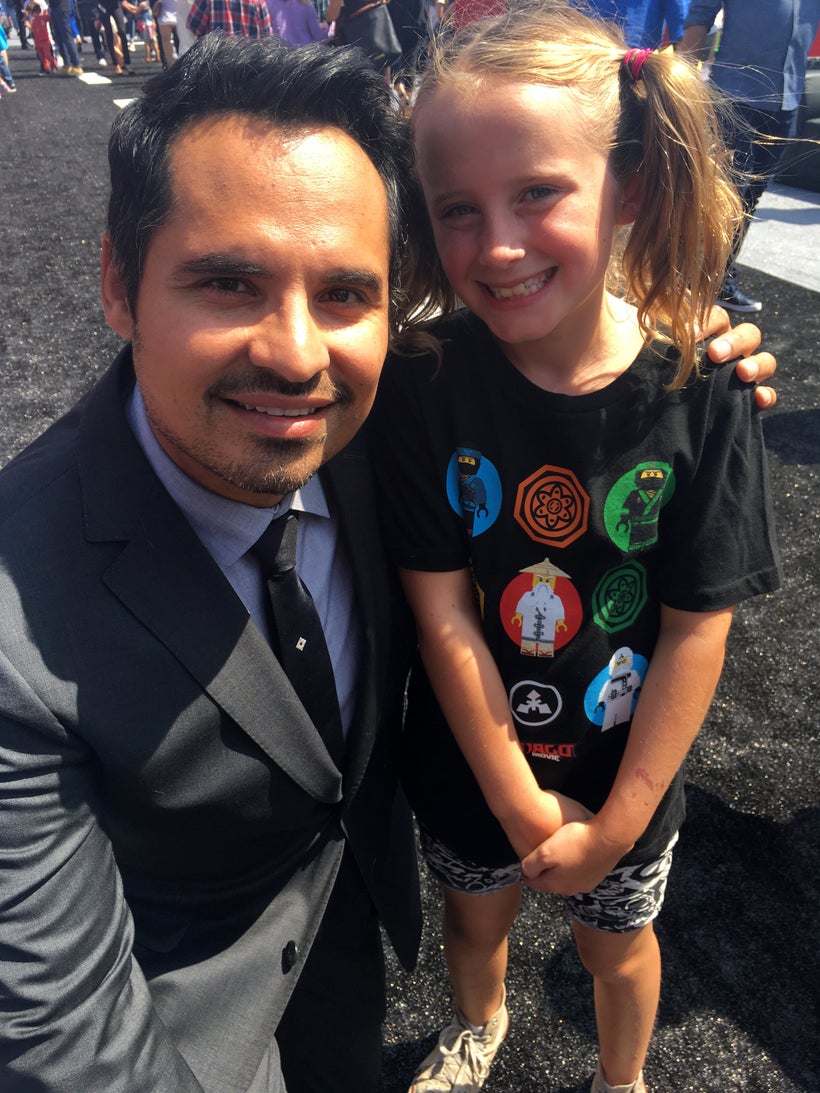 JACKIE CHAN, WHO PLAYS MASTER WU WAS THERE AND YOU WERE ONE OF HANDFUL OF REPORTERS HE SPOKE TO DIRECTLY, WHAT WAS THAT LIKE?
I was so lucky to meet Jackie Chan, who plays Master Wu. He was pretty awesome and he seemed so excited to see me, he ran right up to me and kissed me on the cheek like we were old friends. I thought it would be funny to ask him if he did his own voice stunts, since he does his own stunts in real life. He said he did.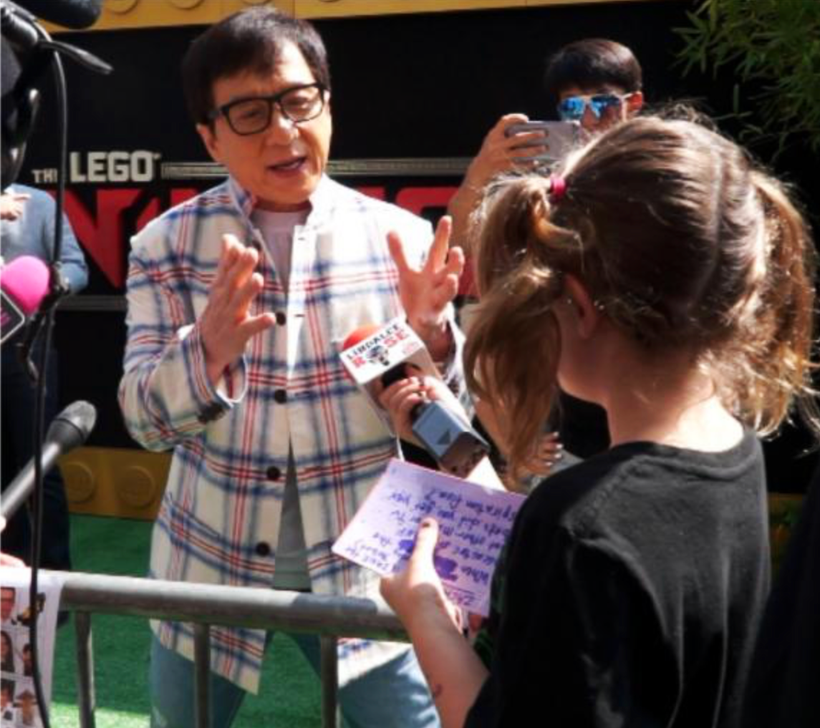 SO BESIDES THE CAST, YOU WERE ABLE TO TALK TO SOME OF THE CREW, LIKE THE WRITERS AND PRODUCERS, TELL ME ABOUT YOUR CONVERSATION WITH DAN LIN
What was great is that I talked to Dan Lin, the producer of the movie, and he not only told me that there was going to be a Lego Movie part 2, but he even told me some of what it was about. I am soooo excited to see that...and hopefully do the red carpet for that movie too.
IT WASN'T OFFICIALLY 'BRING YOUR LITTLE SISTER TO WORK DAY', BUT JULIET TAGGED ALONG WITH YOU FOR THIS PREMIERE, HOW WAS THAT?
This was a special red carpet for me because I got to take my 5 year old little sister Juliet with me and show her what they were like. She has such a great personality and I know she's going to be amazing one day doing these herself. So she got to watch me and stand next to me when I was interviewing the stars from the movie. We even had her practice doing some of my lines and she asked me questions after it was all over, like I was one of the celebrities. That was fun. I'm so proud of her.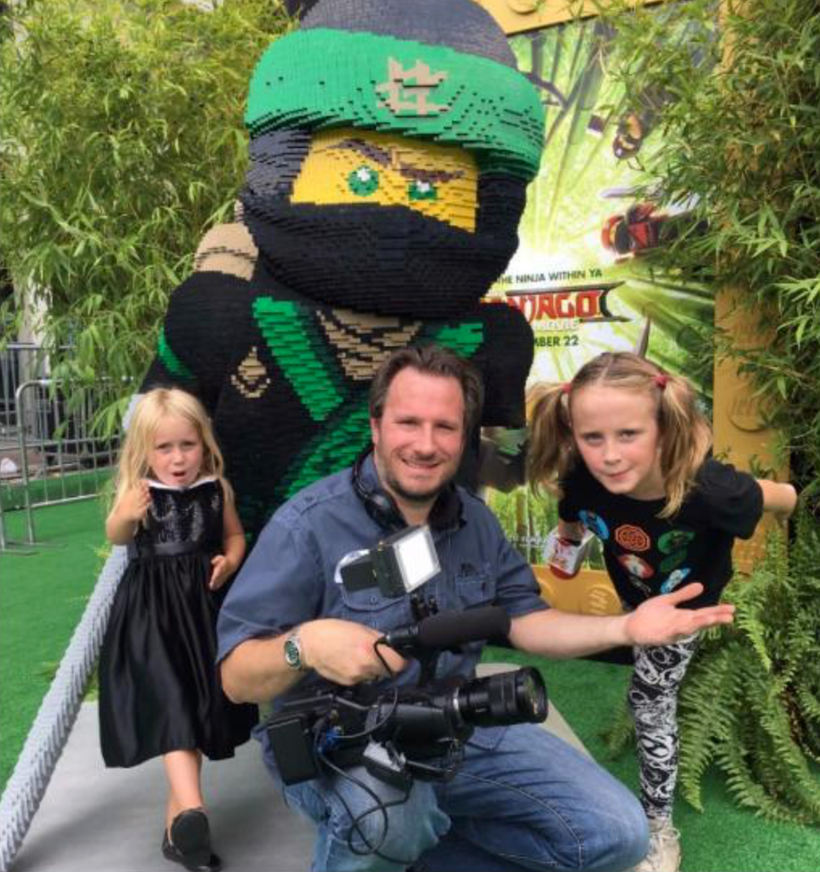 SO YOU HAD A CHOICE AFTER THE CARPET WAS DONE OF GOING IN TO SEE THE MOVIE OR GOING EARLY TO THE AFTER PARTY, LETS TALK ABOUT THE CHOICE YOU MADE...
After the red carpet...actually it was a green carpet...like Lloyd, the Green Ninja, we got to go early to the after party area. THAT was so amazing. We got to build Lego Ninjago toys, eat corn dogs, play in bounce houses, have ice cream and mini cupcakes, see animals from a pet rescue adoption center, and fill up a bag of candy from Dylan's Candy Bar. Yeah, it was a pretty incredible time.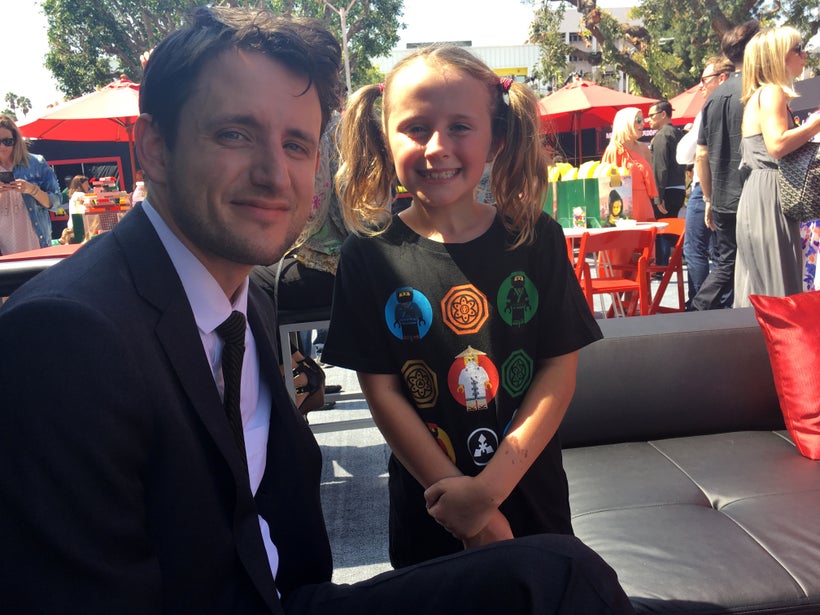 WHAT'S THE BEST PART ABOUT DOING THESE RED CARPET EVENTS?
I love doing the red carpets because you never know who you're going to meet, like, who's going to show up. You go to talk to the actors of the movie, but then other guests come from other movies and TV shows who are just as cool to talk to.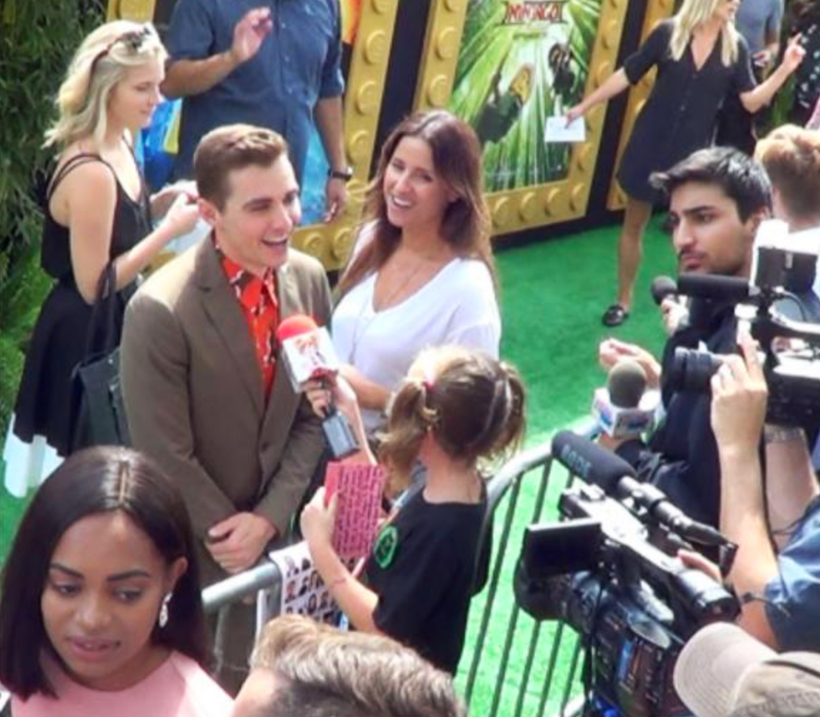 I always love seeing this talented young reporters newest celebrity interviews. You can check out all of her videos on her You Tube channel at https://www.youtube.com/lindaleerose . You can also check out the video from her great coverage of the Lego Batman movie premiere below.
REAL LIFE. REAL NEWS. REAL VOICES.
Help us tell more of the stories that matter from voices that too often remain unheard.
This post was published on the now-closed HuffPost Contributor platform. Contributors control their own work and posted freely to our site. If you need to flag this entry as abusive,
send us an email
.