Does this man look like a ninja? 
According to the Associated Press, he might. "Man wearing ninja mask robs pharmacy with sword," the news organization reported following a robbery Wednesday night at a Walgreens in Placentia, California. But we can't help but notice he just looks like a white dude rocking a leather jacket. 
Lt. Eric Point of the Placencia Police said the thief "just pointed a sword at the clerk and demanded cash." The man took off with $200 from one cash register.
So far, so dramatic. But once we got a still from the surveillance video, we had to question the use of the word "ninja."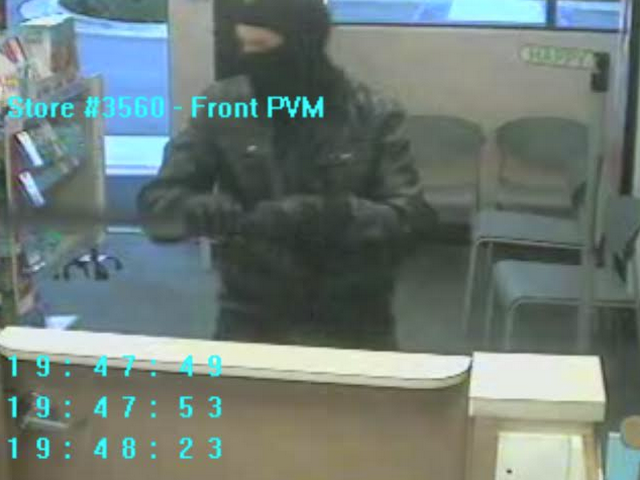 This doesn't look like a ninja in a shinobi shozoko, taking inspiration from the ancient art of ninjutsu. He looks more like a regular thief. 
An employee who answered the phone at the pharmacy but refused to give us his name agreed. "It was more like a ski mask and a machete, not a ninja mask and a sword," said the man, who saw the surveillance video. "Like those things you use in the jungle." 
Point tells us he thinks the man's mask looks more like a balaclava, and that he had a sword rather than a machete. "Whether it was real, I don't know," he said. "A machete would be thicker than that. It certainly could be some kind of martial arts blade."
The theft was unusual for a few reasons. Pharmacy thieves tend to go for narcotics rather than cold, hard cash. And, well, the guy had a sword. "Usually it's a handgun or a knife of some type," Point says. "I don't see too many swords."
Police detectives are still looking for the suspect, who was described as an approximately 29-year-old white man with curly brown hair. Nobody was injured in the attack. 
REAL LIFE. REAL NEWS. REAL VOICES.
Help us tell more of the stories that matter from voices that too often remain unheard.