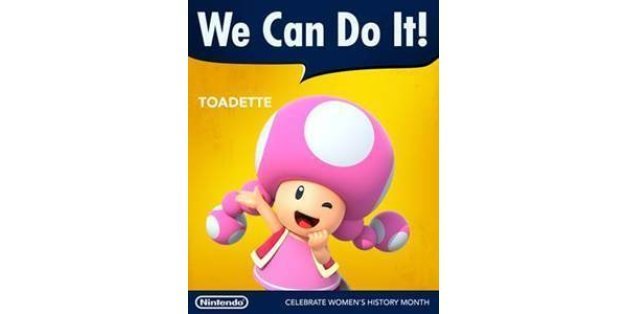 On Tuesday, Nintendo emailed me, saying that it was celebrating Women's History Month. How? By putting some of its female characters on Rosie the Riveter-style posters. It's a cute idea, but there's a big issue: Nintendo doesn't really have many powerful or playable female characters.
"Paving the way for diverse and interesting female protagonists in video games, Nintendo has picked a few of their popular leading ladies that merit this recognition for the month that honors outstanding women," the email reads. Those "diverse and interesting female protagonists" include a pink version of a toadstool and a pink version of a bomb, called Toadette and Bombette.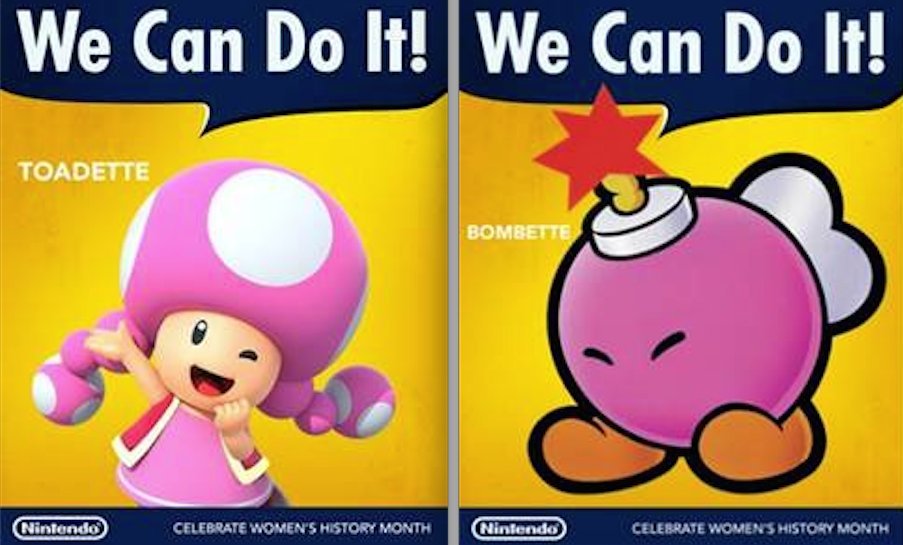 Here's the full list of female characters that Nintendo intends on celebrating for Women's History Month: Tetra from "The Legend of Zelda: The Wind Waker HD," Toadette from the Mario series, Bayonetta from "Bayonetta," Rosalina from the Mario series, Lucina from "Fire Emblem," Samus Aran from "Metroid" and Bombette from "Paper Mario." Have you heard of most of these characters? Didn't think so.
You may notice that one of Nintendo's most famous female characters, Princess Peach, isn't included in this list. That's likely because she generally plays the damsel-in-distress character rather than hero. Princess Peach appears in 15 Mario platform games (the ones where the characters jump from platform to platform) and is kidnapped in 13 of them. She's playable in only two of the Mario platform games, the ones she's not kidnapped in. She is, however, playable in the "Mario Kart" games, thankfully.
It's also worth noting that one of Nintendo's featured characters, Tetra, is kidnapped in the game "The Legend Of Zelda: The Wind Waker" and must be saved by a male character. Once it is revealed that she is actually Princess Zelda, Tetra is forbidden from leaving the castle, since it's "too dangerous." Not cool.
When the female characters aren't being saved, they're just what feminist media critic Anita Sarkeesian calls "Ms. Male Characters," or "female versions of an already established or default male character." See: Bombette and Toadette. These two are just pink versions of the male characters.
The biggest issue with this "Ms. Male Character" trope, as Sarkeesian says, is that it makes the character's gender her most important quality. Male characters can have all sorts of personality traits that are expressed through their character's design, but when a character is female, that becomes her entire identity. Female characters are often just "female," rather than possessing any personality traits.
Even the more famous, developed characters are problematic in their unnecessary sexualization. Check out this clip of Bayonetta:
So what's to be done? You have to admit that there's a problem before you can make a significant change. By sending out this press release about all of the steps Nintendo is making for women, Nintendo is minimizing the fact that women are not only underrepresented in games but are also sexualized and marginalized in games. And, of course, we haven't even scratched the surface of female gamers' harassment in games and online.
There are a few games that showcase powerful women characters -- games like "The Last Of Us" and "Beyond Good And Evil" -- but they are few and far between and, for the most part, aren't made by Nintendo.
The company did not respond when I expressed my concerns about this press release and asked if the company planned to include more female leads in future games.
Related
Popular in the Community