If you're a Nintendo fan with a few thousand bucks to spare, have we got a deal for you!
(Story continues below.)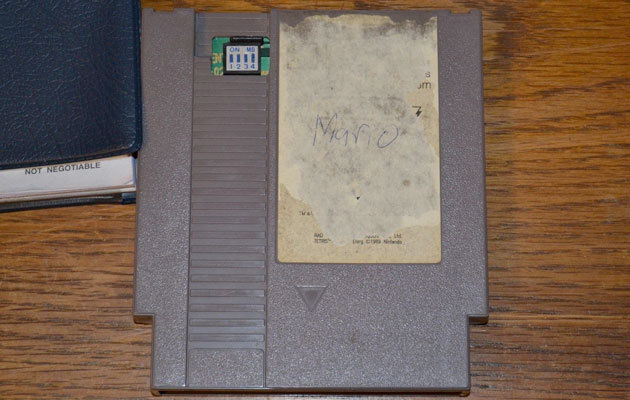 This is one of the rarest video games ever made, and it's going to make one lucky eBayer very happy.
The cartridge is one of 116 copies of three shortened versions of classic Nintendo games -- Super Mario, Tetris, and Rad Racer -- made specifically for the World Championship event in 1990. The event toured 29 cities across the U.S., offering fabulous prizes to players who could score the most points in 6 minutes and 21 seconds in the three NES console games. Never sold to the general public, the gray cartridges (like the one pictured below) was awarded to 90 semi-finalists in the event.
Collectors may be discouraged by the poor condition of the cartridge up for auction on eBay. Unlike the photo above, the cartridge being sold has the word "Mario" scrawled in ballpoint pen across the remainder of the ripped-off label. The seller insists that this was done decades ago by someone who didn't have a "clue what they actually had."
The seller, muresan, is listed as having 100 percent positive feedback and is willing to provide references to attest to the cartridge's legitimacy. The auction ends at 15:55:10 PST on Jan. 25.
Chris Scullion, games editor for CVG, seems to think that the cartridge is still worth the hefty price tag.
"It's like finding the rarest Ferrari but with a scratch -- you'd still buy it," he says in an article for BBC News, "They are considered the holy grail among Nintendo collectors."
And these holy grails come at a premium price. A similar cartridge -- albeit, in much better condition -- sold in 2011 for $11,500, according to Business Insider.
REAL LIFE. REAL NEWS. REAL VOICES.
Help us tell more of the stories that matter from voices that too often remain unheard.