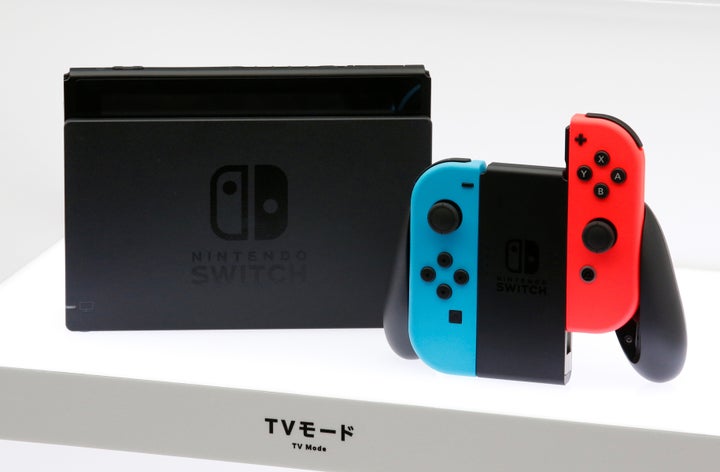 It's a console and a mobile platform at the same time. It looks like it'll be fun to play with friends. The controllers are weird and apparently comfortable to hold this time around. But will the Nintendo Switch's lineup at least beat the unmitigated disaster that was the Wii U's launch?
Nintendo has been making a lot of promises since it announced the Switch in October. At its launch event Thursday night, we got to see more footage of "Legend of Zelda: Breath of the Wild" (which is what we all wanted, come on, admit it) and the hype train chugged just a little faster.
On Friday, reporters got some hands-on time with the Switch and it appears some of Nintendo's design choices are a success. The controller design is reportedly comfortable and intuitive, and the integration of mobile and console gaming is relatively seamless.
But what of the games? Here's what we know:
The Console and Controllers
The Nintendo Switch will be released on March 3rd in North America, Europe, and Japan, and retail for $300.
The console looks like a tablet with a pair of detachable controllers on the side (called "JoyCon"), and can seamlessly switch between a mobile device (with 720p resolution) and a console docked to your TV. That crossover takes only two or three seconds, according to reports.
Switch will include only 32GB of internal storage, though you can use Micro SDXC cards to expand your library, according to Wired. Its battery life is somewhat of a worry as the tablet version of the console will only last between 2.5 and 6 hours, though it can be plugged in.
The JoyCon controllers can be held and used apart like Wii's nunchuks, or attached together as a standalone controller. Each "side" of the controller can be used separately as a standalone controller, too, if you've got a friend over. They're super expensive, though, with a price point at about $80.
The Games
It's difficult for any company to promise much at a console's launch, though gamers remain understandably skeptical after the Wii U console never gave us the breadth of blockbuster titles that we'd come to expect from Nintendo.
That said, the Switch's early lineup looks promising.
"Legend of Zelda: Breath of the Wild" will be available at release, and it looks (and reportedly feels) stunning. Nobody is doubting that this one will be hot.
Next, we've got a new 3D Mario platformer in "Super Mario Odyssey." For the first time, it'll take place in the real world and, apparently, outside of Mushroom Kingdom. Mario's nose wobbles, his hat appears to be conscious, and you can ride some kind of animal other than Yoshi. Everything is turned on its head, and we're super excited.
You'll have to wait for the holiday season at the end of 2017 to experience the thrill, though.
And that's where the hype train starts to slow down. Will you pay $300 to preorder a console that's essentially giving you a new "Zelda" title and promises a lot more later? Folks are on the fence.
Near the end of the event, Nintendo showed a sax-tastic sizzle reel with a ton of third-party games including Minecraft: Story Mode, Rayman Legends: Definitive Edition, Has Been Heroes, Project Sonic 2017, I Am Setsuna, Skylanders Imaginators, Nobunaga's Ambition: Sphere of Influence, Puyopuyo Tetris S, Disgaea 5, Minna de Waiwai! Spelunker, Sangokushi 13 with Power Up Kit, Dragonball Xenoverse 2 (temp title), and Farming Simulator.
Verdict
Are Zelda, Mario and some quirky tech enough to bring Nintendo back into the console war?At this point, we have no idea. The guys over at Kotaku are playing with it in New York City Friday, and they're having some fun, but it's unclear if that's $300 worth of fun.
REAL LIFE. REAL NEWS. REAL VOICES.
Help us tell more of the stories that matter from voices that too often remain unheard.