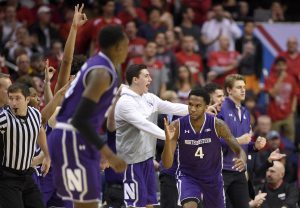 After being locked out of the NCAA tournament for its entire 78-year history, Northwestern University's basketball team has finally made the cut. And while students at the private Evanston, Illinois university are celebrating having reached this landmark, Northwestern has already won another championship: According to our tally of lobbying dollars spent in 2016 — our version of March Madness — Northwestern has been crowned OpenSecrets' K Street Classic winner with its $614,513 total.
The CRP version of bracket-making — a national pastime this time of year — starts with all 68 schools listed in the NCAA tournament. Win-loss records, superstars and coaching chops matter little; instead we research the monies these institutions of higher learning and athletic prowess spent lobbying Congress and the federal agencies.
Last year's K Street Classic champ was Texas A&M, a public university. Northwestern's victory marks just the second time in our event's nine storied years that a non-public school has won. Private Boston University was 2011's winner for having dropped $960,000 on lobbying efforts.
In this year's tourney, Northwestern edged out Wake Forest University (another private school), which spent $520,000 on lobbying last year. The two schools had some overlapping interests; for instance, they both lobbied for the Resident Physician Shortage Reduction Act of 2015, which would "increase the number of residency spots available to students."  The issue appears to have been a matter of interest for the students at Northwestern's Feinberg School of Medicine as well as the Wake Forest School of Medicine.
Notably missing from this year's contest are Texas A&M and the University of Texas, Austin. These two Lone Star teams have dominated the spending picture over the past few years, with the Aggies winning the K Street Classic title last year and in 2010, and the Longhorns winning the championship in 2015 and 2014.  
But it was a down year for the Longhorns and the Aggies on the court, and neither qualified for the NCAA tournament this year. Had they done so, they would have prospered in our playoffs, with A&M spending $510,000 on lobbying last year, while the University of Texas, Austin, laid out $599,000. Both would have made it to our Final Four, though they wouldn't have beaten Northwestern.
Had either of them maintained something close to their 2015 levels of spending, they could have gone home with the highly coveted K Street Classic trophy. A&M spent $810,000 that year, while UT Austin spent $705,000.
Their slumps match a national trend when it comes to college spending on lobbying.  Among the 68 colleges featured in this year's bracket, 43 schools spent $9.7 million in 2016, down from 2015's $13.2 million. 2016 also marks the sixth straight year where lobbying by educational interests overall has gone down.
But lawmakers still see the Big Dance as an occasion for raising some big dollars. In the spirit of the phrase, "pay to play," California Rep. Linda Sanchez (D-CA) is hosting a "March Madness Viewing Party" at the Capitol Hill watering hole, Hawk 'N' Dove today from 12:30 to 2:30. All are welcome, as long as they buy in: Tickets range from $500 to $2,500.
Make sure to check out, for the ninth consecutive year, our K Street Classic Bracket below.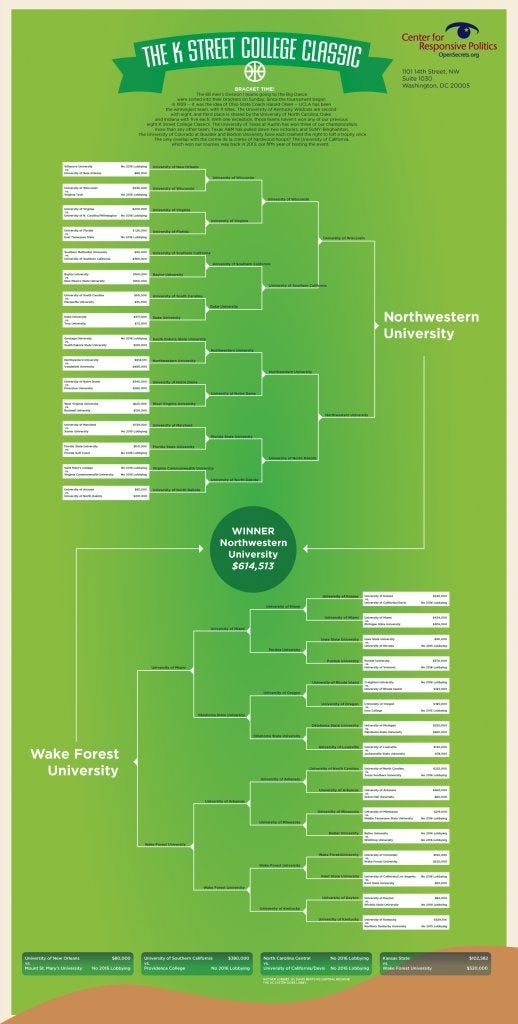 Senior researcher Dan Auble and developer Hector Rivera contributed to this post. 
REAL LIFE. REAL NEWS. REAL VOICES.
Help us tell more of the stories that matter from voices that too often remain unheard.