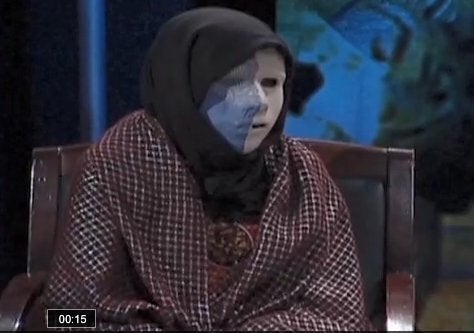 A new Afghan television program is hoping to provide a forum for local women to speak out against widespread abuse, rape and other issues, CNN is reporting.
Simply titled Niqab or "The Mask," the revolutionary new show provides its female subjects with anonymity by covering their faces with a half-blue, half-white mask. The blue side is intended to blend in with the chaudari or burka, while the white half represents innocence.
"I was not very sure about the concept and the format, but I was very sure about the mask, you know," said Sami Mahdi, the show's 28-year-old creator. "I am not sure we can make a difference for the victims...but we can use the life of these individuals as an example to show the people, I am sure we can make some changes in the life of the women. And I am sure we can change in the minds of men in Afghanistan."
One of the program's first guests, Saraya, told audience members of her arranged marriage to a 58-year-old known criminal when she was just 15 years old. "I told my father I didn't want to marry him," she said, before describing brutal accounts of her husband raping multiple women in plain sight. "My father said, 'You are of an age to be married and this is my decision, not yours.'"
Watch clips of Niqab via CNN here:
Related
Popular in the Community