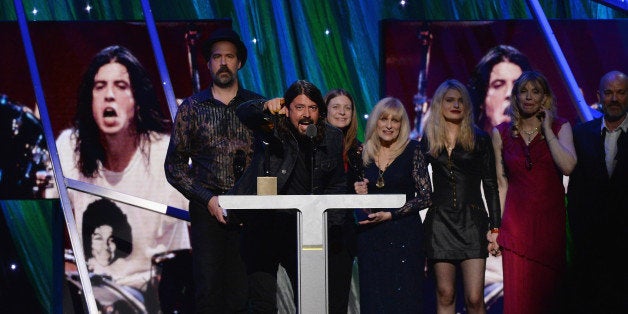 Nirvana was the volatile powder keg that proved the catalyst to among the greatest music revolutions in rock history. The scruffy Seattle trio led by the preternaturally gifted songwriter Kurt Cobain cast "Smells Like Teen Spirit" as the defining volley in a tragically short but indelible explosion of punk-rock confrontation. "They left behind a beautiful body of work and a legacy that continues today," said Hall of Fame Inductee Michael Stipe who inducted Nirvana. An unforgettable performance with Dave Grohl, Krist Novoselic, Pat Smear, Kim Gordon, St. Vincent, Joan Jett and Lorde proved not only a powerful coda to the evening, but also a testament to the group's sphere of influence and the power of the songs. "Nirvana was a band that was so incredibly pivotal to me," said St. Vincent backstage at the 2014 Rock and Roll Hall of Fame Induction Ceremony. "I was 9 years old when "Nevermind" came out. It was my everything ... I wouldn't be playing music if it wasn't for Nirvana -- I just wouldn't, that's a fact." All proving that the right band with the right noise can change the world. The moment was a recipe for a touching acceptance speech.
I was the quiet one in Nirvana. I was the drummer. But most of you don't know that I was the fifth drummer of Nirvana. For whatever reason, I got to be the luckiest person in the world and also be in Nirvana.
We came from this underground punk rock scene where there really were no awards or ceremonies or trophies -- it was all about doing it for real, and the reward was doing it right and doing it for real and sharing the community of music. Helping other musicians and inspiring people. And so I got really lucky to grow up in the Washington D.C. punk rock scene where I was inspired by all these amazing people; too many to list ... all the people that I ever played music with -- Barrett Jones -- I have to thank all of you because I wouldn't be here.
Most of all, I have to thank my family because I was lucky enough to grow up in a musical family and in an environment that encouraged music. Parents that never told me not to listen to fucking Slayer, you know what I mean? I listened to some really, really fucked-up shit! But my parents never told me not to, because I was finding myself. So Mom -- thanks. Thanks for letting me drop out of high school. Kids, stay in school, don't do drugs -- it's a bad idea.
I have to thank my beautiful wife, Jordyn, and my two daughters, who I hope grow up to inspire people just like every musician I grew up inspired by. Because I think that's the deal -- you look up to your heroes and you shouldn't be intimidated by them; you should be inspired by them. Don't look up at the poster on your wall and think, "Fuck, I can never do that." Look at the poster on your wall and think, "Fuck, I'm going to do that!"
I want to thank all of the Nirvana fans. Nirvana fans walk up to me every day and say, "Thank you for the music." And when I hear that, it reminds me of Kurt Cobain.
I want to say thank you to Kurt Cobain, and I wish Kurt was here tonight, OK? And that music means so much to so many people; and there are new generations and new fans coming up, and it's really powerful. Kurt was an intense artist, and he really connected with a lot of people.
With Nirvana, we started in Aberdeen, Washington -- in Washington State -- and we had a infrastructure there to support us. It was a music community. I want to thank Sub Pop Records; the music community in Seattle, in Washington State. I want to thank Buzz Osborne -- thank you, Buzz, for joining us in punk rock music. I want to thank Jack Endino, who recorded our first record. Steve Albini and Butch Vig. Thank you Susan Silver for introducing us to the music industry properly. And thank you all again.
Wendy Cobain (mother of Kurt Cobain):
I'm already crying because he'd be so proud -- he'd say he wasn't -- but he would be. I just miss him so much. He was such an angel. Thank you.
This is my family I'm looking at right now -- all of you. Brother Michael, Brother Krist, Grandma Wendy, Mr. Grohl -- David!
And that's it. I just wish that Kurt was here to feel this and be this. Twenty years ago, the Rock and Roll Hall of Fame maybe wasn't -- but tonight, he would have really appreciated it. He would've appreciated Krist and Dave and Michael and his mother and his sisters being here. And I just want to give this to Frances, our daughter, who's not here because she's ill. That's it -- that's all I have to say. Thank you so very much.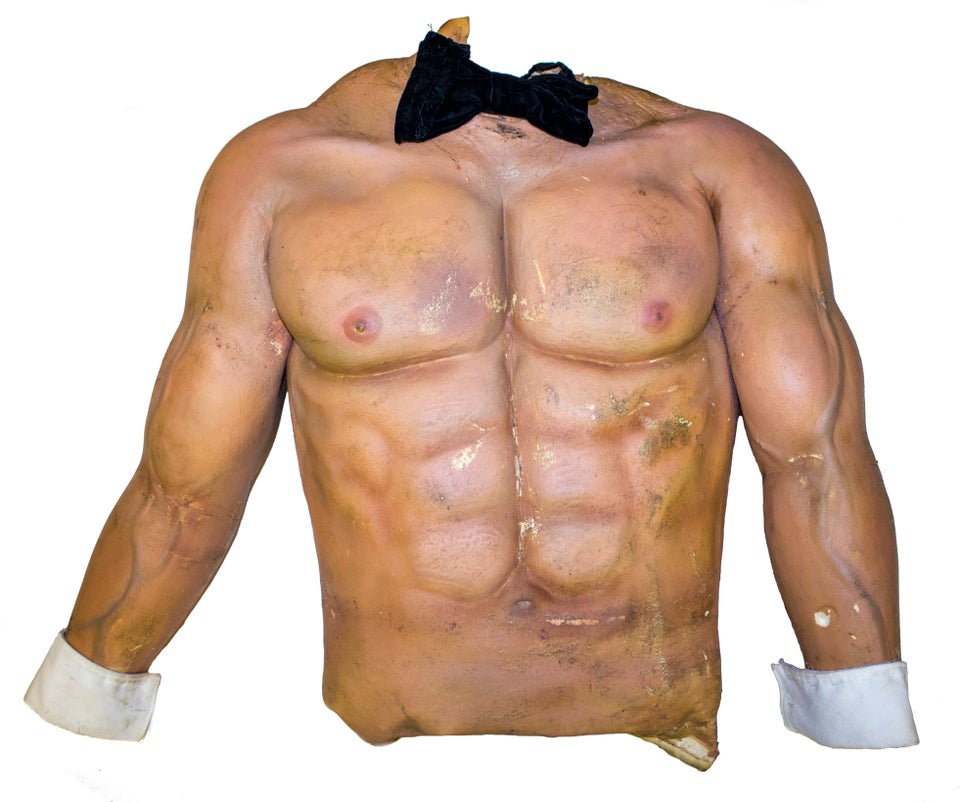 Artifacts From the Rock and Roll Hall of Fame
Popular in the Community