Yesterday we caught a glimpse of transportation's future. And you can bet that today the oil companies are somewhat nervous.
Nissan introduced their close-to-production Leaf electric vehicle at their new headquarters in Yokohama, Japan, just south of Tokyo, It is the fulfillment of company CEO Carlos Ghosn's dream of bypassing the hybrid craze and being the first major car-maker to go directly to EVs. The company says it will go on sale worldwide in late 2010 (Renault-badged EVs should follow soon after).
Ghosn's (pro: Go-on) determination to move directly to EVs, whether successful or not, is unique among the major car-makers, and he must be respected for that. I like a car company which takes chances, especially in this economic climate. It's exactly what Detroit should be doing -- something bold.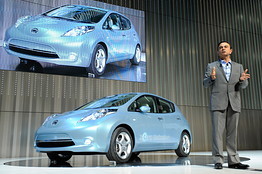 Company CEO Carlos Ghosn introduces the Nissan Leaf EV at the company's new headquarters in Yokohama, Japan
At each of the past few Tokyo Motor Shows, Nissan has displayed their latest lithium-ion (LION) battery technology; the batteries were smaller and lighter at each successive show. This year's show should see the Leaf in production trim.
On my radio show recently, my guest was an original GM EV1 lessor, an NBC-TV network technician who has been an EV enthusiast for years. In line for a Mini E, he found out the day before he was to receive the car that apparently BMW, Mini's maker, took exception with some things he'd said and written on the Web; he didn't get the car, but he's driven several and loves it.
During the interview, I asked him if battery technology was still the biggest obstacle to mass-produced EVs. I was somewhat surprised when he said no; that the latest LION batteries are dropping in price for the car makers and when EVs finally get on the road, prices will naturally drop even more. That's good news, especially for Nissan, given yesterday's announcement.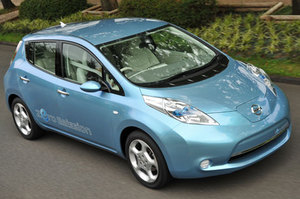 Leaf looking much as it will when it goes into production next year
GM, which has seen costs skyrocket on their planned-for-late-2010 Volt "extended-range hybrid," should also be cheered that battery prices are at least starting on a downward trend.
A five-passenger medium-sized hatchback, Leaf is built on a lithium ion battery-powered chassis with regenerative braking. The battery is placed under the seats and floor, increasing room for passengers and cargo.
No pricing and little performance information was released, but Nissan promises the Leaf will be competitively priced in its segment, which is what we'd expect them to say.
It's estimated the battery pack now costs some $10,000; Nissan may initially sell the car but lease the battery pack to Leaf owners, with new packs installed when necessary at no extra charge (pun intended).
Nissan claims a top speed of more than 80mph and a range of over 100 miles-per-charge. The company says the electric motor will develop 80 kilowatts, which is the equivalent of about 107 horsepower.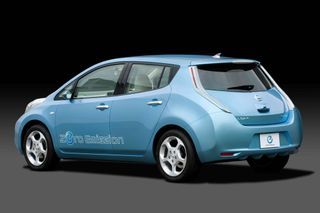 Styling? Aerodynamics control the design, which is why most hybrids look alike; Leaf doesn't do much better in the styling department
The hatchback has no internal combustion engine, and thus no tailpipe, which means no CO2 or other greenhouse gas emissions.
Nissan says Leaf can be fully recharged via a 220-volt household outlet in under eight hours. Leaf can be charged to 80% of its capacity in just less than half an hour if a to-be-available quick charger is used, the company says.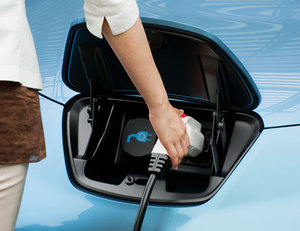 Nissan says Leaf will recharge in under 8 hours from a 220-volt outlet
In spite of the economy, Ghosn says Nissan will immediately begin investing billions building Leaf assembly lines in Japan, Europe (probably at Sunderland in the U.K.) and Smyrna, T.N., Nissan's manufacturing base in the U.S.
Nissan has been working with cities worldwide to help make them ready for Leaf; some have agreed to improve their power grids and electric infrastructures to prepare for what should be the first mass-produced EV since the GM EV1. Nissan says they'll be able to make 200,000 a year by 2012.
Renault/Nissan chief Carlos Ghosn, one of the few foreign CEOs in Japan, has been adamant, some say arrogant, in his desire to move directly to EVs and not invest in and build hybrids. He has a point; the industry is moving in that direction anyway. He's letting others spend billons on hybrids.
In fact, the Nissan Altima gas/electric hybrid uses Toyota-licensed technology; so Nissan sells a hybrid but invested little in its development, something Ghosn demanded.
Ghosn came to Nissan through Renault's investment in the number 2 Japanese car-maker. Nissan was then in serious trouble; rumors that Chrysler was going to buy Nissan were quashed when a top Chrysler executive said, "You might as well put $5 billion on a ship, paint 'Nissan' on the side and sink it."
Ghosn drastically cut the Japan workforce, something of a shock to the nation, and moved the company's American headquarters from Los Angeles to Nashville, to save money and be near their plants in Smyrna, TN, a move still questioned by many in the industry.
After all, Nissan, then Datsun, got its start in the US when "Mr. K," Yutaka Katayama, focused on the southern California lifestyle in developing cars for this market, a move which resulted in the original Z-car. What might Nashville offer in the way of inspiration? We shall see; Nissan Design International, though, is still located in La Jolla, CA, just north of San Diego.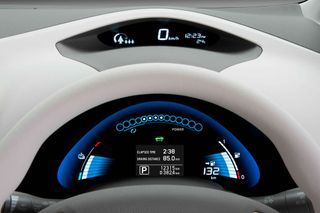 Leaf's dashboard seems as modern as they come
Ghosn, along with Sony CEO Howard Stringer, another "gaijin" (foreigner; literally "barbarian") have become major celebrities in Japan, almost on a par with Japan's major gods of industry, Akio Morita (Sony founder) and Soichiro Honda. This move into EVs will further cement Ghosn's reputation for radical moves within Japan Inc, so conservative it makes General Motors look absolutely wild.
While writing this, I'm also half-watching Carson Daly (is there any other way?) on his NBC show. He's spending his time between music and interview segments showing and promoting the new Tesla EV Roadster. David Letterman famously drives a Tesla every day, but Tesla pricing is still beyond what most can afford.
Popular in the Community