In 1947, Tokyo Electric Cars Company built a lead-acid battery powered EV delivery truck called the Tama which it sold through 1950, when oil supplies and prices stabilized after WWII (cars and trucks were also powered by flammable gasses captured from on-board wood-burning stoves in Europe and Japan in those post-War years). Tokyo Electric Cars eventually became part of Prince Motor, one of the precursor companies of Datsun, now called Nissan.
Now, a new Nissan-produced EV has officially arrived in America.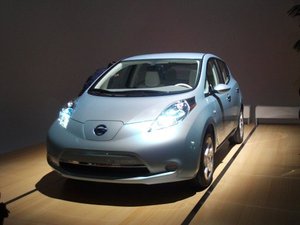 Latest production version of Nissan Leaf on display in Santa Monica, CA, Friday night (All photos by www.SteveParker.com)
Friday, Nissan showed-off their five-passenger Leaf electric car for the first time to the American media and we were there getting the latest info on what will most-likely be the first mass-produced EV family car sold in the US.
A media event Friday morning at Dodger Stadium and an official "Leaf launch party" that night in Santa Monica for about 200 local movers and shakers brought out Nissan/Renault chief Carlos Ghosn, numerous company PR people, various engineering-types and even Vice-President of Nissan Design America, Bruce Campbell, who had a hand in styling the car, inside and out.
Nissan's huge worldwide PR campaign for Leaf, based around a nationwide tour of the car which starts this weekend, is becoming a model of non-news news which, because the car is so unique, almost guarantees media coverage of anything Leaf-related.
For instance, few if any of the Leaf's specifications have changed since first announced months ago. The company still says Leaf will have a 100-mile range, will be recharged through 110-volt home power in eight hours, while using an optional 220-volt "fast charger" can refill the lithium-ion batteries to 80% of their capacity in ½-hour, and that a 10-minute charge at a public charging facility can add about 31 miles to the car's range.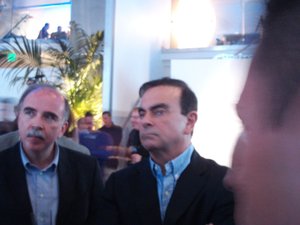 Carlos Ghosn at the Leaf launch
The 300-pounds of battery packs are installed under the Leaf's floor, allowing designers to make the most of interior space. There's an electric motor driving the front wheels using half-shafts. Though Nissan says it's a five-passenger hatchback, the rear seat seems large enough for two full-sized adults at most. The instrument panel is futuristic, as expected, and Nissan says the LED headlights and rear lamps use only ½-half the energy of conventional auto lighting.
No pricing announcement has been officially made, but near-$27,000 sounds about right. Ghosn told me last night that the car will be "priced competitively" with cars of similar size, but in reality there is currently no comparable car sold anywhere in the world.
In a bit of irony, the Leaf launch was held in Bergamot Station in sometimes tragically hip Santa Monica, CA, where a check of streets has the Prius looking like the city's "official car". The locals are very green. The Bergamot facility dates back to 1875 when it was built as a stop for the Pacific Electric Red Line trolley running from Los Angeles to the Santa Monica Pier.

LED lights dominate rear end of Leaf; small wing on top contains solar cells
Bergamot Station is today Southern California's largest art gallery complex and cultural center, located on eight acres. When the trolley stopped running in 1953, a number of businesses, ranging from produce packers to makers of hot water heaters, moved into the buildings that was eventually bought by the City of Santa Monica.
From electric train facility to art gallery and studios, Bergamot was chosen to host the launch of their Leaf, making a probably unintended statement that electric-powered transportation is hoped to be returning to Southern California, at least, in a big way.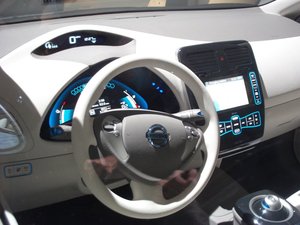 Leaf instrument panel
And it is looking more and more likely that Nissan will initially pursue a fleet-sales strategy to get Leaf in front of the public, having created numerous "partnerships" with entities ranging from the governments of China, Seattle and Portland to electric utilities including San Diego Gas and Electric and Reliant Energy in Texas, some 33 partnerships in all - so far.
Why all the public/private partnerships Nissan is loudly trumpeting? Nissan hopes utility companies will give Leaf buyers a huge break in the cost of installing 110- and 220-volt recharging stations in their garages (or give them free to Leaf buyers) and that governments will mandate EV chargers as part of any new home, office building or parking lot construction.
As far as fleet sales, it's a good strategy. These sales to governments and utilities, even with their lower profits for Nissan than from retail sales, will get the car on the streets of the world in noticeable numbers and in front of the public, guaranteed sales numbers will help pay for Leaf's development and manufacture costs and allow the company to plan for future EVs and also keep the three planned Leaf assembly lines (in Japan, the UK and the US) up-and-humming from the start.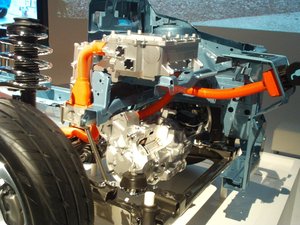 Full-size cutaway Leaf shows business end of the electric drive system
Carlos Ghosn told me at the launch that Leaf sales will begin in Japan at the end of 2010, and by 2012 the car will be produced in England and near Nissan's US headquarters in Smyrna, TN. The company has borrowed $1.6 billion from the US Department of Energy to revamp one of their Tennessee plants to manufacture the Leaf. The first Leafs (Leaves?) sold in the US will be imported from Japan.
One question still up-in-the-air is about the battery packs: what to do with them when they need replacing. Nissan is working with a California company, Better Place, to build battery-swapping facilities in Israel and later in Denmark. EV and hybrid taxis in Tokyo will go through their own swapping tests. Also unanswered is whether Leaf will be sold to buyers but only lease the battery packs, allowing for replacement when the units can no longer hold a charge which won't cost the customer at swap time.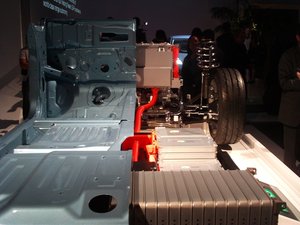 From rear view, flat lithium-ion battery packs can be seen installed under Leaf's floorboard
Ghosn also spoke of a partnership with France, and that Total, the giant French oil company, fully-supports the Leaf. Why? Less gasoline and diesel demand means oil prices could remain stable and that finite oil resources will last longer. Ghosn pointed out that some 80% of electricity in France is nuclear-produced, and said all these points make Leaf "perfect" for France.
Nissan America Design VP Bruce Campbell told me Leaf styling had to be a combination of "acceptable" car styling and the unusual appearance which first adopters of new products enjoy, letting their neighbors know they're doing their bit for the environment; this fact was borne-out by the Toyota Prius. If those were the design targets, Nissan has achieved them. Leaf is a fairly-conventional looking classic hatchback, but different enough to stand-out from the crowd without being too offensive or different.
Using a combination of wind tunnel testing and stylist and engineering input, Campbell said Leaf has practically no wind noise in the cabin, helped by the weird front headlights which actually poke up in part over the front fenders. A rear wing above the hatch, containing solar cells which can help in recharging the car, also cuts interior noise.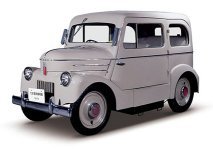 Tokyo Electric Car Company built the lead-acid battery powered Tama delivery vehicle from 1947 through 1950; company was bought by Prince Motors which was precursor company to Nissan
Campbell said a big problem still being worked on by Nissan is that the car makes little noise outside, making it difficult for pedestrians to hear Leaf coming their way.
Campbell told me the warning noise eventually developed will work perhaps up to just 40 miles per hour, the theory being any car traveling above that speed is probably on a pedestrian-less divided highway. He also said the sound won't be phone-like tones, won't be an annoying whistle like a Japanese tour bus backing up and won't be chimes playing "Danny Boy," a familiar sound on the streets of Japan's big cities to help the disabled know when it's safe to cross the street.
Why "Danny Boy"? I'm not terribly sure, but Japan has a love for nostalgic, melancholy songs, "Moon River" being another favorite of Japanese of all ages.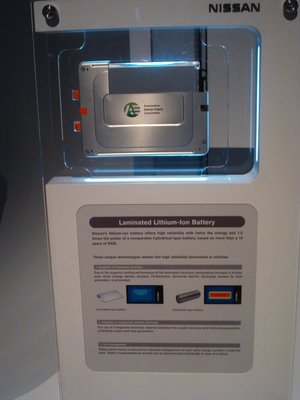 One of Leaf's lithium-ion battery packs
I asked Ghosn if Nissan would be developing gas/electric hybrids; the hybrid Altima sold in the US uses Toyota technology.
He told me that for certain markets hybrids make sense and his company will stay involved.
"But," he said, "there already is a leader in the hybrid market. In just ten years hybrids have become 2% of the market, a remarkably fast rate of growth. But with Leaf, we are now the leader in EVs."
He expects EVs to be 10% of the world auto marketplace by 2020; Renault is expected to release its own version of Leaf within a year or two of Nissan's EV going on-sale. Ghosn said that Nissan will continue to develop EVs and wants to have several EV models available for sale within the next five to ten years.
Calling all HuffPost superfans!
Sign up for membership to become a founding member and help shape HuffPost's next chapter