The newly appointed stationmaster at a rural railway station in Japan has some pretty big shoes to fill. Her predecessor was world-famous, credited with saving the once-struggling station and its railway line from financial collapse.
She also happened to be one cute feline who knew how to perfectly wear a hat: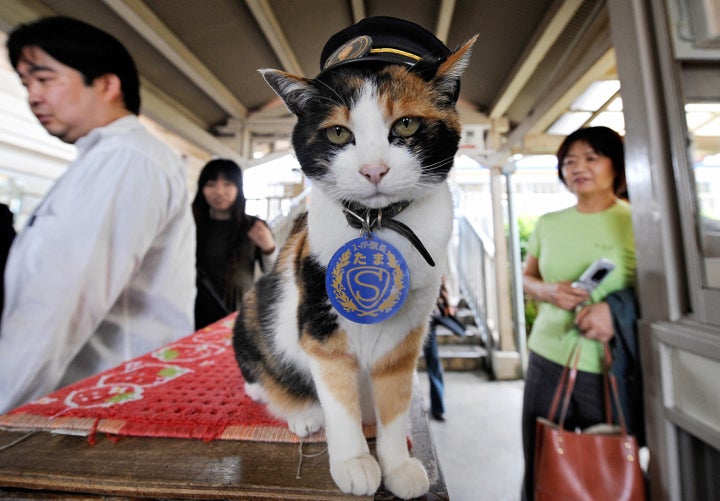 Following the feline stationmaster's death, a traditional 50-day mourning period was observed before a successor was named.
World, may we introduce Kishi's new stationmaster: Nitama (a.k.a Tama II). 
Kojima said in a statement that Nitama -- who like her predecessor is also a calico cat -- had clinched the new role after successfully graduating from the "Training school for Cat Stationmaster."
He added that the main requirements for the role are the ability to "feel comfortable with people at the workplace" and a willingness to wear a hat.
"The reason I appointed Nitama as a successor to Tama is that she had teaching experiences from Tama directly," said Kojima. "Tama was very mild and she seldom got angry, though she was strict with her subordinate Nitama."
Nitama is only 5 years old, but she's already had quite the career. 
The cat is said to have served as stationmaster at Idakiso station, also along the Wakayama Electric Railway line, and as a receptionist with the Okayama Electric Tramway. She also worked as deputy stationmaster at Kishi station when Tama -- who has since been elevated to the status of goddess -- was still running the place.
According to reports, the Wakayama Electric Railway had been close to financial ruin before Tama's appointment as stationmaster in 2007.
Her popularity, however, is said to have helped save the railway line from bankruptcy. 
"Tama-chan really emerged like a savior," Kojima said in a speech delivered at the cat's funeral in June. "It was truly my honor to have been able to work with her."
The railway's president said that he expects similarly great things from Tama's successor. 
Nitama will be an "excellent" stationmaster, he said this month.
PHOTO GALLERY
Animals In The News
Calling all HuffPost superfans!
Sign up for membership to become a founding member and help shape HuffPost's next chapter