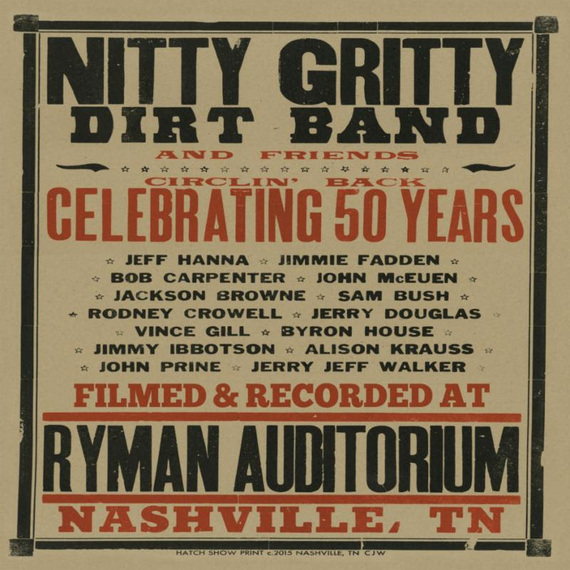 I have always found it a bit ironic that one of the most iconic American bands that plays bluegrass has its roots, not in the verdant hills of Appalachia, but in the shifting sands of sunny Southern California.
Note that I said "band that plays bluegrass" rather than "bluegrass band." Because that's what Nitty Gritty Dirt Band leader and co-founder Jeff Hanna calls them.
When the Nitty Gritty Dirt Band started playing together in 1966, the band's unique brand of music didn't have a name.
In fact, it is the founding members of NGDB that helped create what we call Americana music today by mixing elements of bluegrass, folk, mountain music, country and western and rock and roll into a sound that was uniquely, you guessed it, American.
"Even though, when we started in 1966 -- me, Jimmy and John - we lived by the beach in Southern California, we were drawn to folk music. We called ourselves 'folk puppies.' We weren't into surf music. We were lucky enough to get to see the Dillards, the Greenbriar Boys, even Lester Flatt and Earl Scruggs," he said in a phone interview from Raleigh, North Carolina, where the band was preparing for tonight's first-ever appearance at the International Bluegrass Music Association's annual gathering.
"This was the stuff," Hanna continued. "Geographically we were fortunate that we were in the right place. We couldn't be in Deep Gap (North Carolina) hearing this music on a porch. The music came to us."
Five decades later, those influences and many more can be heard on the band's "Nitty Gritty Dirt Band and Friends - Circlin' Back: Celebrating 50 Years," a CD/DVD recorded live at Nashville's Ryman Auditorium, the mother church of country music. It was released on Sept. 30 on the band's own NGDB Records LLC, distributed by Warner Music Nashville.
From country classics to deep cuts, the tracklist finds Hanna (guitars/vocals) and bandmates Jimmie Fadden (drums/harmonica/vocals), Bob Carpenter (keyboards/accordion/vocals) and John McEuen (banjo/fiddle/guitar/mandolin) swapping harmonies, trading solos, and shining new light on a catalog of vital, vibrant music.
Released in 1972, just six years after the group formed in Southern California, NGBD's "Will the Circle Be Unbroken" paired the young band with legends like Roy Acuff, Doc Watson, Earl Scruggs and Mother Maybelle Carter.
Hanna says now the members of NGDB are bringing up the next generation of musicians.
"Circling back, it's a subtle reference to touch on the 'Circle' projects," Hanna says. "These folks are all our buddies. We have never recorded together with Jackson Browne even though I think we were the first band to record, 'These Days," and he was among the first songwriters we knew."
Other buddies joining them on the new album are John Prine, Sam Bush, Vince Gill, Jerry Jeff Walker, Alison Krauss, Rodney Crowell, Byron House, Jerry Douglas, Rock and Roll Hall of Famer (and early Dirt Band member) Browne and longtime member Jimmy Ibbotson, who left the band about a decade ago.
"Sam, Jerry and Vince, they're our younger brothers and Alison is our kid sister," Hanna says with a laugh. "Someone asked if we just called the most famous people we knew to make this record but we just called our friends together. They've all had a significant contribution to our journey. When we were playing at the Ryman, Sam said, 'It's like the Nitty Gritty E-Street Band.' "
Hanna added that Douglas added, "It was like a 'Circle' record, only quicker.' We were in rehearsal for two days and then went to the Ryman and played. Lights, camera, action. I'm elated, relieved and proud of this record."
In addition to the band's new release, John McEuen also released his solo project on Sept. 30, "Made In Brooklyn," including music from Warren Zevon's "Excitable Boy" (reworked into a bluegrass murder ballad) and featuring John Cowan, Steve Martin and John Carter Cash, among many other artists.
Hanna says it was just a coincidence both albums dropped on the same day and while they were at IBMA. "It's a good record," he says of his bandmate's new release.
While he has performed at IBMA when it was in Nashville, Hanna said the band has never performed as part of the event until tonight.
"In 2002, the Circle Vol. 3 won IBMA's best recorded event," Hanna said. "I am very proud of that."
Want to read more stories like this? Visit https://musicreporterblog.wordpress.com/
REAL LIFE. REAL NEWS. REAL VOICES.
Help us tell more of the stories that matter from voices that too often remain unheard.