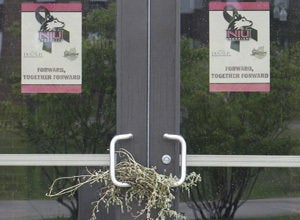 A Northern Illinois University student was shot Friday morning in an apparent "isolated incident" on the DeKalb campus. The shooting comes one week after the two-year anniversary of a shooting rampage at NIU that left five students dead.
The incident happened about 3:30 a.m. outside of the Stevenson North Residence Hall at the university, according to NIU President John Peters. A Stevenson resident was involved in an altercation with an off-campus student when the dorm resident was shot in the leg, Peters said.
Zach R. Isaacman, 22, an NIU student from the northwest suburbs, has been charged with aggravated battery with a firearm, aggravated battery and unlawful use of a weapon, the Chicago Sun-Times reports. We was expected to be transferred to Dekalb County Jail as of Friday night.
A 24-year-old student, who identified himself as Brian Mulder, was shot in the upper leg in the incident and treated at Kishwaukee Community Hospital in DeKalb, the Sun-Times reports. The gunshot wound is not believed to be life-threatening.
An alert about the incident was posted on the NIU website about 4 a.m., and the campus was briefly locked down.
NIU police arrived on the scene moments after the shooting and apprehended the suspect, Peters said.
The campus was reopened shortly after an alert of the incident was posted and students were told to attend classes as usual.
Daniela Bedolla, 22, was studying in her dorm room in Stevenson at about 4 a.m. when she heard a single gunshot.

"It was really loud. ... I just thought it was drunk kids fooling around, or a car backfiring or something," she said. But soon word spread that someone had been shot outside and a resident on her floor shouted that someone should call 911.
"I want to reiterate that NIU is a safe campus," Peters said in a statement. "We are a large community, almost 30,000 students, faculty and staff. Our campus is larger than many towns, cities and villages. Regrettably, incidents such as this can occur anywhere, at any time, as we know all too well. We continue to remain vigilant to provide a safe and secure university community for our students, faculty and staff in which to live and learn. "
On February 14, 2008, former NIU student Steven Kazmierczak opened fire at the university, killing five students and injuring 12 others before taking his own life.
Watch the university's media briefing here.
Calling all HuffPost superfans!
Sign up for membership to become a founding member and help shape HuffPost's next chapter