Anyone can tell you who's already made it, but HuffPost Arts & Culture's On Our Radar series is here to tell you who's about to blow up -- and, in some cases, go pop.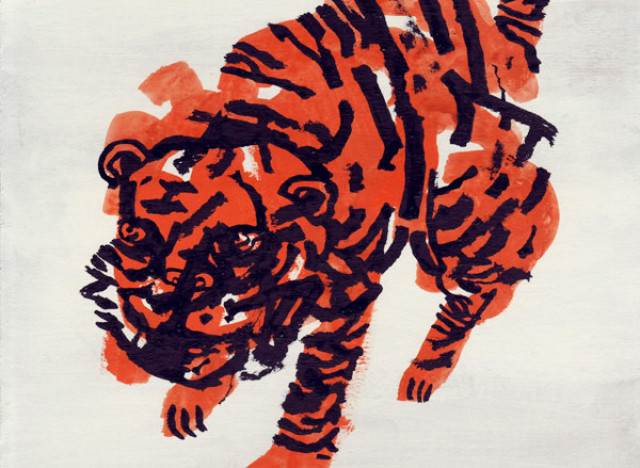 The Bay Area-based illustrator weaves together surrealism, anime, cartoonish nostalgia and comic books in his colorful depictions of men and beasts, making us want to revisit our doodling days. We asked the ambitious illustrator more about his art practice.
HP: What are you obsessed with right now, or what's inspiring you?
HP: Collaboration is something that's been really rewarding and inspiring, recently. I do collaborative drawing/painting with two other Bay Area artists, Michael Olivo and Jesse Balmer, and the energy from those sessions radiates into my personal work. We just took down our first show -- "Golden Source Power Three" -- at Needles & Pens in San Francisco. As far as media goes, I'm a little obsessed with "Noel Fielding's Luxury Comedy," which is one of the freshest and most creative TV shows I've seen.
Interview continues after the slideshow.

PHOTO GALLERY
Niv Bavarsky
HP: Who has influenced your work?
NB: One of my biggest heroes is Utagawa Kuniyoshi, a Japanese woodblock printer who worked in the 1800s. Philip Guston is also a huge influence, especially his later, cartoonish work. When I was a child I was obsessed with Picasso, Magritte, & Dali, and then in my adolescence I got really into anime & comics. My mother made some paintings in my childhood that I still think about a lot.
HP: What are the lowest and highest points in your career so far?
NB: My absolute lowest low was painting a strip-mall sushi window right after I graduated from college. The memory will haunt me for a long time. The first time I got to work for the New York Times seemed like a huge validation; I remember thinking "Hey, this is actually possible." Hopefully the highest highs are still on the horizon.
HP: How would you describe your artistic style and how have you seen it evolve?

NB: I'd call my style a bit anxious, detailed, colorful, strange. Recently I've seen the work get a lot cleaner and more meticulous, which has been somewhat surprising.
HP: What movie, book or artist are you embarrassed about not knowing?
NB: I still haven't read "Infinite Jest," which I've been told is a mistake.
HP: How would your childhood art or music teacher describe you?
NB: They would all say I talk too much, that's certain. I've had many teachers who were very supportive (thank you, Ms. Plaisance), but one teacher told me I'd never get into art school or become a working artist, which was the moment I learned you can't always trust your teachers.
REAL LIFE. REAL NEWS. REAL VOICES.
Help us tell more of the stories that matter from voices that too often remain unheard.