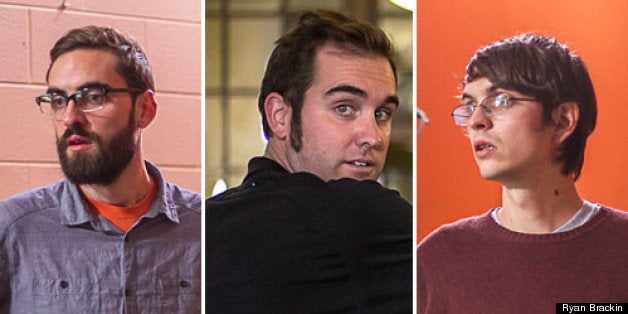 Although "Those Who Can't" is the title of the Nix Brothers' comedy pilot for Amazon Studios, these brothers definitely can. Evan and Adam Nix have been making hilarious videos for years, most notably with The Grawlix comedy trio -- Ben Roy, Adam Cayton-Holland and Andrew Orvedahl -- who also star in and wrote the "Those Who Can't" pilot (which you can stream here, for free, now).
Directors Adam and Evan along with producer Andy Juett are still waiting to hear if their sitcom will be picked up by Amazon as the Internet giant has just begun to announce pickups and passes, but the trio recently chatted with The Huffington Post about the making of their streaming debut and the process of working with Amazon.
How did you guys develop this concept? Who came up with it, how did it come about, and how did it change as you produced/shot it?
Evan Nix: The characters in the pilot are largely based on the characters that Ben, Adam and Andy play in the webseries The Grawlix. Some felt the setting of three stand up comics in Denver was perhaps not accessible enough, so The Grawlix took that feedback wrote the pilot with the setting of a high school, a place where almost everyone has been miserable before!
Andy Juett: Despite Rory Scovel's online/Twitter campaign to the contrary (joking), The Grawlix created the characters and the script in its entirety. Andrew, Adam and Ben wrote it and the script was so crammed with jokes from the start. The original, slightly longer script was really funny from the get go. Those guys killed it scriptwise so it was really just up to us to help execute and help them execute to make them and the show look and flow well. It's really their conception and brain child and we were called in to help bring it to life in the best way possible with the resources available. I'd say the biggest changes as we produced and shot it came in what we ended up having to cut. We had some longer jokes and scenes that ended up rightfully on the editing room floor because while they made us guffaw, Evan and Adam Nix and the guys did a phenomenal job pairing down what was still funny while actually moving the story along. It ended up super snappy but this could have been a 40 minute show.
How does the Amazon process work? Give us a look into the process...
EN: Amazon bought the pilot script from The Grawlix and gave us a budget with which to shoot and edit. We shot in November, and edited for a couple months before turning in the finished product to Amazon. They had opportunities in that time to give us some feedback on the edit, which was beneficial. Our understanding is that Amazon will make their decision based on the audience reaction and reviews, but there are no specific rules. I'm sure they are considering a whole variety of factors. Admittedly, they have been somewhat quiet about their plans. It's kind of dramatic and exciting. Also, it's giving me an ulcer.

AJ: The guys had a bunch of meetings with networks about the script over a period of time (and The Grawlix in general) and ultimately the Amazon "open submission" process ended up being a perfect fit. That deal got done through Josh Lieberman at 3 Arts and some other great folks and Amazon gave us budget to produce it. The show was entirely pitched by The Grawlix and a portion of their management. Amazon loved the script and ended up greenlighting it with a production budget to make the pilot here in Denver.

As far as the process from here, it's a combination of factors I think. Obviously views are king but the reviews from the viewers are hugely key as Roy Price and the people at Amazon have sort of publicly stated in other press that they are really looking for the BEST shows that the PUBLIC wants versus a bunch of out of touch execs making the calls based solely on whether they think the show, cast and concept are sellable. It's a really unique process and counter to the environment of being in the shark tank with hundreds of other pilots during pilot season.
If Amazon picks up, how many episodes have you developed, even roughly? How many shows would you have to come up with?
EN: Much of this will depend on if the show gets picked up, and what they might want us to make. Many half hour comedy sitcoms have seasons that are 12, or even 24 episodes in length. Since Amazon is new to this area of original content, there's really no telling what they might ask for. For all I know, they could ask us to make another pilot. God, I hope not.
AJ: The guys are working diligently on season story arcs and episodes now in anticipation of a season, but they've sort of been doing that for a while. We've individually discussed really funny episodic concepts expanding the universe of Buchanan High School elaborating on the great framework the guys came up with. For instance, if you look carefully, you'll see the BHS mascot, "Terry The Tarrif" who is the mascot for the BHS 'Fightin Tarrifs.' There's all sorts of fun ways to play with the universe that these characters occupy and you get a small flavor of the ineptitude of almost all parties in this universe in the first episode already.
How long did you guys work on the script development?
EN: The Grawlix wrote this script together over 2 short weeks last year. We definitely keep things loose when we are on set, and often improvise, however with the pilot we stuck a little closer to the script than an episode of The Grawlix, for instance.
AN: It really was loaded with improv. We definitely shot the script, but almost every scene has an improvised line or visual gag. Jokes would come out of a situation naturally. There's a part where the Adam, Ben, and Andrew are being reprimanded in the principal's office, and there's only two chairs. Andrew takes a gym-class style squat between the other two. That happened because we only had two chairs, but it was perfect for Andrew's pathetic gym teacher character. The comedians and actors are so good they can almost always find a new joke that wasn't on the page. Plus the Grawlix guys write in a way that leaves space for improv. None of them are too precious about their own jokes. We all just go with what's funniest.
AJ: If you look carefully, our brilliant Art Director Michael King collaborated with all of us to create some of the most ridiculous environmental items that might give the viewer a clue that the school itself is struggling a bit itself. Certainly his conception of the school mascot is hilarious plastered all over the varsity jackets we designed, the posters and other apparel like the gym clothes from Coach Fairbell's class. Michael also made posters that have a rainbow Buchanan "B" that speaks to Principal Quinn's character's desire to make BHS an accepting place, but the word "Succes" on the poster is misspelled intentionally. You'll also see stupid coffee mugs and other trinkets we thought were funny details. Most of the posters from the characters Loren Payton and Ben Shoemaker's class are completely offensive or just stereotypes we had fun creating. In Loren's Spanish classroom there's a poster of Spain that is actually France with intrinsically more Mexican cultural items like sombreros and tacos and other horrific misrepresentations that kids should definitely not learn. Ben's class had this transgender Rosie the Riveter poster Mike made that was just awesome as well as something about the White Black Panthers, a non anglo-centric map of the world and other weird vaguely pro union and anti-establishment messaging. Many of the online viewer reviews of the show pointed out those touches which was super cool.
How long did the shooting take? Was it all shot in Denver and/or Colorado?
EN: We shot 7 days in and around Denver, as well as in both Manual High School and East High School. Denver Public Schools was awesome to work with and the staff at both schools were completely supportive. We shot it with the best team from the Denver-based production company Image Brew. We were like a well-oiled machine, and the whole production was surprisingly smooth, mostly because we had an awesome crew. We actually wrapped early most days. As most people in production will tell you, that never happens.
AJ: The Manual and East folks were so great. The Nix Brothers and I shot T.J. Miller's Denver video at East High the previous year so we already loved that school and Adam Cayton-Holland is actually a graduate of East. The Manual High School folks were super integral to helping cast the kids in particular. We worked with Vernon Jones in the office and Rodney Douglas in the drama department heavy and collaborating with the kids and the school itself was one of the best experiences I've ever had.
Any funny stories from on-set?
EN: Too many to recount. Working with Ben, Adam and Andy, as well as folks like Rory Scovel and Kyle Kinane, it's sometimes funny to the point of distraction. Of course, we make sure not to ever stop it because that's what makes those guys so good at what they do. Plus, if you're not having fun on the set of a comedy TV show, then what on earth are you doing and why? Well, stop it. You're just not right for it. Just kidding. Lighten up.
The scene where Ben gets egged was pretty funny to shoot. We actually shot that scene on my mom's front porch in Englewood, Colo. It was easily below freezing and Ben had to stomp out a flaming bag of very believable dog feces multiple times to get enough takes for editing. That, paired with the mailbox we ripped out of the ground and dragged behind a Camaro, along with Andy Juett as toilet paper wrangler on the roof, drew a nice little audience of neighbors. My mom was also a little surprised, she had given us permission to shoot, but had no idea what was in store for her house.
AJ: I think one of the funniest parts of the set were the kids, who just had some of the best impromptu reaction shots we could have hoped for. In terms of non-stop laughs, I have to say that the takes Rory Scovel and Adam Cayton-Holland did in the library that were cut made us laugh so hard when the Nix's were editing. They talked about the yoga class a lot and each take was different while Rory held a book about inner city thugs getting married. Also, the scene where all those guys are confronting Bryce at his locker were great too. Orvedahl trying not to laugh while making everyone else laugh there was great. Ben Roy had a much, much longer super funny diatribe at the beginning about the horrors of working in "the mines" and calling in Teddy Roosevelt to intervene while waving around a baseball bat. So ridiculous.

We came up with the Yahtzee bit with the drug dealers on the fly. That made us all laugh so instead of playing dice, we grabbed a Yahtzee game from The Buntport Theatre where we were staging our equipment for that shoot. Ben Roy, his son played by the perfect Ben Volloch, and the drug dealers BS'ing in general was so great.

Oh yeah, I also had to personally shave a crew members face in one scene and make him sign a waiver to become a high school kid when one kid was late. I learned that I'm reasonably good at shaving other men's faces.
AN: One of the days of the shoot we had a couple hours of dead time. We had to wait for school to let out to shoot in the main office. We had just bought this camera for the pilot that could shoot slow motion, so we wanted to do some cool stuff that we could potentially use for the intro. We ended up redoing the intro later to make it shorter. Anyway, for Ben Roy's title card we had a shot where he poured out the contents of a schoolroom garbage can onto a student sitting at a desk. Ben was all hunched over him yelling in glorious slow mo, and just dumping out all sorts of paper and water bottles and other refuse. The student was actually one of our crew, named Bucky. He's the same guy we shaved that Andy was referring to. When we went to clean up, we found a used tampon. Bucky was nice enough to pretend to be in high school again, and he got a used tampon possibly in the face to make up for it. Sorry dude. I still don't know why it was in a classroom garbage can.
How did you guys cast it? Was it all local crew/talent?
EN: We had a casting call to which dozens of awesome local actors and non-actors turned out. We had to hold a second one just to get everyone in. Besides the three awesome LA/NY-based comics like Rory, Kyle and Nikki Glaser who flew in, the entire cast and crew was local. Many of the students you see in the scenes are actually drama students at Manual High School, and were attending school while participating in filming.
AJ: The casting process was a combination of invites and an open call on the internet and some of our personal pages. It was sort of like a bigger version of what the Nix's and Grawlix have been doing using great local people in The Grawlix web series. Sitting in the room and watching Ben Roy interact with the child actors that auditioned might have been my favorite part of casting. Some of them had no problem with the raunchy material at all and dove right in like Ben Volloch who got the part and some of the kids sort of looked at their parents to make sure they could swear. I will also say that Erica Brown who came in and got the part from Tamara Sherman, the school's sassy secretary absolutely owned her audition and was in immediately and unanimously.
How much did you shoot that didn't make it into the show?
EN: There were a few scripted scenes that we shot but didn't make it into the final edit, as well as a lot of great outtakes. Of all the footage we shot over the week, there are definitely a few hours that didn't make the 22 min. cut.
AN: The script was 28 pages. The general rule is that a page equals a minute of screen time. Our first draft was definitely close to 30 minutes. It was a rough cut of course, but whole scenes were eventually axed for time.
AJ: As a fan of these actors, writers, script and directors, I would say there could easily have been a 30-45 minute cut of this show. It would have plodded and not been as snappy though so it would have lost it's pacing a bit. I think the 22 minute cut holds up as a commercially viable, quick show that doesn't plod. I would have liked to see some of the existing scenes go longer, but it's just hard when you're in a timed show framework. When Bryce gets busted with drugs and Principal Quinn has the teachers follow him to the office, there's a super long walk down that hallway that was improvised where they are all walking behind the principle and sort of shoving each other into lockers and bickering like idiots. Those types of extended cuts were hilarious bits that just needed to be cut because of time.
How was shooting a half-hour show vs. the normal under 10 minutes Grawlix shows?
EN: Very different. Often on the webseries, my brother and I, plus one other recruit will be the only people on set besides our talent. We will light, film video, record audio, and direct all ourselves. With the pilot we were fortunate enough to have more real resources. We had an amazing crew of about twelve people give or take each day, including an audio guy, hair and makeup, costumes, too many awesome people to name. We were on a rigid schedule, which is rarely the case with our web series. It was a larger production than our weekend warrior work, but still extremely modest compared to Hollywood standards.
AN: We were paying much closer attention to the details. Our motto on the Grawlix is "continuity is for pussies," but that kind of went out the window for the pilot.
AJ: The Nix Bros and The Grawlix guys do such a good job of keeping their sets loose so people are having fun and the most natural stuff comes out. When it's 7-10 minutes the shot lists seemed looser than the procedural elements of shooting the full show for the two Grawlix episodes I was in. The tone was the same. Whether it's the shorter Grawlix episodes or the full "Those Who Can't" shoot, the spirit of the set was the same. The Nix's are terrific at letting the gold come day of shoot while still maintaining adherence to the story and the structure of whatever they're shooting. It's a great environment for the cast and crew alike.
Did the show turn out how you envisioned? Did it change for the better, worse? Why and how?
EN: Yes. Amazon gave us full creative run over the production. Sadly, a lot got cut out for time, but we shot and edited something that was truly what we set out to make.
AN: I think it came out better. There are things that I loved that didn't end up in the final cut, but that's inevitable when you're working on a collective project. Nothing was heart breaking. And you could never anticipate how funny the cast was.
AJ: It turned out even better than I thought. That's not to say we weren't filled with optimism and excitement, because we absolutely were. You especially have that enthusiasm when Kinane, Glaser, Scovel, The Nix Brothers, The Grawlix, Image Brew (Ben Jones and Justin Springer, along with Evan Nix), this script and the crew that was involved. That said, I feel like the pacing of the show and the visceral sense that there's a lot more trouble that these characters can get into in this world at Buchanan High School is maybe the coolest result of all of it. To me the "better" than I thought part comes from the odd universe that was created. There's a familiarness to it that people can relate to, but then you immediately get that the show itself also contains characters that are also outlandish within that familiar environment. I think it works like "The Office" or "Workaholics" in that way.
Any advice for other filmmakers on the shooting of a sitcom? Lessons learned, mistakes made kind of thing...
EN: I'm always terrible with questions like this one. Hopefully one can give me some advice, so far I've only just shot a pilot episode!
AN: Don't obsess over the little details. Make jokes and laugh on set. Let the funny be your guide.
AJ: To me, beyond having scripted material that is second to none, I think casting is a giant percentage of the success of a show like this or a comedy movie for that matter. Most people want to see more buffoonery from Coach Fairbell in that gym because Andrew Orvedahl is so unique in that role. I think without the people who really are legitimately excited to be working together on the project and that understand the material and the twist they can bring, you're kind of hosed. We could have picked some other great actors or comics in a vacuum, but that's not what's required to some degree. What's required is to bring the script and the director's vision to life and that happens when not a single person is going through the motions. In summary, have great people in your project that you want to make stuff with for a long time. I'd much rather do that than have slightly more famous or notorious actors who see it as another paycheck and little more. Choose people that are determined not to be dead inside!
Now that you've shot a TV pilot, do you have plans to develop more television outside of this project? How about a feature?
AN: I don't know if you could call them plans yet, but we have some movie ideas kicking around. Making a feature is something Evan and I have aimed for since day one.
AJ: Different combinations of us have spoken about doing features more than once. That is a lofty goal and one that I know all of the people involved in this would love at some point. It remains to be seen who will be involved in the series and who won't be. It's a business. The Nix Brothers and The Grawlix are piles of talent. They should be hired forever. Oh. And me. I should be hired too.
Related
Before You Go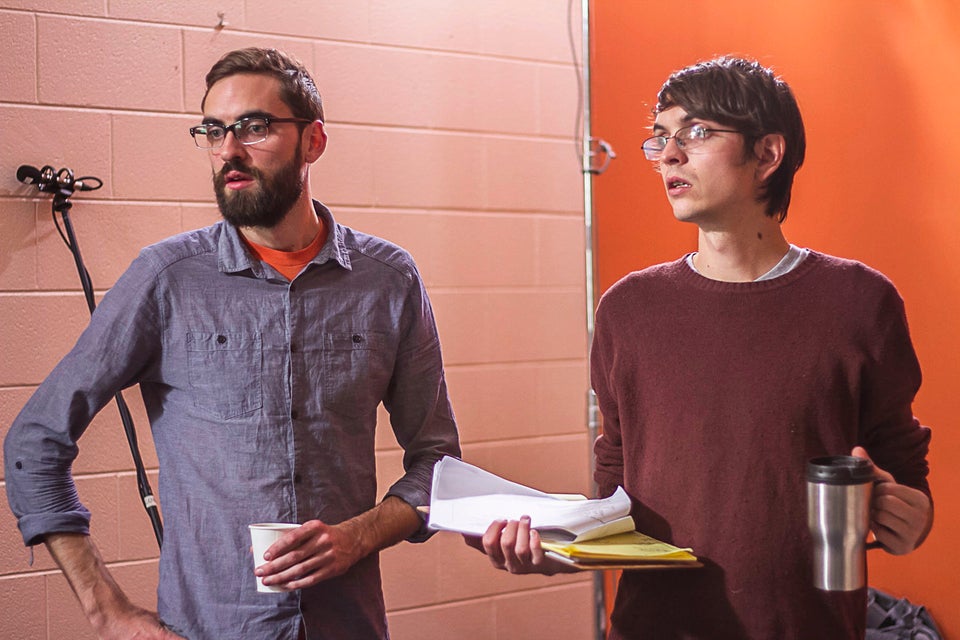 Behind The Scenes On "Those Who Can't"
Popular in the Community