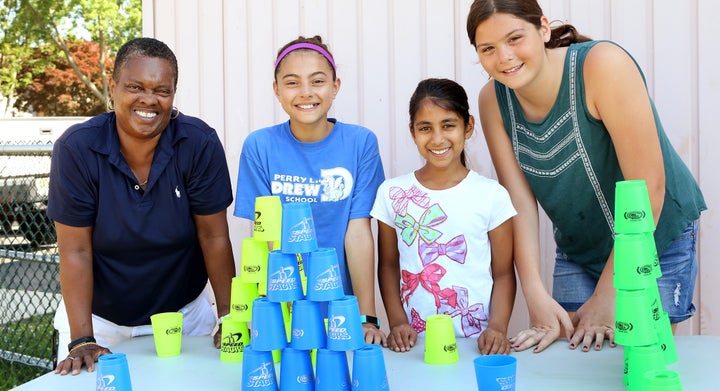 Gabby Chase, a physical education teacher at Perry L. Drew Elementary School, is changing the lives of her students, 12 plastic cups at a time. An avid traveler and adventure-seeker, Chase launched a local craze that turned the deceptively simple act of cup stacking into a competitive sport and form of mentorship.
Committed to a broader goal of creating a culture of gratitude and esteem for all teachers, the nonprofit Honored is celebrating Chase throughout the month, shining a spotlight on Chase's special one-to-one relationship with her student Mallory Bertrand as told by sports journalist Sam Gardner.
"Gabby is an inspiring example of the impact that high-quality teachers can have on their communities," said Cory Booker, the junior United States Senator from New Jersey.
"The powerful connections formed between teachers and students are the foundation of great education, and her recognition from Honored is well-deserved," said Booker.
"For me, the biggest thrill is seeing my students work together and grow more confident in themselves," said Chase.
"Through stacking, the students learn teamwork and leadership skills, eventually mastering the art so well that they can teach their peers," said Chase, a daughter of an American mother and Bajan father.
"While beginners typically get their feet wet with a basic 3-3-3 formation, the standard "cycle," as it's known in the stacking world, involves the use of 12 identical cups," Gardner wrote about Chase who was nominated by 11-year-old student, Mallory Bertrand.
"Stackers start by building and immediately deconstructing towers of three, six and three cups, respectively, then move on to a 6-6 formation, which features two six-cup towers, built side-by-side. For the majority of Ms. Chase's students, the objective is gradual improvement more so than maintaining a lightning-fast pace, and when she sees the camaraderie and teamwork displayed by the third, fourth and fifth graders in her club, Ms. Chase knows she's hitting that goal," stated Gardner, a former senior reporter at FOX Sports.
"She's always really encouraging," said Bertrand, the third child in her family to complete Chase's stacking program.
"She wants you to feel like you can do anything and wants you to feel good about yourself. So it's nice to have a teacher that cares about you that much," Bertrand said.
For past two decades Chase has mentored scores of students through her sport stacking club, first at Walter C. Black Elementary, and for the past 10 years at Drew.
"If I'm in school and it's a really hard day or something's really bothering me, when I have her class I can just let loose and let it all go," Bertrand said.
"And then when I go back to class it's all over with, it's like a new day."
Borne out of curiosity after Chase stumbled upon stacking at a convention in Philadelphia in the late 1990s, and as the sport has grown to include players around the globe, her club has evolved into being included in the P.E. curriculum on Drew's campus.
"Not all kids can be great athletes and not all kids are great at academics, but this is something where anyone can do it," Chase said of sport stacking, which was originated in the early 1980s.
"So I said, 'You know what? I want to offer something for everyone.," said Chase who lived in Barbados until she was a teenager, before finishing high school in New Hampshire and college near Philadelphia.
"I know a lot of my old teachers, if they knew I was a teacher now, they'd be rolling in their graves — 'Oh, no, not her,'" said Chase.
Betrand's mother, Mary Alice, is happy Chase choose a career in education giving her "a lot of credit" for "teaching and actually working with the children."
"She does it for the kids, and if any of these other pressures are building, she doesn't let it show at all," the Betrand matriarch said.
"She still comes in enthusiastic every day. She has touched the heart of every child who has come through this school, and it's refreshing to see."
A national nonprofit, nonpartisan organization, Honored is dedicated to elevating the status of teaching in the United States. Each month, Honored shines a spotlight on a teacher who has changed the life of a single student, presenting the honoree with a $5,000 cash award, a $1,000 gift card to DonorsChoose.org and the telling of their story by world-class, award winning writers.
Related
Popular in the Community