New Kids on the Block member Jonathan Knight is a proud newlywed these days, but he says he felt "a lot of pressure" to hide his true self during the early stages of his music career.
Knight, who is gay, appeared this week on the "Frosted Tips with Lance Bass" podcast, where he shared the painful memory of being told by a manager that his time as a pop singer would be "over" if he addressed his sexuality publicly.
"My manager knew I was gay," Knight recalled to Bass. "He pulled me aside and he was like: 'If anybody finds out, then your career's over, the New Kids' careers [are] over ... Sony's gonna lose money.' It was just so much pressure. Looking back, that was a lot of pressure to put on somebody who is just trying to figure out the world themselves."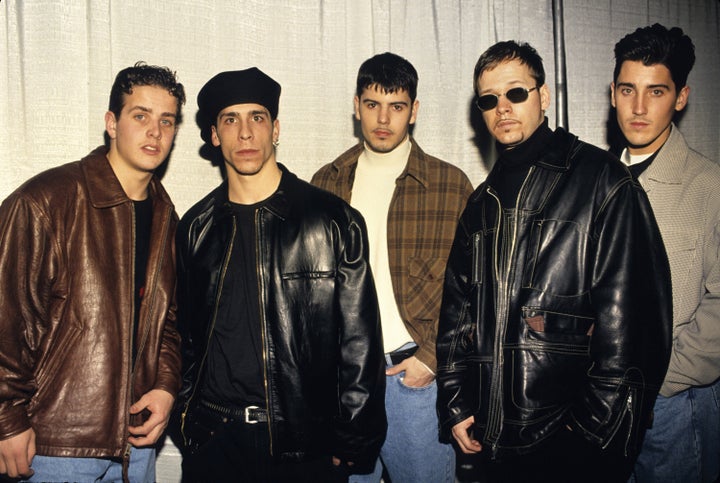 A Boston native, Knight was just 17 when the New Kids on the Block released their self-titled debut album in 1986. The boy band ― which includes Knight's brother Jordan, Joey McIntyre, Donnie Wahlberg and Danny Wood ― became one of MTV's most popular acts two years later, when their second album, "Hangin' Tough," turned out to be a global smash.
The New Kids on the Block disbanded in 1994, but regrouped in 2008, and continue to enjoy major success as a live concert act.
In 2011, it was widely reported that fellow pop singer Tiffany publicly "outed" Knight in an appearance on Bravo's "Watch What Happens Live." In his chat with Bass this week, however, Knight said that it actually took place two years earlier, and that Tiffany wasn't responsible.
"It was a boyfriend of mine that sold pictures of us to the National Enquirer," he explained, referring to a 2009 article that appeared in the supermarket tabloid. At the time, he'd already begun dating his now-husband, Harley Rodriguez.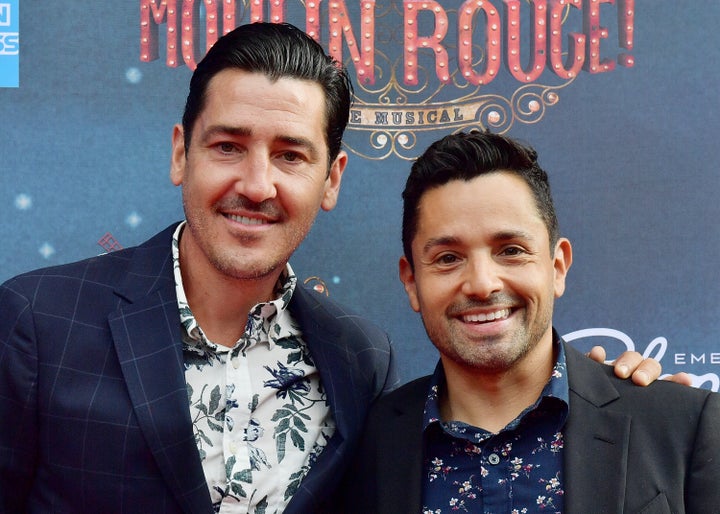 Being forced to make a public statement after that headline was "horrible," Knight said, adding that he admires the low-key ways many other stars have chosen to address their sexuality.
In spite of that early setback, Knight and Rodriguez went on to become joint contestants on the 26th season of "The Amazing Race," which aired in 2015. Knight has since credited his time on the CBS competition series with giving him "a lot of confidence" when it came to living authentically.
"I am at a point in my life where I'm comfortable in my own skin and I can allow myself to be vulnerable," he told Entertainment Tonight in 2015. "And if I'm in a situation where I have a meltdown and it's on TV, I'm fine with that. I'm human."
Knight confirmed in August that he and Rodriguez, a fitness trainer, had gotten married, but said they hadn't formally celebrated their wedding with family and friends due to COVID-19 restrictions.
Bass, a father of twins, and Knight also spoke about shifting attitudes around parenthood in the LGBTQ community. Knight revealed he and Rodriguez had attempted to expand their family via surrogacy.
"We went through the journey for about five years, and it just didn't happen for us," Knight said. "Going through the process, like, 'Today's the day the eggs are being [transferred],' you're so excited, and you're so happy. And then, you know, a week later it's like, 'No, you're you're back to square one.'"
Listen to Jonathan Knight's "Frosted Tips" interview below. His comments on coming out begin around the 23-minute mark.
Popular in the Community