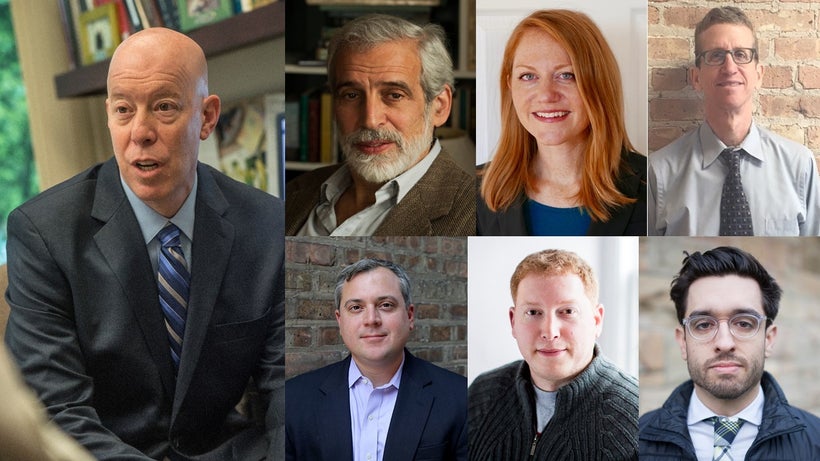 The National Lawyers Guild (NLG) Chicago is honoring the journalists and attorneys responsible for their historic role in successfully combating secrecy in Chicago police misconduct records, resulting in public exposure and reaction against instances of severe police misconduct. This culminated in efforts to get the video showing the police shooting death of Laquan McDonald. As a result, protests and efforts to changes how Chicago Police Department operates and how it handles officer misconduct. For all this work, the Chicago Chapter of the National Lawyers Guild honors these wonderful lawyers and journalists with the Arthur Kinoy People's Law Award.
The award will go to University of Chicago Law School professor Craig Futterman; human rights reporter Jamie Kalven; journalist Brandon Smith; and attorneys Jon Loevy, Samantha Liskow, Ben Elson, and Matt Topic. They, along with several former and current students of Futterman's, will be honored during a dinner at the Irish American Heritage Center at 6:30 p.m. on Friday, November 11.
The Laquan McDonald case made national headlines following the November 2015 release of a dashboard camera video from a Chicago police cruiser. The video shows Chicago police Officer Jason Van Dyke shooting 17-year-old McDonald 16 times in 13 seconds when it appeared that McDonald was unarmed and did not pose an immediate threat.
The video's release has been attributed to a chain reaction of events, including Van Dyke being charged with first-degree murder, the termination of Chicago Police Supt. Garry McCarthy, Cook County State's Attorney Anita Alvarez losing her office in the last Democratic Primary Election, several nonviolent protests in Chicago and across the country, a mayoral task force suggesting profound changes that need to be made in the Chicago Police Department and in the entity that investigates police misconduct.
If not for the efforts of the honorees, who utilized the Freedom of Information Act (FOIA) to uncover the video along with other records connected to the shooting, Van Dyke would likely remain uncharged and the public would be unaware of the details behind the shooting. Their work has further exposed police corruption on a national scale and ensured that those in power are held accountable for their actions and inactions.
NLG Chicago has conferred the Arthur Kinoy People's Law Award annually since 2003 to honor members of the community who affect social change. The award is named after the late Arthur Kinoy, an NLG member who litigated numerous groundbreaking civil rights cases during the 1950s and 1960s and co-founded the New York-based Center for Constitutional Rights.
Friends of the organization will also join in honoring Sarah Gelsomino; the 2016 recipient of the NextGen award. Gelsomino's practice concentrates on civil rights cases including police and government misconduct. Clients include individuals who have been killed, brutalized, sexually assaulted, illegally searched, or arrested by law enforcement. Along with others, Sarah has been key to transforming the NLG Chicago Chapter into the activist resource it has become.
Established in 2012, the NextGen Award honors the essential contribution of the next generation of Chicago activists, people's lawyers, legal workers, and law students. These are persons who have engaged in inspiring and relevant organizing or legal work promoting equality and social justice, "to the end that human rights shall be regarded as more sacred than property interests."
The National Lawyers Guild is America's only bar organization that admits non-attorneys on equal footing with attorneys and law professors. Alongside lawyers, members of NLG's Chicago branch include paralegals, investigators, law students and jailhouse lawyers working through the law for fundamental social change.
REAL LIFE. REAL NEWS. REAL VOICES.
Help us tell more of the stories that matter from voices that too often remain unheard.
This post was published on the now-closed HuffPost Contributor platform. Contributors control their own work and posted freely to our site. If you need to flag this entry as abusive,
send us an email
.