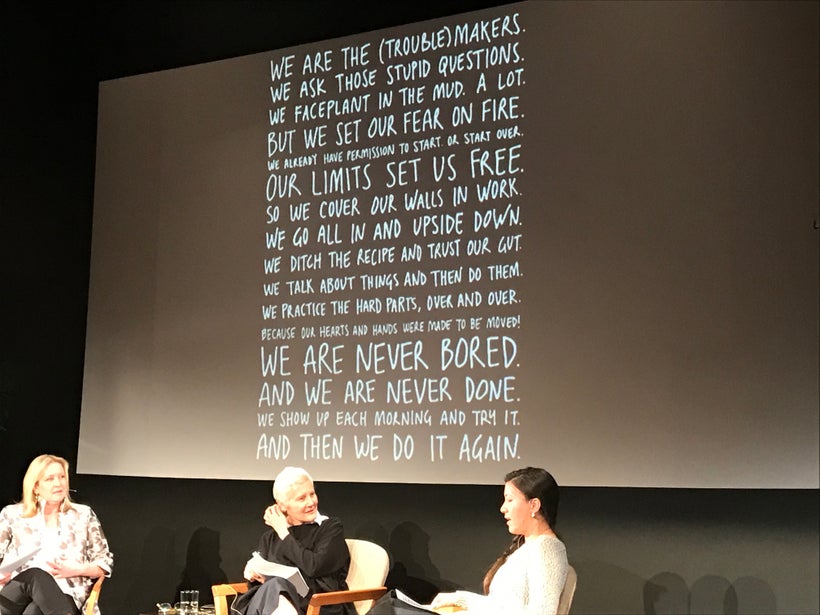 Internationally renown visual artist Ann Hamilton and Emily Pilloton, founder of the nonprofit design agency Project H, were featured at the National Museum of Women in the Arts talk series — Fresh Talk. Presentations centered on the evenings theme, How Can Makers Change The World?, were followed by a moderated discussion and cocktail hour.
While Hamilton artfully wove a narrative about coming into her artistry, learning to work with different scales, why art is transformative and how audiences relate — Pilloton chronicled her fascinating journey to becoming an educator, how her immigrant grandmothers inspired her and how making things gives children a sense of agency.
Hamilton provided context to her large-scale multi-media art installation, the event of a thread, commissioned by Park Avenue Armory. After tackling the challenge of how to utilize the space to entice a crowd of people to voluntarily be "alone together", Hamilton came away with an appreciation for the way the public interacted with her work and how much pleasure adults gained from the simple act of swinging.
"The world stays alive as long as a woman is still weaving." — Ann Hamilton
Hamilton's art bridges the connection between text and textiles. She shared analogies about what can be learned from the act of sewing and weaving, aptly describing her process and forms of making. Hamilton also reflected on her early influences, including German textile artist Anni Albers and her knitting grandmother.
Pilloton shared the inspiring story behind the making of the film, If You Build It, currently available on Netflix. The documentary portrays her decision to become an educator at a failing high school in Bertie County, a rural area of North Carolina, and showcases the projects she helped her students design and build.
"Feeling those things that makes you feel invincible happens through making." — Emily Pilloton
Pilloton's early influences include her immigrant grandmothers who shared their unique talents and encouraged her pursue her interests as a young girl. She went on to study architecture and design and founded Project H in 2008. One of her primary goals is to give girls the space to create, which inspired her design and building program for girls ages 9–13.
FRESH TALK is a monthly talk series hosted by the National Museum of Women in the Arts. Each event culminates with dinner or a cocktail hour. For the complete schedule, click here.
This article originally appeared on ArtFemspiration. For more art features, follow @ArtFemspiration on Twitter.
Shanon Lee is a Survivor Activist & Storyteller with features on HuffPost Live, NY Mag, WSJ, the REELZ Channel and TV One. Her work appears in The Washington Post, Cosmopolitan, Good Housekeeping, ELLE, Marie Claire, Woman's Day and Redbook. For more information visit MyLove4Writing.com.
REAL LIFE. REAL NEWS. REAL VOICES.
Help us tell more of the stories that matter from voices that too often remain unheard.
This post was published on the now-closed HuffPost Contributor platform. Contributors control their own work and posted freely to our site. If you need to flag this entry as abusive,
send us an email
.