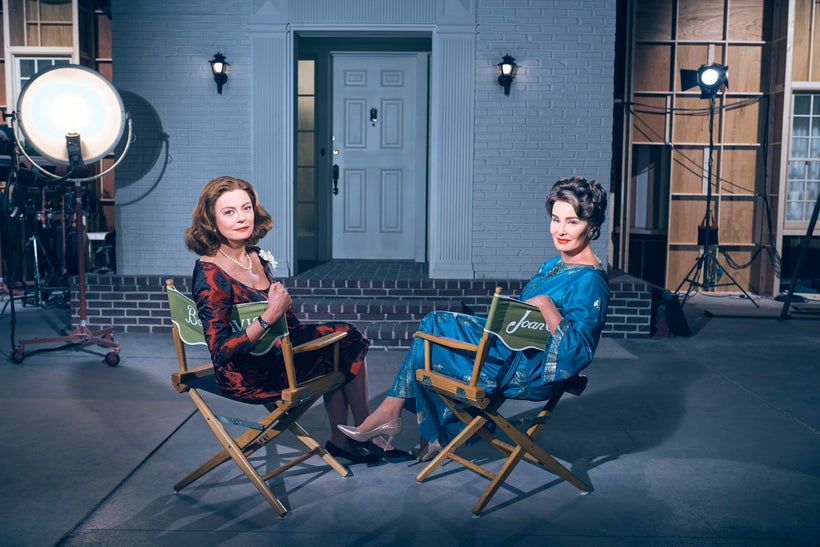 The greatness that comes out of the first installment FX's new anthology series really can't even be described as it transcends film, television or really any other medium- it is simply an event. Like American Crime Story; The People Vs. O.J. Simpson, Ryan Murphy is truly at his best here as he once again recreates history in a pertinent and relevant way that makes for not only fascinating entertainment, but an educational learning experience. But, before any viewer might have their reservations that Murphy's new series could spoon-feed it's lesson a little too much, similarly to The People Vs. O.J. Simpson, Feud: Bette And Joan is absolutely never syrupy or preachy- Jessica Lange's acting would never allow it, and when she is paired with the writer/director/producer, he truly shines bright. Instead, Feud just serves up the greatest acting in the business from anyone who comes on screen while always offering the best drama and comedy that television has to offer- as well as the best sets, costumes, and overall production quality. In short; the series is a masterpiece- and it gives audiences one of the most phenomenal lessons in film history ever captured on screen.
But, that's not the real lesson to be learned here. Feud: Bette And Joan is about much more than perfectly recapturing an era of Hollywood, or even magnificently displaying the lives of two of the greatest film stars. While all of that is done superbly, the real takeaway here involves the role of women in the industry and the extra struggles they face. From the way women are put out to pasture after a certain age, to how they are looked at based on appearance, to even the extra difficulties behind the camera women have had trying to climb further up the ladder in positions of power- it's all here, and it's all done flawlessly. And the FX series is not just a fantastic history lesson on all these issues- it also provides a wake-up call to raise visibility to the fact that many of these struggles are still very much alive and well today.
While there have been incredible women along the way to make great waves off-screen such as Amy Heckerling and Kathryn Bigelow, proving that women are just as capable at writing, directing, and producing, that hardship women face to gain respect is still very much alive- and only very recently has there been an extremely strong wind putting a stop to this as The Women Behind The Lens Movement has really kicked in. Many of Hollywood's most talented and beautiful actresses, such as Shiri Appleby, Erin and Sara Foster, and Regina King, are heading behind the camera themselves to try and create quality stories for women, commanding attention as they show that the woman's perspective is just as important as the man's. And Feud definitely did not disappoint in participating in that movement. Apart from what it does for that movement on screen, the series also has hired talented women directors behind the screen as well; Gwyneth Horder-Payton and Liza Johnson.
And, of course, the series also serves as a bit of a repeat of history, and no, not in the fact that there are tensions on set. Instead, like Whatever Happened To Baby Jane? there are so many quality roles for women created within it- particularly women who are past the ingénue stage, and every outstanding actress on board; Alison Wright, Judy Davis, Kiernan Shipka, Catherine Zeta-Jones, Kathy Bates, and Sarah Paulson, constantly knock it out of the park. But, of course, the most jaw-dropping performances on Feud are without a doubt Jessica Lange and Susan Sarandon.
Both actresses have absolutely never been better- and that is saying a lot for two women are truly the most incomparable talents in the business, regardless of gender. These are Academy Award winners who are worth every bit their hype. What Jessica Lange has done in Grey Gardens alone puts everyone in Hollywood to shame, not to mention her incredible work on Horace And Pete, as well as in Sweet Dreams, and The Postman Always Rings Twice. As for Sarandon, the brilliant artist has remained literally without fault for well over forty credits including; Dead Man Walking, Stepmom, Anywhere But Here, The Rocky Horror Picture Show, and The Witches Of Eastwick- just to name a few. In a nutshell; they are not only two of the greatest talents that ever lived, but they are still the most desirable actresses for any director to have - and that says so much for the message of Feud. The fact that such extraordinarily talented women who are not in their twenties are the most ideal stars to lead a project speaks volumes for what growth the film industry has had when it comes to women.
And while those aspects of repeating history are all well and good, the scariest rerun that Feud: Bette And Joan might face is the fact that it places these two unbelievable women as the leads- and that, as women, they will undoubtedly and unfortunately be compared. The sad truth is that when two men lead a project, they are celebrated for how they complement one another; like Steve McQueen and Paul Newman in The Towering Inferno, Burt Reynolds and Clint Eastwood in Heat- audiences never seek to tear men to shreds or compare them. However, whether it's appearance, talent, or star power- women always fight being compared and pit against one another. Feud will certainly- and rightfully- be nominated for every award at The Emmy's, and unlike Bette Davis and Joan Crawford, both Sarandon and Lange will most definitely get their due nominations for best actress. However, the idea that only one of these exceptional stars could take home the trophy seems not only unfair- it also seems as though we've learned nothing. If The Academy Awards can make a mistake like re-announcing the best picture winner on stage, then Hollywood should certainly band together and make sure that just this once a powerful statement is made and both actresses are equally celebrated since they both deserve it.
Imagine; two leading ladies over fifty who are both applauded equally for their work and praised as the most valuable stars in Hollywood? Now that is a lesson learned.
Feud: Bette And Joan premieres tonight, Sunday, March 5th, at 10/9c on FX.
REAL LIFE. REAL NEWS. REAL VOICES.
Help us tell more of the stories that matter from voices that too often remain unheard.
This post was published on the now-closed HuffPost Contributor platform. Contributors control their own work and posted freely to our site. If you need to flag this entry as abusive,
send us an email
.