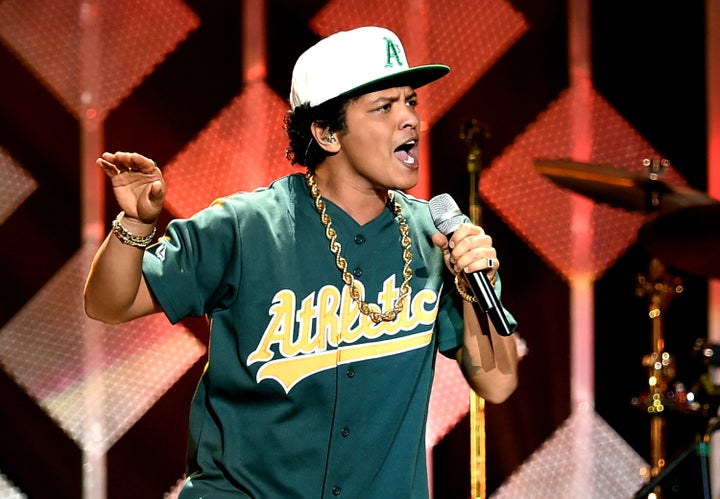 "I'd love to clear that up in Latina magazine," he said in the interview. "I never once said I changed my last name to hide the fact that I'm Puerto Rican. Why would I fucking say that? Who are you fooling? And why would anyone say that? That's so insulting to me, to my family. That's ridiculous. My last name is Hernandez. My father's name is Pedrito Hernandez, and he's a Puerto Rican pimp. There's no denying that."
It was his father, a Jewish Puerto Rican percussionist from Brooklyn, who gave the singer his current artistic name.
"My dad nicknamed me Bruno since I was 2 years old," he told Latina magazine. "The real story is: I was going to go by 'Bruno,' one name. Mars just kind of came joking around because that sounds bigger than life. That was it, simple as that. I see people that don't know what I am, and it's so weird that it gets them upset. It's an oxymoron—the music business; like the art business. You're making a business out of these songs that I'm writing. And how are you going to tell me that this song that I'm writing is only going to be catered to Puerto Ricans or to white people or only Asian people. How are you going to tell me that? My music is for anybody who wants to listen to it."
While Mars may not be singing in Spanish now, he did credit his Boricua dad for his rhythm and his singular style.
"My whole sense of rhythm is because my dad was teaching me bongos as a kid," he told Latina. "He's an old-school working musician, so that's where the pinky rings come from, the patent-leather shoes, the suits, and the pompadour. It all stems from watching my father."
Read Bruno Mars' full cover story in Latina magazine here.
Popular in the Community