America's only dine-in Sci-Fi DRIVE-IN theater is '50s kitsch and millennial comfort at its finest. Located at Walt Disney World's Hollywood Studios, it's quirky, retro and will entertain your socks off. Instead of driving your own car though you'll settle into your own classic car-shaped booth. From aliens, to mummies, to robot uprisings, there's thrills, chills and shocks, guaranteed while you relax under the stars.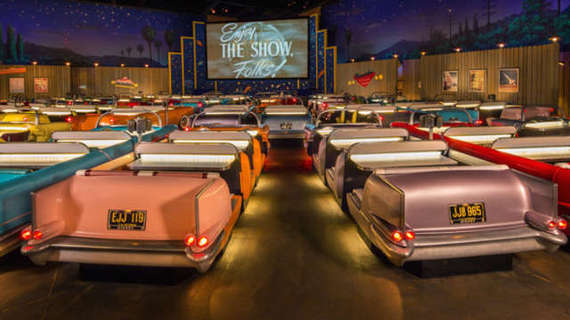 Enter the Hollywood-style soundstage as a classic car hop guides you to your very own automo-booth or table. Kitschy vintage memorabilia, the illuminated tail lights of your fellow drive-in diners and a sky full of twinkling stars set the mood as you place your order. Road-ready picnic tables are located at the back of the theater, where there's even an old-fashioned, drive-in-style concession stand!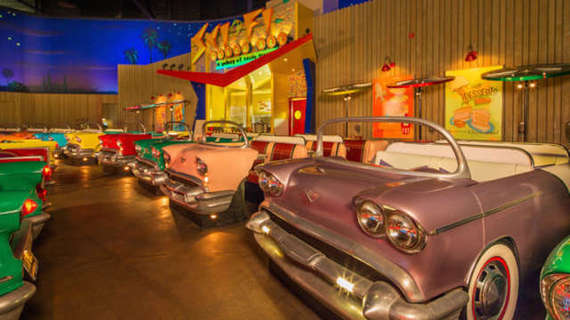 And the food is pretty interstellar as well. They offer everything from spicy buffalo popcorn chicken, deep fried pickles, "The Famous All American Picnic Burger," smoked St. Louis-style ribs, veggie sheppards pie, a delectable salmon BLT, a classic reuben and a delicious veggie burger.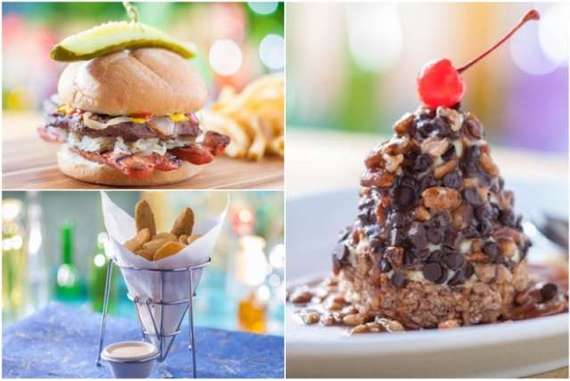 Oh, and don't worry about booze, you're covered (if you're over 21, of course). Long Island Ice Teas, Oreo shakes, and wine and beer are available.
Star Wars nerd? You're in luck.
From May 4th through June 14th this year the Sci-Fi Dine-In Theater is offering an out-of-this-world movie experience that's sure to please any fans of The Force. The Stars Wars Dine-In Galactic Breakfast features all your favorite Star Wars characters, including Darth Vader, Boba Fett, Greedo, Jawas, and Storm Troopers galore. Oh, and all the breakfast food that you can stuff in your face.
The Star Wars Dine-In Galactic Breakfast costs about $50 for adults, and $32 for kids between the ages of 3 and 9. You'll DEFINITELY want to make your reservation early for this, since it's only running for a limited time. The breakfast will take place daily from 8AM to 11AM. You also need to purchase admission to Disney's Hollywood Studios.
Check availability online, or call (407) WDW-DINE or (407) 939-3463. Guests under 18 years of age must have parent or guardian permission to call.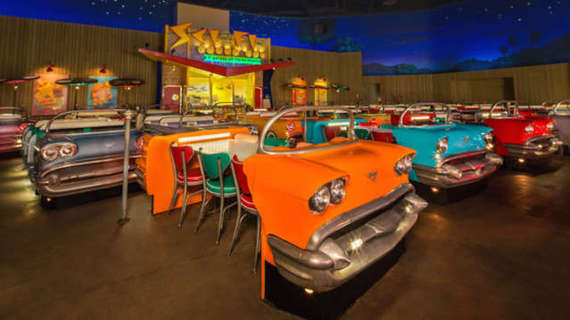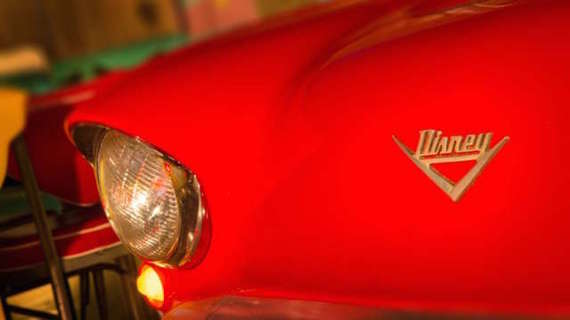 Related