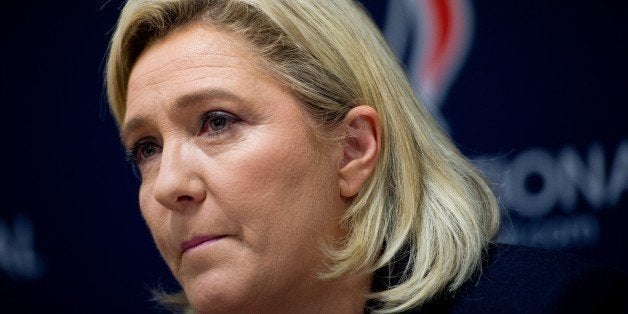 France dodged the bullet in Sunday's second round of regional elections, but the threat from the extreme right remains a dark cloud over election post-mortems. Mainstream French politicians expressed relief this week that they had turned back a bid by Marine Le Pen's right-wing National Front that threatened to win control of six of France's 13 regions. Instead, the National Front was shut out of leadership in all the regional councils by a strategic maneuver instigated by President Francois Hollande's Socialist Party and a sharp rise in participation.
After last week's shocking results in a three-way race left the National Front ahead in six regional races, the Socialists and their allies decided to withdraw candidates where they had placed third and urged their supporters to vote for the center-right Les Republicains, led by former French president Nicolas Sarkozy. The tactic paid off: both Marine Le Pen and her niece, 26-year-old Marion Maréchal Le Pen who had led in regions on opposite sides of the country, were easily defeated by their Republicain opponents. The left ended up controlling five regions and the conservatives seven, while Corsica went, as expected, to a local pro-independence party.
Neither the Socialists nor the "Republicains" are celebrating; the Le Pens may have lost the leadership posts that seemed within their grasp, but their National Front turned out a record 6.8 million votes, nearly one-third of all ballots cast and tripled its representation on regional councils from 118 to 358, edging out the Socialists. Many could win seats in the more powerful National Assembly in a couple of years.
This sets the stage for Marine Le Pen's expected presidential run in 2017. Le Pen succeeded her father as head of the right-wing party in 2011 and has spent the last four years distancing herself from his bald anti-Semitic and racist outbursts. Despite persistent warnings by the mainstream parties that the National Front is dangerous to democracy, a poll taken shortly after this election showed that 57 percent of the French believe the National Front should be treated "like any other political party."
But Le Pen has not been reticent airing in her own virulent anti-immigrant and anti-Muslim views. Just this week, she was acquitted of hate speech charges for saying that seeing hundreds of Muslim men praying on a Paris street reminded her of Paris under Nazi occupation. She has called on France to close its borders to immigrants and to protect French industry from foreign competition. In the aftermath of the election, Le Pen said the collusion of the two other parties confirmed her belief that the ideological struggle is now clearly between "globalists and patriots."
Many experts attributed the National Front's strong showing in the elections to worries about security following the Nov. 13 terror attacks that killed 130 people and to images of the flood of refugees from the Middle East that has overwhelmed Europe. The irony is that most of the refugees are not interested in settling in France, which they perceive to be less welcoming and whose economy is stuck at 10 percent unemployment. Most would rather go to the United Kingdom, Germany or Scandinavian countries where job prospects are better.
In the post-election analyses, commentators also lamented the failure of the two major parties to offer credible responses to the issues raised by Le Pen. Le Monde identified the problem with the headline, "Hollande Changes Nothing Despite the Shock of Regional Elections." "After serving two-thirds of its five-year mandate, the government goes around in circles with the same recipes," the paper declared in a front-page editorial.
The disillusionment with French politicians that Le Pen has tapped reflects the same impatience in the U.S. that has contributed to the rise of Donald Trump. While America's gridlock can be largely attributed to the deep antipathy of Republicans toward President Obama, France is caught in its own particular deadlock: a resistance to change and a strong commitment on both the left and right to a generous safety net. Sarkozy learned the hard way with an ambitious effort to make it easier to fire young people in their first jobs - frequently cited as the biggest drawback to more hiring in France. Vast crowds of youth took to the street to demand conservation of the job contracts that are mandatory. Fear of mass demonstrations - a legacy of 1789 - led the government to back down, as it often does on touchy issues.
Hollande leads an awkward coalition that includes parties far to his left, including Communists and ecologists. Within his cabinet, there is disagreement on what path to take. Should the party move farther to the left to heal existing rifts or jettison its most extremist allies and try to build a more centrist alliance?
It's not just the left that is in deep self-examination. Jean-Pierre Raffarin, a conservative former prime minister, argues that embracing some of Le Pen's proposal is a futile strategy. "We have to come up with strong proposals that are credible and implemented to bring voters to our ideas rather than move toward the National Front's proposals." He has proposed that left and right work together to address unemployment, the most pressing economic issue.
If the current government and its conservative opponents fail to come up with innovative solutions that convince voters, the door will open wider for Marine Le Pen and the National Front.
Calling all HuffPost superfans!
Sign up for membership to become a founding member and help shape HuffPost's next chapter