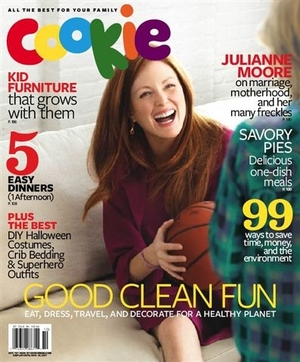 With just over a year until the 2008 presidential election every constituency is getting into the game, which we've seen from the numerous niche forums but also from the fact that everyone seems to be electrified by this race, at least when Britney isn't acting up again. Thanks to the presence of Hillary Clinton in this race, the female vote has never been so closely watched or regarded (will women vote for Hillary? Why, because they like her or because she's a woman? Or because they like her husband?) — and a significant percentage of these women who are any of Democrats, Republicans, declared or undecided, urban, rural, homemakers, career women, black, white, churchgoers, theatergoers, straight, gay, married, unmarried, twenty-something or thirty-something or Of A Certain Age...are mothers.
To that end, Condé Nast's Cookie magazine is tapping into that with their upcoming "Mom The Vote" campaign —a year-long, non-partisan campaign to keep mothers in the loop about the 2008 election, set to launch November 12th (though it must be said, not all of the above are in necessarily in Cookie's target demo).
Cute feature: "Campaign Crib Sheets" (aw!) with "progress reports on the candidates and their positions on topics of concern to mothers throughout the year," according to the press release. The mag will also be holding an event during the week of Super Tuesday in February (in conjunction with Ad Age) to examine current campaign norms and issues in the context of families. (BYOB! As in, "baby," obvs — we assume it will be child-friendly.)
Great initiative but so far no dedicated URL or specific blogging component, which we know is the key to providing real up-to-the-minute information and making yourself essential to moms who have 0.2 seconds to check the web at any given baby-juggling time. Cookie editor-in-chief Pilar Guzman assured me that those were exactly her priorities, with a planned feature called "Up to Speed" that would act as an aggregator for relevant political headlines, saying the need for quick but comprehensive intel was "one of the things we have heard over and over again in focus groups and informal polls" of the online readership. "Moms are incredibly time-starved," said Guzman, who says that "Up To Speed" will offer moms the option of what to read "if you have 5 minutes, 20 minutes, an hour" — and, for the truly baby-burdened: "Here are the blurbs at least" (while meanwhile your baby blurbs all over your shirt). We asked Guzman if they had a writer for "Up to Speed" or if it was planned as a voicey counterpart to niche blogs like Broadsheet or the XX Factor, and she wasn't sure, they were still working on it "from a technical standpoint" (it is well-known that Conde Net is not the most, er, nimble). "We're trying to figure out... whether we have to just hire someone," said Guzman. "It will have a voice, I'm just not entirely sure who that voice is going to be yet." (Prediction: Guzman should expect to be inundated with resumes starting pretty much now.)
With "MomTheVote," Cookie is picking up on something tapped into earlier this year by Hillary Clinton with her "Moms For Hillary" initiative; funnily enough, the similarly-themed "Moms For Giuliani" hasn't quite gotten off the ground. (Not a joke, though it started off as one: There is actually a "Moms for Giuliani" tag at MomVote.com, another non-partisan campaign site for Moms. In other news, "Moms for Kucinich" has 7 members.


Related
Popular in the Community