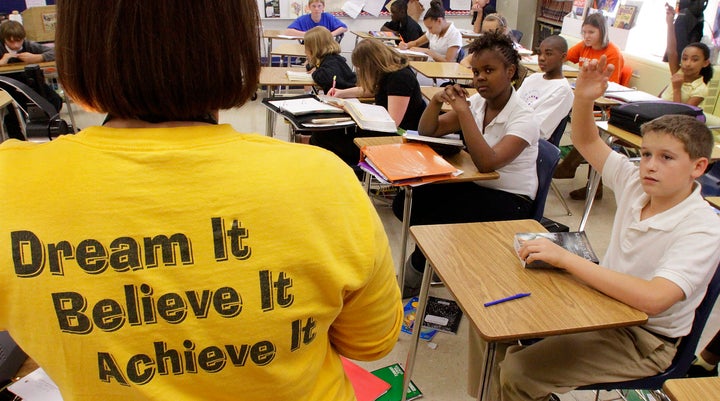 "I don't believe 87 percent of our schools are failing our kids," Hanna Skandera, New Mexico's education secretary, told The Huffington Post, though she stressed that they still need improvement. "It's not an accurate portrayal. We need a clear picture of who's making progress and who's not."
As states tally their standardized test scores and graduation rates this summer, they are feeling the squeeze of the 2001 No Child Left Behind law, which Congress has failed to revamp since it came up for reauthorization in 2007.
In order to make "adequate yearly progress" (AYP) under the law, schools must satisfy ever-increasing performance targets set by states. AYP measures the percentage of students making certain target scores on standardized tests in reading and math and graduation rates -- regardless of students' growth. For example, if a student grows two grade levels during a school year but is still below the NCLB-set bar, his scores count against the school's AYP rating.
Under NCLB, schools that fail to make AYP for two years in a row in the same category, such as graduation rate, are deemed "Needs Improvement." These schools face consequences, such as requiring supplemental education or giving students the option to transfer into another AYP-making public school or charter school. Schools that fail to make AYP for longer periods of time can face restructuring interventions that involve staff turnover.
Built into NCLB is the requirement that all students be proficient across subjects by 2014, a goal that has universally been called utopian. Because Congress has failed to address the law since it came up for reauthorization in 2007, its mandated targets have continued to increase, creating a slow-moving time bomb for schools. This March, Duncan projected that 82 percent of schools would be deemed as failing by next year.
"Everyone knew this day was coming, and now it is upon us, and we need to have an open, honest debate about the consequences of a law that will label a majority of our schools as failing," Justin Hamilton, press secretary at the U.S. Department of Education, said in an email.
Skandera said she, too, was not surprised by the inevitable.
"What we're missing under the law is the ability to capture progress and acknowledge where we're seeing change and where we're not," Skandera said. "Our school grading should be based not only on grade level but also on the progress made by all students."
Other states are also coming to terms with exactly what an unchanged NCLB will mean for students and teachers in the upcoming school year.
In Georgia, 63.2 percent of schools made AYP in 2011, down from 71 percent in 2010. Standards increased in all four measured categories, which include three standardized tests and overall graduation rate. (The state numbers exclude Atlanta, which may have its funding revoked because of a cheating scandal there.) In some districts, like Forsyth County, while some scores increased, fewer schools made the measure.
Forsyth Central High School did not make AYP because of poor performance on English exams among the Hispanic and Economically Disadvantaged subgroups. But, according to Patch:
Forsyth Central High also increased its graduation rate this year to 87.7 percent (a 2.7 percent jump from the previous year and the highest in the school's history). The school also posted an 11 percent increase in the number of Economically Disadvantaged students that graduated this year.
"The best way to fix this broken law is for Congress to send the president a comprehensive, bipartisan reform bill to sign before the start of the school year," said Hamilton, the Department of Education spokesman. "If that doesn't happen, we'll be prepared to issue regulatory relief in exchange for reform."
Kirsten Holtje, a first-grade teacher in Fairfax County, Virginia, recently learned based on preliminary reports that her school failed to make AYP for the third year in a row. As a result, Woodlawn Elementary had to implement the school-choice measure and lost enrollment from nearby military families. The first two years, the school failed to make AYP because of special education scores. This year, while special education scores increased, reading scores fell -- so the school received the designation yet again.
Holtje said the failing designation has led administrators to emphasize preparation for standardized tests, thereby limiting the curriculum.
"We stress performance on state tests, even in first grade," she said. "We don't have time to teach science and social studies."
States such as Georgia, Wisconsin and New Mexico, meanwhile, are moving to create new accountability systems that they hope can replace NCLB's strictures -- but to do so, they will need Duncan's approval.
Georgia, according to the state's education chief John Barge, is looking into developing a new accountability system that considers about 20 different factors in assessing student performance. Test scores, Barge said, are only one component.
"Secretary Arne Duncan ... has been very open about thinking about the next generation of accountability in light of the fact that Congress has been made no progress on NCLB and because of that we will still be bound by its strictures next year," Barge said.
Because NCLB deems entire schools as failing because of lack of progress on a specific subject, Barge said it creates a situation where schools face misleading descriptors and stigmas.
If the bar keeps increasing, he said, more and more schools will not make AYP and face "a significant financial impact." While the numbers in Georgia can be discouraging, Barge said he is pressing parents to look beyond the AYP designation of their children's schools.
Skandera said New Mexico is seeking to replace AYP's blunt measures with a school grading system.
"It's about being transparent and accountable," she said. "We need to capture student progress." She has discussed the waivers with Duncan, who, she said, "seems committed to holding the bar high."
Related
Popular in the Community