After more than a year of near-dormancy in the Senate, the rocky process of rewriting No Child Left Behind is getting a new start.
On Tuesday, Sen. Tom Harkin (D-Iowa), the retiring chairman of the Senate Health, Education, Labor and Pensions Committee, released a new 1,150-page bill to update the law.
The initial, sweeping education law was the Elementary and Secondary Education Act of 1965, and an expansive 2001 reauthorization under George W. Bush took the name "No Child Left Behind." NCLB was the first law to tie federal school funding and sanctions to annual performance goals for public schools. Under the law, schools are supposed to have achieved 100 percent proficiency in math and English for their students by 2014 -- a daunting goal that U.S. Secretary of Education Arne Duncan has called "utopian."
NCLB has been up for reauthorization since 2007.
Harkin's bill, known as the "Strengthening America's Schools Act of 2013," contains a softer version of those annual goals, with a focus on "continuous improvement" and "college and career academic content." States can choose between three models of accountability to accomplish that improvement. It would also require states to implement teacher and principal evaluations that rely in part on student achievement, as defined by states. According to a bill summary, it aims to "ensur[e] ... disadvantaged students get the supports they need to succeed" and establishes a more balanced state-federal partnership to make sure that happens.
A fact sheet circulated with the bill outlines common complaints regarding NCLB, such its "inflexible benchmarks" for school performance, its "pressure to 'teach to the test'" and "prescriptive, Washington-generated accountability models." The release asserts that the new measure would alleviate these issues.
While Harkin's bill is sure to be a welcome sign to teachers and administrators who are sick of what they call the punitive nature of the old law, the political prospects of the new version are unclear. Congress is still toxically polarized. While the negotiations on the bill began in bipartisan fashion, sources say that Republicans such as Sen. Lamar Alexander (R-Tenn.), the committee's ranking member, pulled out a few weeks ago when the annual goals were added.
Moreover, the Obama administration has gutted NCLB's most hated provisions by issuing waivers to states that agree to certain parts of the fed's education agenda: rigorous learning standards, specific models for turning around underperforming schools and teacher evaluations tied in part to student test scores. To date, 37 states have applied for and received the waivers, which have likely reduced the political pressure to overhaul the long-expired bill.
The Harkin bill would allow any state to continue using accountability systems that have been approved by the secretary of education. (States would, however, have to adopt a provision that imposes consequences on schools with students in poverty that didn't improve.) "If not, a state will adopt an accountability system that is equally ambitious and holds all students to high expectations of student achievement," according to the summary. These systems must include criteria for student achievement and growth, high school graduation rates and English language proficiency. States would also each identify their lowest-performing 5 percent of schools with poor students as "priority schools," and "focus schools" would consist of the 10 percent of schools with poor students and the largest achievement gaps.
In fall 2011, Harkin released a bipartisan version of a reauthorization bill. (While the bill made it through committee markup, Harkin said he did not want it brought to the floor until the House produced a bipartisan NCLB, which never happened.) That version mandated teacher evaluations tied in part to students' test scores, but that provision that was struck to increase common ground with Republicans, who argued that the measure handed too much control to the federal government.
It also did away with annual goals altogether, a move that caused a coalition of civil rights, education and business groups to object. The coalition, which included NAACP, La Raza, the U.S. Chamber of Commerce and Democrats for Education Reform, issued a statement last year saying they could "not support the bill at this time" because of its "weak accountability system" that "excludes the vast majority of children we represent."
Harkin's staff, says Barone, DFER's policy director, seems to have taken those complaints into consideration when writing the new bill. "It would appear they heard the criticism they heard from business groups and civil rights groups that they need to have something stronger on accountability," Barone said. But it was unclear to him exactly how accountability would work under the new bill. "It's weaker than most of us would have wanted on that score, but it's an improvement over where they were last year."
Kati Haycock, president of the Education Trust, an education lobbying group that criticized last year's bill, lauded the current bill for closing what's known as the "comparability loophole," a longstanding problem that has allowed states to use money set aside for poor students on wealthier students within the same district. Kate Tromble, EdTrust's legislative director, lauded the bill for "its attempts to attend for the need to the transition between where states are now and new assessments."
Still, Barone said, there are some loopholes. After a seven-year push to define graduation rates narrowly -- in an effort to make sure schools don't try to finesse their data -- the new bill, Barone said, would let states off easy by allowing them to count students with GEDs among those who have graduated. "For a bill that starts out emphasizing college and career ready, it gets undone somewhat by creating a standard for high school graduation that's anything goes," he said.
Harkin's rewrite contains a new focus on children's years before kindergarten, requiring states to develop guidelines for student abilities prior to that point; to provide "greater access to high-quality literacy instruction" in early childhood education; and encourages full-day kindergarten programs. Under the law, states' lowest-performing schools would be required to expand their early childhood education programs.
The bill would also create an "equity score card" to inform parents of schools' climate, opportunities, assessments and funding.
Before You Go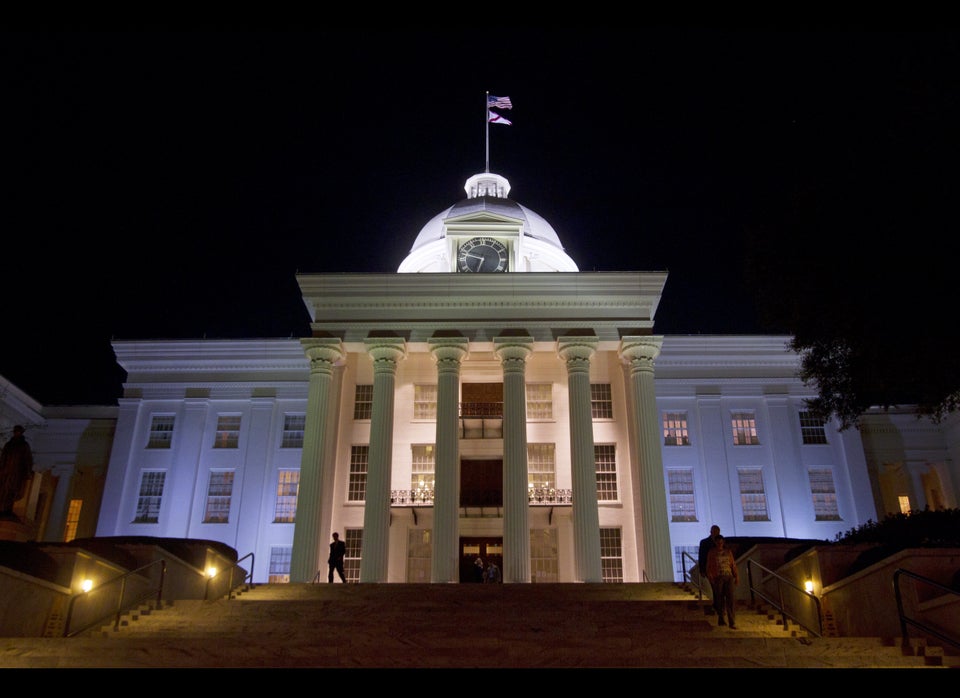 U.S. State Capitol Buildings
Popular in the Community