 The Obama administration has been under fire for watering down the No Child Left Behind Act by granting waivers that exempt states from its stringent test-based annual goals. Now, the critique is coming from close quarters.
Kati Haycock, president of the Education Trust -- an influential lobbying and advocacy group that has long backed President Barack Obama -- is coming out against the direction of the waivers, saying some allow states to shortchange underprivileged students, according to the text of remarks she was to make at a congressional hearing on Thursday.
Academic "progress may be reported -- somewhere -- but it doesn't count as a core part of the accountability system," Haycock will tell a Senate hearing. "This means that, in a state like New Mexico, a school can get an 'A' grade even if it consistently misses goals for, say, its students with disabilities, its Native American students, or its English-language learners."
Haycock worked for the Obama administration reviewing states' waivers. She contends that the process was too lax on states. "This is very definitely a step backward from the civil rights commitment embedded in" No Child Left Behind, Haycock said in her prepared remarks.
The Education Trust, in a report to be presented Thursday, said schools can get good ratings under No Child Left Behind, despite low performance for some groups. "Approaches to improving even the lowest performing schools are too timid," said the report, and the waivers "allowed for a lot of backsliding on our national commitment to close gaps and raise achievement for all students."
Sen. Tom Harkin's (D-Iowa) Health, Education, Labor and Pensions Committee on Thursday will hold a hearing on the waivers.
The No Child Left Behind act is a sweeping, George W. Bush federal education law that for the first time tied states' school funding with results of standardized tests. While many credit the law with exposing gaps in the performance of underprivileged students, even its initial cheerleaders have said it's due for an update. The law has been widely criticized as too punitive, using a broad brush to paint schools as underperforming. The law expired in 2005 and Congress has been unable to agree on a rewrite.
In response to that pressure, and to states' cries for help meeting the goals, U.S. Secretary of Education Arne Duncan announced with Obama in fall 2011 that states could seek waivers to the law's requirements in exchange for agreeing to parts of the Obama education agenda. More than 30 states and Washington, D.C., have received waivers.
From the time the waivers were announced, Republicans, including Rep. John Kline (R-Minn.), argued that they are illegal. Democrats have had gripes as well. Rep. George Miller (D-Calif.) has taken issue with how waivers allow states to use less stringent measures to report graduation rates. "We had these concerns for a long time," Miller, the ranking Democrat on the House Education Committee, told The Huffington Post on Wednesday. "Are the accountability provisions really telling us that the outcomes are better than they were? You worry that they … become fogged."
Education Trust now says the Education Department constructed parts of the waivers wrong. The changes, according to the advocacy group, allow states to receive federal money without actually making academic progress for all groups of students.
Haycock said she initially thought the waivers a good idea. But she said she opposes aspects of the execution. "Our support for the secretary's decision to grant waivers should not, however, be conflated with enthusiasm about either the final waiver guidelines or the waiver plans that were actually approved," she said in the testimony. "There were ... decisions that should trouble all those who understand ... that our future as a nation depends on developing the minds of all our children."
Overall, according to the Education Trust report, it will be hard for parents, schools and students to understand the new accountability systems under the waivers. "The waiver guidelines themselves … essentially invite incoherence," Haycock said in an interview. "When it comes to making ... goals meaningful, they said to states, you don't have to." In some cases, she said, the goals are "meaningless."
Even under the states' accountability systems, which focus on 15 percent of the lowest-performing schools, there is sometimes no plan for improvement. "Many state plans don't spell out a clear course of action for priority schools that, even after receiving resources and support, prove unwilling or unable to improve," Haycock said. "In Maryland and Georgia, for example, not meeting priority exit criteria only brings more improvement planning."
The waiver guidelines, Haycock will note, don't require states to provide options for kids in the lowest-performing schools -- unlike the much-maligned No Child Left Behind. "Regardless of where you sit on the importance of school choice for students in general, it is hard to conclude that this decision shouldn't be revisited," Haycock plans to say. Ideas for strengthening school accountability "failed to go viral" in the same way that plans that let states get by with doing less.
Kentucky state schools chief Terry Holliday plans to be more positive, according to his prepared testimony. "With our first assessment of the common core standards, we saw drops in proficiency rates of between 20 percent to 30 percent in language arts and math," he said in prepared remarks. "We are not shying away from these results."
John King, New York's schools chief, will also be more eager. King and Holliday plan to stress that a reauthorization of the law is still necessary. "There are larger issues that have not been addressed, particularly with regard to how funds are allocated and spent," King plans to say. "The waiver should be used as the starting point for full reauthorization."
Before You Go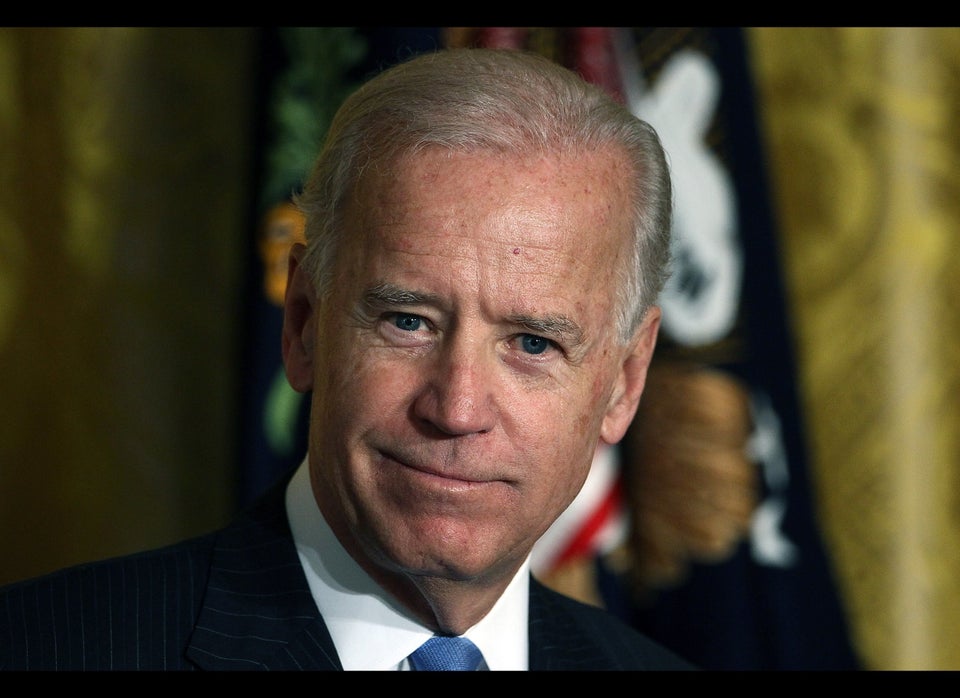 The Obama Cabinet
Popular in the Community