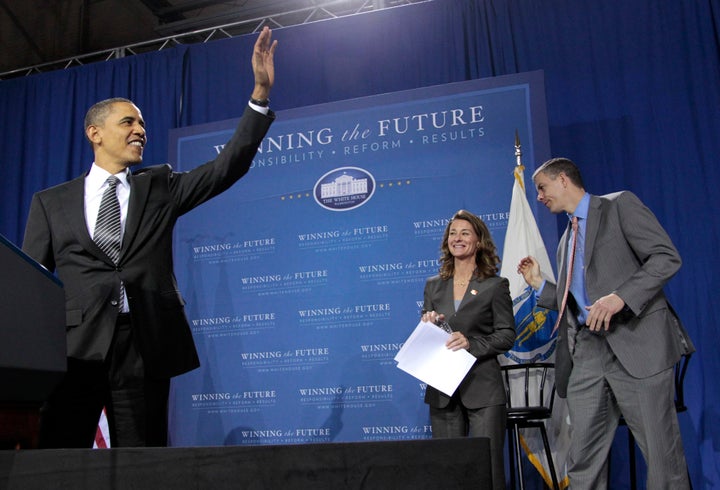 While Democrats and Republicans mostly agree that a sweeping federal law governing education desperately needs to be overhauled, they are divided on how to do it. As a result, Congress may not finish its education homework by the president's deadline.
Barack Obama called for No Child Left Behind, the 2001 law that set the standards and goals for public education, to be revamped by August. According to a report by the Associated Press, an one-time fix is highly unlikely.
Rep. John Kline (R-Minn.), who chairs the House Education and Workforce Committee, said it would be impossible to agree on changes by the deadline. "I've been very, persistently clear that we cannot get this done by summer," he told the AP. "It's just not going to happen."
George W. Bush introduced the law in 2001, pushing it through congress with bipartisan support. But the sailing isn't as smooth this time around, the AP notes, because of intra-party splits: The wave of Tea Party congressmen voted into office in November 2010 largely oppose sweeping federal laws, which makes it more difficult for Republicans to unite around a course of action. Democrats, on the other hand, remain divided on issues of teacher accountability, such as tenure, merit pay and linking evaluations with test scores.
The widespread criticism the law has faced over the past nine years exacerbates the issue, because few can agree -- regardless of party orientation -- which of its policies should exist in the first place.
As the clock ticks, though, more and more schools are being labeled as failing under the law. NCLB sets grades and standards, giving the federal government power to intervene in schools that rank poorly. The law originally set 2014 as a deadline for 100% proficiency in math and reading.
Educators and policymakers criticize NCLB for circumscribing curricula by encouraging the practice of teaching to the test.
"NCLB needs to be completely revamped in terms of the provisions with respect to the accountability," Pedro Noguera, an education professor at New York University told The Huffington Post. "They have become so punitive."
U.S. Secretary of Education Arne Duncan said in March that 82% of schools were on track to fail, according to the law's standards, by next year. "This law is fundamentally broken, and we need to fix it this year," he told the House education committee at the time. (A report by the Center on Education Policy calculated the number at a much lower 38%).
"We have been overemphasizing assessment," Noguera said. "Assessment only works as a tool, a tool for providing teachers and schools with information on what students need more of. What we haven't nearly focused as much time on is quality instruction."
The two chambers of Congress are attempting to overhaul the law in entirely different ways. The House began introducing a series of bills that target specific components of NCLB, starting with last week's proposal from Rep. Duncan Hunter (R-Calif.) that would scrap 43 NCLB-funded programs.
The Senate, meanwhile, hopes to introduce a more holistic fix. A comprehensive bill could incorporate the House's individual proposals, but it may be hobbled by House Republicans skeptical of any comprehensive education legislation.
"I think it makes it easier for everybody to understand," Hunter told the AP about the House's approach. "I think people have an aversion to them [comprehensive bills] now."
Kline told the AP that his next targeted bills would include one giving school districts more leeway in budgeting federal money. A subsequent bill would address school accountability and standards.

Popular in the Community