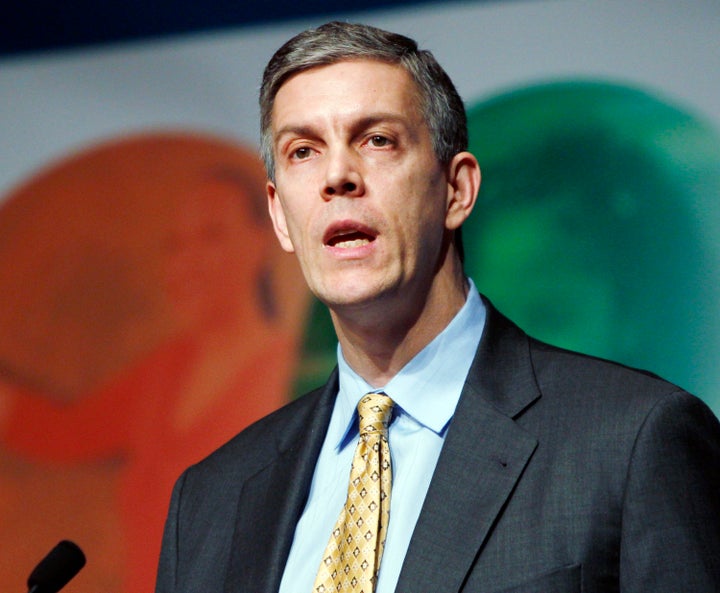 Does U.S. Secretary of Education Arne Duncan have the legal authority to move forward with a proposal that allows states to bypass school performance requirements set out by a federal law in exchange for new requirements? He might, but he might also end up in court, according to a memo by the Congressional Research Service released Tuesday afternoon.
As an overhaul of No Child Left Behind (NCLB) -- the sweeping federal education law that sets most national school policy -- continues to lag in Congress, Duncan is beginning to get answers about the viability of his plan to relieve states of the law's requirements in exchange for implementing some of his choice reforms.
Few are happy with NCLB and its components, which demand a rigorous focus on and testing of reading and math. The law requires 100 percent "proficiency" by its own standards by 2014. That goal has been described as "utopian," one reason why Duncan and Obama have stressed revamping the law.
Three weeks ago, Duncan told reporters that his office is seeking to develop a "plan B" for saving schools from what he called the impending "slow-motion train wreck" of NCLB. Duncan has shied away from giving specifics aside from noting that the plan would offer states flexibility in achieving NCLB standards in exchange for a "basket" of "accountability"-focused reforms. When pressed for details, he indicated that reforms would mirror those requested in the Obama administration's blueprint for the NCLB overhaul -- such as a focus on turning around the lowest-performing schools.
Less than two weeks later, Rep. John Kline, (R-Minn.), who chairs the congressional committee in charge of revising NCLB, wrote Duncan a letter saying the committee was unhappy with the proposal and asking for more information.
"While greater information in our education system is urgently needed, the Department's proposal is cause for concern," Kline wrote. "Issuing new demands in exchange for relief could result in greater regulations and confusion for schools and less transparency for parents."
"Additionally, the proposal raises questions about the Department's legal authority to grant conditional waivers in exchange for reforms not authorized by Congress," he continued.
Kline and co-signer Rep. Duncan Hunter (R-Calif.) requested that Duncan write to them by July 1 to explain, among other things, a timeline with his procedures and an explanation of his legal authority.
By July 5, Kline had not received his response. A committee staff member told The Huffington Post that Kline is still waiting for an answer.
The CRS memo -- dated June 28 -- spelled out the legal implications of granting waivers. Under NCLB's authority, the memo says Duncan can grant waivers under section 9401, barring certain exceptions.
Duncan's authority to waive requirements, the memo says, "appears very broad," especially since Congress allowed for the waivers in 2001, when it added the provisions Duncan would wish to waive. "However, this analysis does not end the inquiry, given that ED may face other legal challenges to its use of such authority," according to the memo.
While the waivers on their face might be legally sound, the memo continues, the authority to grant waivers in exchange for another action -- such as requesting different reforms, as Duncan has indicated he would -- is uncertain. "Given the novelty of the question, it is unclear how a reviewing court would rule on such an issue," the memo states.
The technicalities are murky. The statutes of NCLB only allow Duncan to grant waivers at state or local education agencies' requests. But, the memo says, he could theoretically invite the districts or states to request waivers and grant them based on their willingness to adapt his reforms.
Still, if Duncan were to require a waiver applicant to enact one reform or another, "the likelihood of a successful legal challenge might increase."
The memo concludes that Duncan "does not appear to have the authority to spontaneously issue a waiver requiring states to focus on the lowest performing schools."
The Department of Education did not have a response to the memo by press time.
Michael Petrilli, executive vice president of the Thomas B. Fordham Institute, said he eventually expects Duncan to soften his stance. "They just can't make up new mandates," he said.
The letter, he added, acknowledges the legal risks. "If Arne Duncan were to go through with this strategy and attach conditions, like ... raising your charter school cap or doing teacher evaluations a certain way, ... he would end up in court," Petrilli said.
And with House Republicans signaling their unhappiness with the proposal, it's clear, he said, that "they're not going to watch this and do nothing."
"It's just another move in the chess game we're seeing played right now," Petrilli said. "Duncan's trying to up the ante with Congress. We get some resistance from Congress about Arne's proposals. You've got three states saying we'll just stop implementing the law, daring Arne Duncan to act," Petrilli added, referring to Idaho, South Dakota and Montana.
"Everybody's playing chicken," he said. "We'll see who blinks next."
Related
Popular in the Community