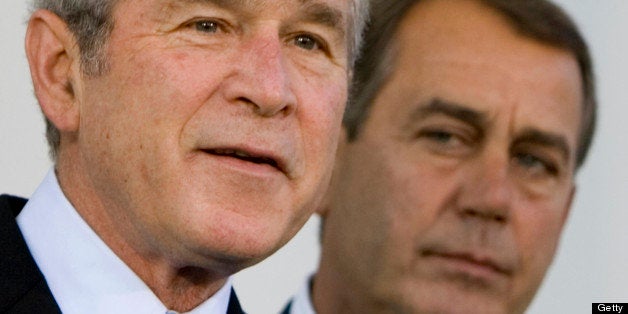 Possibly seeking to combat the perception that they're unproductive and obstructionist, House Republicans convened about six hours of debate Thursday on an education bill that has almost no chance of being signed into law.
The House discussed the Student Success Act, a Republican-written update to the 2001 No Child Left Behind Act. NCLB is a bipartisan bill that was supported by President George W. Bush, Rep. John Boehner (R-Ohio) and Sen. Edward Kennedy (D-Mass.) when it was passed in 2001.
While NCLB dramatically expanded the federal government's role in the nation's public schools, the Student Success Act, written by House Education Committee Chair Rep. John Kline (R-Minn.), would dramatically constrict it. The bill pulls back from the annual performance goals required by NCLB and consolidates federal programs dedicated to English-language learners and neglected children into a program devoted to helping schools with low-income students.
Decreasing the focus on annual performance goals has brought together a cast of strange bedfellows, with teachers' unions, civil rights groups and business groups coming together to decry Kline's bill.
NCLB expired in 2007, but is still standing because an alternative hasn't been passed. Thursday's debate represents the first time either the House or Senate has discussed it on the floor in over a decade.
"It's been 12 years, 12 years," Kline said, since anyone in either chamber has had a chance to "vote on education policy. … Neither party has been able to bring legislation to the floor." Congress, he added, has "abdicated the responsibility for establishing public policy to this administration."
In light of Congress's failure to rewrite NCLB, the Obama administration has offered states waivers from some of the law's most onerous strictures in exchange for compliance with the White House's education policy agenda. Republicans have revolted against this option, with Kline calling the waivers "rogue" Thursday.
The Student Success Act is unlikely to garner any Democratic votes. On Thursday, one House Democrat after another spoke on the floor against what they called the "Letting Students Down Act."
Rep. Jared Polis (D-Colo.) called the bill a "huge step backwards" in an interview, saying on the floor that its rollback of annual performance goals gives states "every incentive to hide poor student performance."
Rep. George Miller (D-Calif.), an NCLB author, also attacked the bill, at times banging his hand on the table. Rep. David Cicilline (D-R.I.) said the House should work on a compromise, "rather than putting forth this extreme proposal destined to fail in the Senate."
Republicans mostly spoke in favor of the bill, saying it would increase schools' flexibility, empower parents and shrink what they see as the federal government's outsized footprint in schools. While there has been some question as to if the bill could secure enough tea party votes for passage, a change to the act on Thursday may help garner more votes: The House passed an amendment that would scrap language mandating teacher evaluations based on students' test scores.
Eric Cantor (R-Va.) spent the week stumping for the bill, appearing with Kline in a charter school -- but was nowhere to be seen during Thursday's debate.
A final vote on the bill is expected Friday, but it almost certainly won't be signed into law. The Obama administration has issued a veto threat, and the Senate might weigh Sen. Tom Harkin's (D-Iowa) bill -- which is so different from Kline's bill, it's hard to imagine a way to marry them together in conference.
So why are Republicans bothering? "To make it hard to say that Democrats are doing a lot for the country and the Republicans won't let anything happen," said Rick Hess, an education researcher at the right-leaning American Enterprise Institute. For Republicans, he added, it's useful to be able to say they passed "significant legislation."
While there is little chance that the bill will become law, it may serve as a template for future education policy debates, Hess said. And if it does pass the House, it will mark the end of a chapter of big-government attitude towards education espoused by Republicans during the Bush era.

Calling all HuffPost superfans!
Sign up for membership to become a founding member and help shape HuffPost's next chapter
BEFORE YOU GO
PHOTO GALLERY
The Strongest Conservatives In Congress