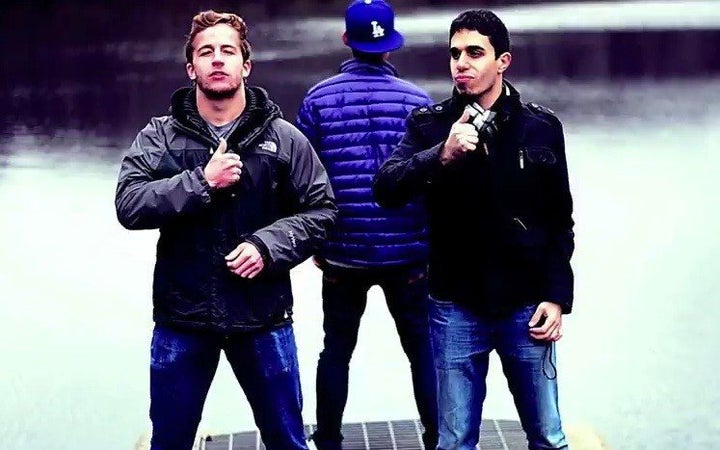 With so many unofficial music videos hitting YouTube these days, amateur directors who want their creations to be seen need to find a gimmick. That, more than anything, may explain the recent craze for "sign language" renditions of Top 40 hits.
Last week, HuffPost Entertainment highlighted one such video -- set to Kanye West and Jay-Z's song "No Church in the Wild" -- only to discover that many in the deaf community view such videos not as a tribute but as an insult.
"This video is not an ASL interpretation in any sense, shape or form," Howard Rosenblum, the chief executive officer of the National Association of the Deaf, told The Huffington Post in an email. "To characterize it as such is to relegate American Sign Language to some form of dance interpretation rather than the true language that it is."
Mark Nakhla, who created the video with some friends, stands by the video, which he says "turned out exactly how we envisioned it, as an interpretation of Kanye and Jay-Z's song utilizing music, dance and, most importantly, American Sign Language shapes and sign language gestures."
It was not his intention to offend anyone or present himself as a fluent ASL speaker, Nakhla insisted. "I was really surprised at the comments," he said. "I don't make any money off this, and some of more outlandish comments have said I'm trying to 'dominate' the ASL community with 'cool' or 'slick' videos. That's just ridiculous."
Nakhla admitted that he had deleted negative comments from the video's YouTube page. "I'm leaving up comments when someone says, 'I don't like the way he signs,' but if you're going to attack my video and say it's garbage or that I'm just flailing my arms around, I'm not going to give a voice to someone who just wants to attack me," he said.
He also said he'll continue to make videos (before tackling "No Church in the Wild," he and his friends had produced a similar video for Drake's "Headlines") and expressed frustration at the level of anger some commenters displayed. "Part of the goal here is to get exposure for sign language, so I don't think it's right to attack something, whether it uses perfect ASL structure or not," he said. "There is so little media attention to deaf people and ASL that it's not right to just attack everything that isn't perfect. If it's not something offensive, it should be welcomed."
Nakhla said he has studied ASL for two years, and that his professor had advised him not to promote his videos as "ASL covers" in the future. "A lot of the deaf community reserves the 'ASL' title to perfect use of American Sign Language," he said. "It was not a distinction I understood prior to making the video."
Asked to evaluate the signing in the video, Rosenblum said, "their skills do not rise to any level of proficiency at this time." And while he commended Nakhla for studying the language, he stressed that "framing ASL as a form of interpretative rendering of something else is to diminish ASL as a language."
Rosenblum continued: "Many signs used in this video are either not done correctly, which is the equivalent of mispronouncing English words or do not form a coherent 'sentence,' which is the equivalent of uttering random English words in no particular order," he wrote.
HuffPost regrets describing the video as an "ASL cover" and will make an effort to consult an organization such as the National Association of the Deaf when covering such videos in the future.
Popular in the Community