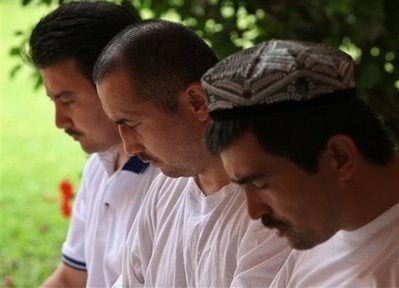 By accepting four Uighur detainees from the Guantanamo Bay prison last week without following the proper legal steps or even conducting a security review, Bermuda Premier Ewart Brown violated his sworn duty to uphold the rule of law and protect our citizens. That is why, for the first time in decades, the Bermuda Parliament on Friday will consider a no confidence motion to replace a premier.
This course of action became inevitable this week when our Police Commissioner and our British Governor, Sir Richard Gozney, revealed there was no security review of the Uighurs. While Dr. Brown initially claimed to our Parliament there had been a security check before they arrived, we now know our police were only given non-classified dossiers on the Uighurs' backgrounds -- and even those were not provided until a day after they had arrived on our island.
Let me be clear: If these four men were improperly rounded up in Pakistan eight years ago and wrongly held at Guantanamo Bay, then that is an injustice and they deserve a home. The U.S. mainland was a possibility for them, but your Congress put it to a vote and said no.
We suspect we know how Americans would feel if President Obama held a press conference one day, without a word to even his cabinet, and said he'd decided the Guantanamo prisoners were going to be settled in the U.S. You would be very angry and your elected representatives would make him back down in a big hurry.
We feel angry in the same way. Bermudians should have been consulted in the same way America was consulted -- through its elected representatives. To commit our island to such a controversial arrangement without any consultation is unacceptable. To do so as if you answer to no one violates a fundamental principle of all democracies.
Dr. Brown should have consulted Bermudians and the British before he made a deal with the United States, even if the burden of secrecy meant he wasn't able to do more than persuade colleagues in his own cabinet and our British Governor to support him. That would have kept him in line with our Constitution which reserves for the British Government final say in our foreign policy as well as internal and external security. That's the law.
Dr. Brown's disregard for the constitution and laws he is sworn to uphold may reflect his desire for Bermuda to be independent of Britain, even though more than two thirds of Bermudians prefer to retain our current constitutional arrangement with Britain.
The Uighar controversy has been made more troubling for Bermudians because Dr. Brown has not been straight with them. He says the White House approached him about giving them a home, while his Immigration minister says Bermuda's offer was unsolicited. Dr. Brown says there was no quid pro quo with the U.S. Government, while the same minister claims the Uighurs were accepted to curry favour with the Obama Administration.
And then there is the critical matter of the security review that Dr. Brown last week claimed had already taken place when he told Bermudians that our police concluded the Uighurs represented "absolutely no security risk". In fact, the police categorized them as "high" risk.
As opposition leader, I have seen how vigorous debate using all available information can foster the best government decisions. Dr. Brown betrayed that practice by not discussing with his elected cabinet ministers or the British government his side-deal with the Obama Administration to accept the Uighur nationals who needed a home.
Bermuda is a democracy much like yours, though ours has an English flavor. We believe our leaders, like yours, should follow the rule of law rather deciding on their own what the law should be. It is that kind of reckless behavior we will try to stop this Friday with a no-confidence vote.
Popular in the Community