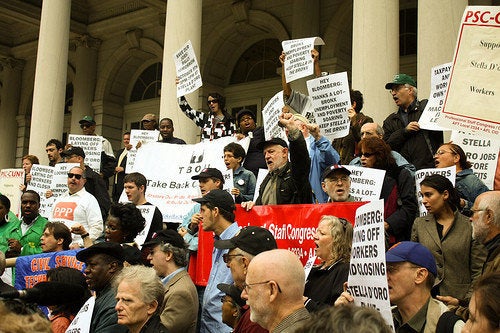 Two years later, that story is coming to light, as No Contract, No Cookies premieres on HBO2 tonight.
The film covers the duration of the 11-month-long strike, from its joyous second act and all the way to the depressing epilogue.
"The owners maintained that the hourly wages of $18 to $22 an hour and nine weeks of paid leave made the factory unprofitable," The Times wrote in 2009. "It demanded significant reductions in wages and benefits in order to move the factory to profitability."
After 11 months, the workers won the negotiations in court and were reinstated at the factory. It was a joyous moment. The Times wrote that
Their sense of accomplishment was hard-earned: they had walked out in August and kept up a picket line through the fall, winter and spring of a deepening recession. They sued the company for unfair labor practices and prevailed in court, winning the right to return to work, proud that not one worker had broken ranks.
Hard-earned, but short-lived. Soon after the workers, some of whom worked at the cookie factory over 30 years, returned to the work, the company said that the factory would be closing.
The factory, director Jon Alpert says, "was quintessentially American with the immigrant composition of the workforce and the fact that this type of job opportunity was a beacon for them. And it was not only a beacon but a safe harbor that they landed in when they got to America."
"Jon and I are both New Yorkers and Stella D'oro was a New York factory," Matthew O'Neill told the Daily News. "[The strike] was a story that we felt needed to be told."
There is no rosey epilogue to the film, Alpert says, but it's an important story about perseverance and justice. The documentary ends with listing the names of all the workers who lost a job and the numbers of years they served the company, and the country they're from. Two years later, many are still looking for work.
LISTEN: Former Stella D'Oro workers talk about the strike and the film on the Leonard Lopate show:

Related
Popular in the Community