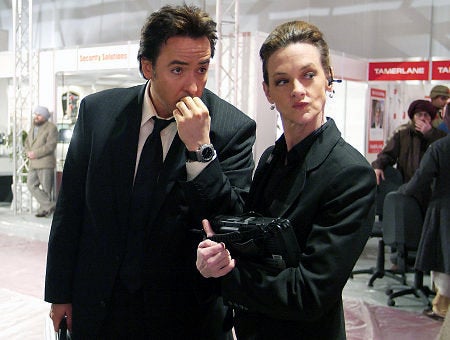 As I contemplated the real possibility of an Obama victory and listened to right wing pundits revise history still unfolding, I thought of titles for this blog:
"Neocon Logic: This Statement is Untrue"
"The Modern Free Market System is False But a New Revelation Shall Come"
" They Would Feast on Themselves: All the Money's Gone, Nowhere to Go"
I decided on:
"No Currency Left to Buy the Big Lies"
In the pre-capitalist reality, James Madison said when he put power in the hands of the business elite, he would be entrusting "enlightened statesmen and benevolent philosophers who would devote themselves to the welfare of all."
Clearly, he believed this statement in the way I guess some modern Republicans do. The only problem was that he eventually realized this didn't work and in 1792, disillusioned and worried about the democratic experiment, condemned what he called "the daring depravity of the times." He went on to denounce the business elites who, given ultimate power, "become tools and tyrants of government...they overwhelm government with their powers and combinations and are bribed by its largesse." That's how he perceived the system he had helped design. In 2008, this is an apt description of the Republican relationship to government and power.
Finally, some blue light, tectonic plate shifts, a sea change, we hear... a wave of despair carrying us to a new place. The bastards are finally meeting their grisly ends and will be discarded and abandoned as men come to power who will actually try to govern. I know we're supposed to be civil but I'm not a real believer in this method when dealing with crimes.
What does the sea change mean? How can we help people understand what is happening and help them contextualize it?

First the past: Senator McCain, Governor Palin and assorted surrogates are delusional and breathtakingly corrupt. They disgrace themselves and their country as they lie, smear, slur and write it off as political manner.

Yet the creeping truth must frighten them late at night: there is no currency left to buy the big lies.
There is no more money left to loan or borrow the big lies or to sell them. No more money left to pay off the debt, the wreckage in the wake. The orgy of excess has drained every bottle, smashed the furniture and left the cupboards bare. All that's left is derivative debts -- bets between liars and lies. Trillions of dollars. Turned capitalism into a Ponzi scheme for trading worthless paper. No real value anywhere. No matter how much money Ben Bernanke prints.

We are asked to stand over the abyss and experience our own destruction as another political game show -- just another surreal horse race. We watch millionaires and paid Republican hacks appear on television yelling "Socialist!" at Obama as if the Bolsheviks are coming to rape our daughters. These are the same people who oversaw the greatest upward redistribution of wealth in the history of this country. The same people who, through general lawlessness and a privatization frenzy, succeeded in shredding the Constitution, turning war, illegal domestic spying, security, border patrol, interrogation, and even torture into profitable industries gorging on the state.
So define the big lie: free marketers want free markets. Not so, the facts say. They are the biggest welfare freaks on the planet.

These men and keepers of the faith would lecture us with a straight face on the evil socialists/ communists/terrorists /vampires/space aliens who would dare "redistribute wealth" by amending the tax code. Two wars and the only shared sacrifice they want is more tax cuts for the rich and for the U.S. citizenry to continue shopping. As Sidney Falco said, you gotta give it to them, their gall is gorgeous.

If we stay the course, we are told, we will finally, one day, reach that shining city on a hill, the free market-based fundamentalist utopia. Even though all evidence points the other way, we should listen, reason, step back and watch them as they devour what's left of the government. They will feast on themselves -- the feast of carrion the Book of Revelation tells us -- but I digress, sort of. It's over. This would be a great system if there were no human beings.
Mathematical realism. Eat what you kill. The bottom line. Greed is good. Graphs and flow charts and metrics for success. All social organization is based on profit as the unifying force and engine of the common good and even social justice; worship the market, even as you corrupt it.
Our perfect system will provide for all.
And yet Wall Street cripples America and the world because it won't adhere to the same rules it says we must obey for the good of freedom. Because reality won't be a slave to their machine.
And so this is how we can rationalize privatizing war. At last look, with 630 corporations like Blackwater and Halliburton getting 40% of the $2 billion spent each week in Iraq, no one can doubt the corporatist dominance of the war machine.
Mathematically, the market crash shouldn't have happened according to their system, but human feelings make panic and panic cannot be calculated. I would bet that someday someone will discover that math adheres to a quantum reality: the participants and the observers affect the outcome. I digress again. But not really.
Instead of an international consensus based on trust and global community, the Neocons say trust no one, need no one, ask no one. Rigged, "open" markets are created at the barrel of a gun after bombing a country. We must all bow to the market.

Collapse, chaos, lawlessness. And even the market voted with its feet.
The era of market idolatry is over.
This is the end of Milton Friedman, Reaganomics and supply-side theory. This ideology has never been about free markets but a fundamentalist vision that is a cover for naked aggression and a social contract based on fear and greed. The government's job is to create optimal conditions for corporate profit, to privatize everything in sight and to sell off its own body parts. To literally devour itself.
So we have laws that allow borrowing money against derivatives -- basically a bet between two people who create nothing without collateral. They leveraged the public financial health on something you wouldn't be allowed to do in Vegas. It illustrates the corruption that has become institutionalized through deregulation and a culture of predatory greed. Alan Greenspan testified that he was shocked: business didn't regulate itself. The common good was not achieved by greed. Naomi Klein read him the definition of crony capitalism and asked if it fit the description of the Bush administration's relationship to its favorite corporations.
I suppose he was shocked about that too. His testimony was incredible and felt like it was coated in lies or at least standing deeply in their shadows. But one doesn't doubt him as a true believer, absolved of messy feelings of collective responsibility. We made him a high priest even though we saw the suffering and the cruelty of the system.

The final irony of the free-market Darwinist model is instead of the strongest and best surviving, it's really the weakest and the worst. From a moral and spiritual point of view this is hardly in doubt. See George Bush. The gospel he purports to serve tells us this but perhaps he saw Christ as a conqueror. I've always doubted men who call themselves Christians who live by the law of the jungle. The gospels, the Koran and the Torah make no bones about it: wealth is not strength; power often represents not the brightest and the best but the weakest and worst. The beast in the Book of Revelation is not a horn-rimmed devil but Rome. Empire. Any empire. Every empire.
As Bush leaves office, the real truth is this: the new economies of the world disprove everything he ever said. Apparently that doesn't matter.

Neoconservatives will lie in the weeds and gather forces, the same players in a revolving door. They want back in and if history has proved anything, worshiping the markets is not enough. We must actually kill to feed them. A horrible cross-pollination of fundamentalism, dementia and market fever has turned America into a willing enabler of corporate cannibalism. Nothing else to call it when murder is seen as a legitimate extension of economic policy. Preemptive war is not only justified but openly referred to as a market opportunity. The strong do what they can and the weak suffer what they must. As we look out at the wreckage -- world economies collapsing, nationalized banks and a complete loss of trust -- we can see the hypocrisy as all are revealed as true socialists on the way down, crying in their scotch and Ambien as they run to the state for cover.

Many, like the Financial Times, endorse Obama. But let's remember when the F.T. and the Wall Street Journal talked glowingly and starry-eyed about the "Baghdad Boom" -- as horrifying a moniker as Shock and Awe. It was not the site of a gold rush, it was the sight of massacre and armed robbery. Now these men jump like rats off a death ship but don't be fooled. Francis Fukuyama and company will just lay low, regroup and rebrand. They speak openly about such things, beaten but unbowed, with no moral connection to the fiasco they have fostered. They speak as passing spectators watching the Weather Channel, (see Frum, Kristol, Brooks and all the rest), rather than intellectual architects, defenders, and foot soldiers in an illegal war and the thirty-five year assault on the New Deal.

As we help Obama try to implement another New Deal, I asked Naomi Klein about the parallels to The Shock Doctrine as it's polar opposite. She told me:

"I have been talking about the need for a progressive shock doctrine in speeches a lot. I call it disaster populism and the key difference is democracy. The right has been using shocks to suspend and sidestep democracy, declaring states of emergency and the progressive use of shock to enlarge and deepen the democratic space to bring more people into the political process. This is why it is important to remember that the New Deal did not come only from kindly elites handing it down from on high, but also because those elites were under massive popular pressure from below. We can all use shock and crisis to move the political direction of the country, but the progressive route is a democratic one, the right is an authoritarian one, even if it takes place within an electoral democracy."
The real challenge is to erase the delusion that greed equals freedom and prosperity, let alone the hideous lie that it somehow spreads justice. Amazingly, we are asked to listen to this gibberish in political life no matter how high the bile rises.

Many believe economies must serve humanity and not the other way around. Economies must make a moral connection to the republic. Brace yourselves free marketers: the quality of economic and human transactions will have to take priority over money. Faith and hope have to manifest in the social transactions we make.

A new social contract could be coming based on a real currency my friend Kevin McCabe calls the currency of grace. It is a currency of economic fairness and institutionalizing concepts of shared responsibility; a currency based on the gold standard that every human has value and should be awarded respect and opportunity, the dignity that comes from human beings protecting each other from the values and ideals of a Darwinist world. Its spirit is in Keynesian economics, a mixed economy with regulated markets and social spending. In the new era, we must remove fundamentalist right wing economists as the high priests and kings. Their ideology will stay dead only if we remain vigilant and call things what they are. It's a battle for the idea of America and it's just beginning if Senator Obama becomes president.

We should worship God if we want to, not the markets.

R.I.P Studs Terkel.
Support HuffPost
The Stakes Have Never Been Higher
Popular in the Community