As the sun set on a balmy winter day in Washington, D.C., an emotional Aimee Hickman, of Baltimore, stood with her daughter Sylvia atop her shoulders. She said she was saddened to hear President Donald Trump talk Tuesday about how the pipeline companies had been treated unfairly. By doing so, she said, Trump proved he has an "abysmal understanding of history" and Native rights.
"As much as this is an ecological crisis, it is a moral failing of our society," Hickman told The Huffington Post. "I feel like this really is a last stand for our environment, and its a last stand for our country to start to recognize what it did to indigenous peoples."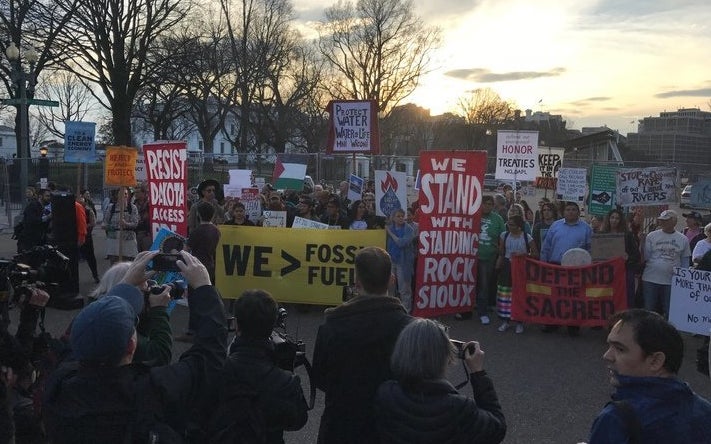 The Army's approval of a final construction permit comes two weeks after Trump signed an executive order aimed at pushing the controversial project forward. Seeming to ignore the concerns of Native American groups and environmentalist, Trump stressed that the project would create "a lot of jobs, 28,000 jobs. Great construction jobs."
In December, federal authorities halted construction of the pipeline in response to growing protests near the Standing Rock Sioux reservation in North Dakota. Along with denying the final easement required for the $3.8 billion project to pass under Lake Oahe, the Obama administration ordered the Army Corps to conduct an environmental impact statement to examine the possible affects of the pipeline and explore alternative routes.
As expected, the Army Corps granted the easement on Wednesday, allowing for the project to be finished, Reuters reports. In a statement late Wednesday, project developer Energy Transfer Partners LP said it planned to "proceed expeditiously."
Among the speakers at the Washington rally was Linda Black Elk, a resident of the Standing Rock Sioux reservation. She said she is appalled by the recent reversal and will not stand idly by while indigenous people continue to be traumatized.
Rev. Lennox Yearwood, an activist and president of the Hip Hop Caucus, spoke of the audacity of Trump and his administration in putting pipelines and profits before people.
"This is not about Republican or Democrat," he said. "This is about humanity."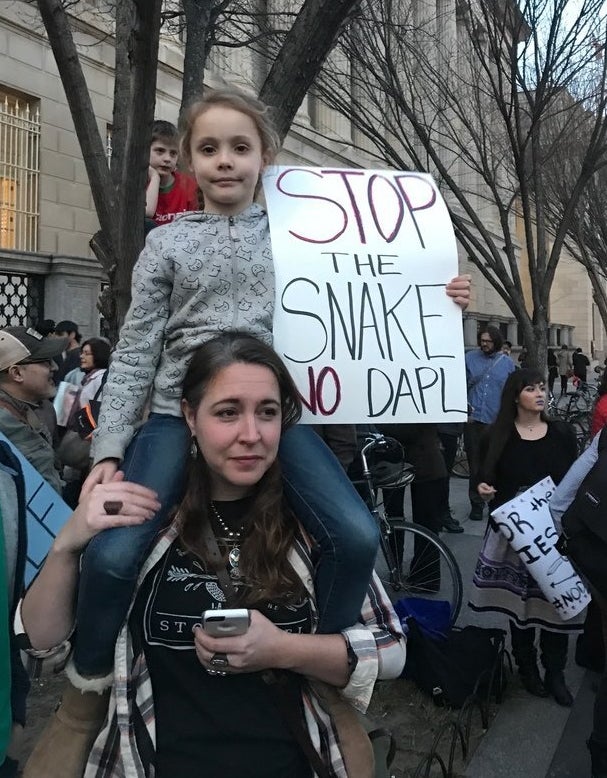 Kim Winter, of Virginia, attended the event with her 4-year-old daughter. She called the Army's recent announcement "completely offensive" and a "slap in the face" to the people who have voiced their concerns.
Asked how she expects the standoff to end, Winter said she fights daily with a sense of cynicism.
"But I pray that there will be enough resistance to things like this, especially the pipelines, that people will be able to stand up and make some progress," she said. "I think it will be a miracle if they don't build it, but I'm hoping the people will speak."
The 1,172-mile pipeline is being built to carry oil from the Bakken formation in North Dakota to an existing oil terminal in Illinois. Most of it is completed, except for a short section near the Standing Rock Sioux reservation. The tribe and demonstrators have raised concerns about the threat the pipeline poses to the Sioux's water source and sacred Native American sites.
"The granting of an easement, without any environmental review or tribal consultation, is not the end of this fight — it is the new beginning," Tom Goldtooth, executive director of the Indigenous Environmental Network, said in a statement. "Expect mass resistance far beyond what Trump has seen so far."
Michael McLaughlin contributed reporting.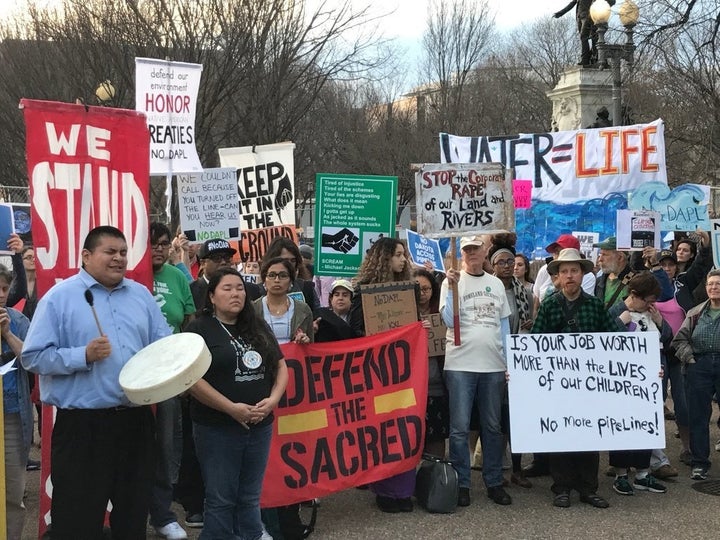 Before You Go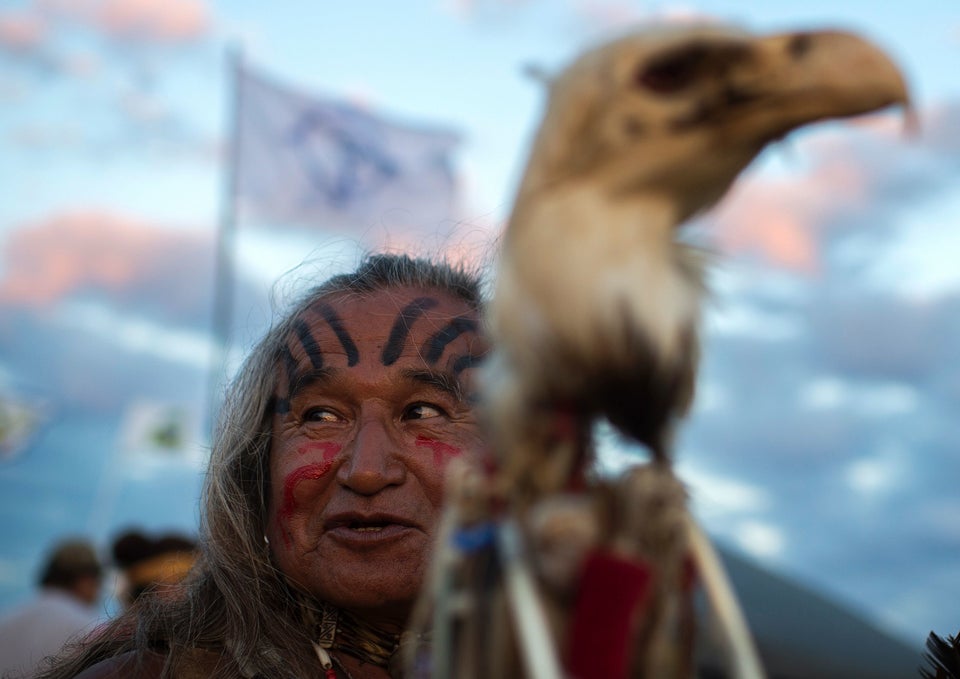 North Dakota Pipeline Protests
Popular in the Community