 NEW YORK -- The much-anticipated firsthand account of the Navy SEALs raid that killed Osama bin Laden reveals the terrorist leader was unarmed and was already dead with a bullet to the brain when the SEALs entered his bedroom in the compound at Abbottabad, Pakistan.
As the SEALS ascended a narrow staircase, the team's point man saw a man poke his head from a doorway, wrote a SEAL using the pseudonym Mark Owen (whose real identity has since been revealed by Fox News) in "No Easy Day," a copy of which was obtained at a bookstore by The Huffington Post.
"We were less than five steps from getting to the top when I heard suppressed shots. BOP. BOP," writes Owen. "I couldn't tell from my position if the rounds hit the target or not. The man disappeared into the dark room."
Team members took their time entering the room, where they saw the women wailing over Bin Laden, who wore a white sleeveless T-shirt, loose tan pants and a tan tunic, according to the book.
Despite numerous reports that bin Laden had a weapon and resisted when Navy SEALs entered the room, he was unarmed, writes Owen. He had been fatally wounded before they had entered the room.
"Blood and brains spilled out of the side of his skull" and he was still twitching and convulsing, Owen writes. While bin Laden was in his death throes, Owen writes that he and another SEAL "trained our lasers on his chest and fired several rounds. The bullets tore into him, slamming his body into the floor until he was motionless."
Then the SEALS repeatedly examined his face to make sure he was truly bin Laden. They interrogated a young girl and one of the women who had been wailing over Bin Laden's body, who verified that it was the terror leader.
The shots fired inside the room appear to contradict the mission they were given. During a meeting with top commanders, a lawyer from either the Pentagon or the White House "made it clear that this wasn't an assassination," writes Owen, who recounted the instructions: "I am not going to tell you how to do your job. What we're saying is if he does not pose a threat, you will detain him."
Searching bin Laden's neatly organized room, Owen found two guns -– an AK-47 and a Makarov pistol -– with empty chambers. "He hadn't even prepared a defense. He had no intention of fighting. He asked his followers for decades to wear suicide vests or fly planes into buildings, but didn't even pick up his weapon. In all of my deployments, we routinely saw this phenomenon. The higher up the food chain the targeted individual was, the bigger a pussy he was."
The book calls out inaccurate accounts of the assault. "The raid was being reported like a bad action movie," Owen writes. "At first, it was funny because it was so wrong."
Contrary to earlier accounts, Owen says SEALs weren't fired upon while they were outside the gate of the compound. There was no 40-minute firefight. And it wasn't true that bin Laden had "time to look into our eyes."
Owen, a 36-year-old SEAL who also took part in a previous 2007 attempt to get Bin Laden and was involved in the heroic 2009 operation to free Captain Richard Phillips from pirates off the coast of Somalia, also had harsh words for President Barack Obama.
Though he praises the president for green-lighting the risky assault, Owen says the SEALS joked that Obama would take credit for their success. On his second night in Afghanistan waiting for final orders, sitting around a fire pit and joking about which Hollywood actors would play them in the bin Laden movie, one SEAL joked, "And we'll get Obama reelected for sure. I can see him now, talking about how he killed bin Laden," according to Owen.
Owen writes: "We had seen it before when he took credit for the Captain Phillips rescue. Although we applauded the decision-making in this case, there was no doubt in anybody's mind that he would take all the political credit for this too."
Later, while watching Obama's speech announcing the raid, Owen writes: "None of us were huge fans of Obama. We respected him as the commander in chief of the military and for giving us the green light on the mission." When one SEAL jokes again that they got Obama reelected, Owen asks, "Well, would you rather not have done this?"
He writes: "We all knew the deal. We were tools in the toolbox, and when things go well they promote it. They inflate their roles. But we should have done it. It was the right call to make. Regardless of the politics that would come along with it, the end result was what we all wanted."
Later, when they meet Obama at the White House, Owen says he was reluctant to sign the American flag presented to the president because it would disclose his identity. So, at least one SEAL scribbled a random name on the flag. While going through the metal detector to meet the president, Owen's pocketknife set off the alarm.
After listening to Obama's speech and enduring Biden's "lame jokes that no one got (He seemed like a nice guy, but he reminded me of someone's drunken uncle at Christmas dinner)" the president invited the team to return to his residence later for a beer.
But Owen writes a few weeks later: "We never got the call to have a beer at the White House." Joking with a fellow SEAL, "Hey, did you ever hear anything about that beer?" Walt cracks: " You believed that shit. I bet you voted for change too, sucker."
Tommy Vietor, spokesman for the White House National Security Council, said in an email: "As President Obama said on the night that justice was brought to Osama bin Laden, 'We give thanks for the men who carried out this operation, for they exemplify the professionalism, patriotism, and unparalleled courage of those who serve our country.'"
Before You Go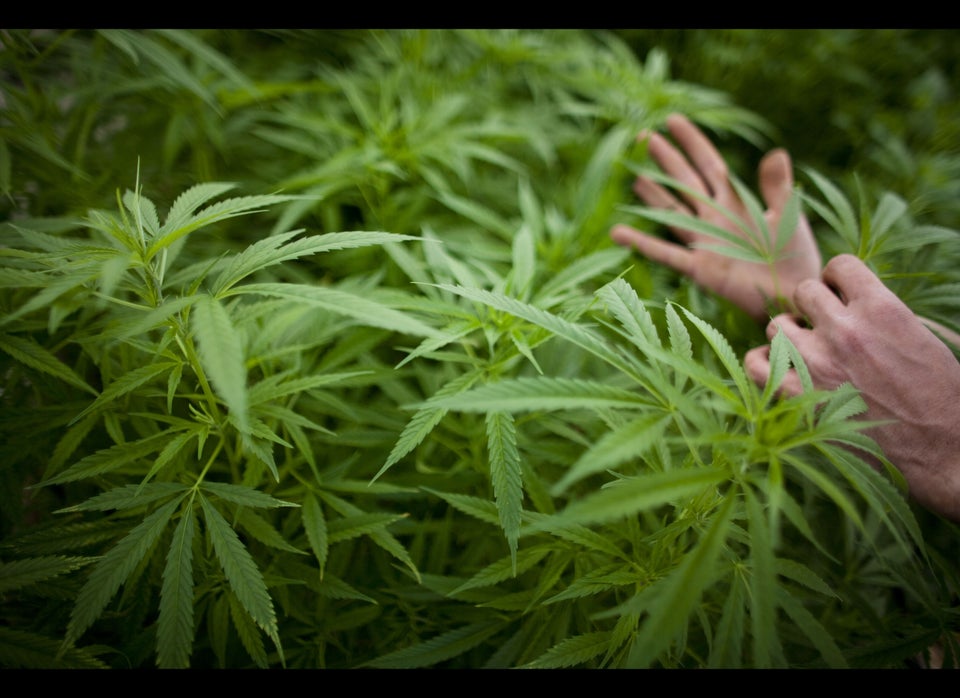 Bin Laden Compound Discoveries
Popular in the Community