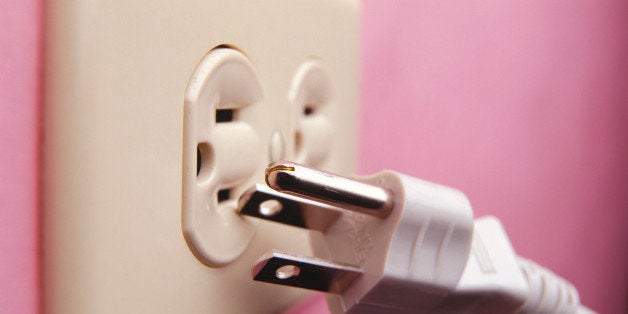 This technology connects you with everyone you are not with, and disconnects you from everyone you are with. -- J.J. Abrams
I'm always looking for ways to jump-start my body for a healthier, more active life. I've never been one for diet juice cleanses. From what I've read, such a regimen would be physically and emotionally jarring to my system.
But when my smartphone went dark, my PC succumbed to malware, and my old TV (or "boob tube," as my dad liked to call it) conked out (must things always happen in threes?), I was forced to undergo a different kind of cleanse -- a digital cleanse -- which proved as jarring as I imagined a juice cleanse to be.
As I awaited the disinfection of my computer, the arrival of a replacement phone and the installation of my new "smart" TV, I wondered if something bigger was at work here. Was something forcing me to unplug from all of my devices and plug in more with my "self?"
I was enjoying the benefits of my recent immersion into solitude and wondered if I should slowly let go of technology and limit my internet, smartphone and TV usage. I thought I'd wean myself off, scaling back little by little. I like to ease into things. I didn't intend to go cold turkey from all these gadgets at once! This unanticipated cyber "holiday" swiped that menu option from my virtual plate.
So, I pondered -- if a diet cleanse could recharge, rejuvenate and renew, would a digital cleanse serve the same purpose? Thus began my forced sabbatical into total digital silence and a whole new life!
I had been perpetually plugged in, "connected" to being connected. What would happen without unfettered access to technology? Would my life be the same without my cyber lifeline? If I disconnected from my virtual life, would I connect differently with my real one? Surprisingly, the answer was yes. It was not only possible -- it was surprisingly exhilarating and freeing.
After being thrust into digital withdrawal for seven days, I had a complete rethink.
Here are some of my reflections from this mini-"fast."
It was unsettling at first. I felt lost. Was it possible I was moving in slow-mo? I wondered what was going on in the world and what I was missing. I felt as if I'd traveled back to the Stone Age. Everywhere I looked I faced a shiny black screen reflecting nothing but my own image. I waited for those alerts, chirps, beeps and buzzes, and that seductive white-blue glow to signal a message... but they didn't arrive. Surely I had lived this "old-fashioned" way before, back when this technology didn't exist, and I managed just fine. In fact, we may have all been better off. How was I going to deal with the untethered life?
How did I manage this cold-turkey withdrawal from devices? Would I find myself alone without friends, business colleagues or entertainment channels? Would I awaken in the middle of the night with visions of screens of all sizes marching past my eyes; with sounds of beeps and ringers deafening my ears; or with each of my ten fingers pounding upon my pillow in search of a keyboard? Stay tuned for the next episode of my adventures in non-digital space in Part 2.
Related
Popular in the Community