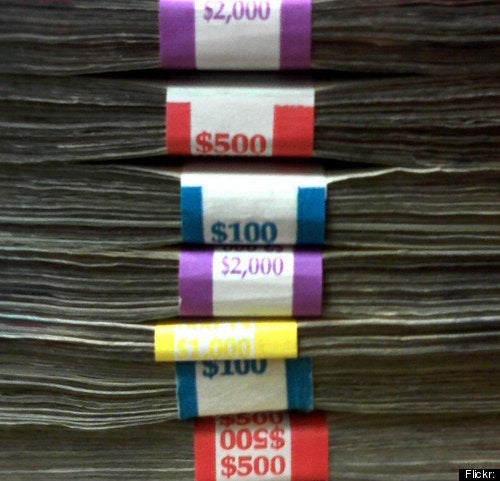 I've listened with great interest to intellectual minds like Dr. Cornel West, politically savvy leaders like Al Sharpton and Jesse Jackson, and informed media personalities like Tavis Smiley and Tom Joyner. All have uniquely insightful perspectives -- and all have outspoken views about the job the president is doing.
Yet, Black America -- which has remained consistently rutted within a channel of economic depression since Dr. Martin Luther King marched the segregated streets of Selma, Alabama -- was quite familiar with the aforementioned names long before it ever pinned all of its hopes on the name Barack Obama.
I'm not quite sure if any of the outspoken critics expressing disappointment in this administration have articulated specifically how Black America ought to have already experienced the change hoped for in 2008.
The most extraordinary notion I've gleaned from some expressions is the implication that President Obama should accomplish -- within the span of four years -- what Black Americans have failed to accomplish collectively over the past three decades.
Allow me to be clear on the point.
Black America is currently experiencing double the unemployment rate of the nation's overall jobless rate. That double-the-overall-jobless-rate statistic is virtually unchanged from the days when little Barack was in diapers.
Black America has watched the ever-widening chasm between Black wealth and White wealth quadruple over the past couple of decades. But the real insight is inherent in the fact that Black wealth in the 1960s was 25% of White wealth ... quadruple what it is today (6%).
So, what has President Obama prescribed for the economic ills of Black America? The exact same prescription he's written for the nation as a whole:
Investment in STEM education
Investment in technological innovations
Investment in high-growth entrepreneurship
The refrain ought to be sung by the whole choir: Investment.
Investing in Black America
Where is the Black investment in STEM education? Given that STEM literacy is the passport to a bright future in the increasingly competitive and global 21st century innovation economy, there's a real need to focus on black student preparation and achievement in STEM at the k-12 and post-secondary levels. Recognizing that large numbers of black students are educated in public school districts located in our major urban centers, we need not look any further than Detroit, Milwaukee, Chicago, Atlanta, New York, Baltimore... as examples of failure where high schools have served as drop out factories rather than STEM magnets that prepare black youth for the promise of the innovation economy. In Philadelphia, for example, less than 1 percent of its students graduate and go on to finish college at a 4-year university in any form of a STEM major. Less than 1 percent.
Philadelphia serves as a microcosm and is indicative of a widespread problem in all of our urban centers that have failing public school systems ... where a majority of African-American students are educated. What future does a system of education hold for our students when it cannot effectively prepare them for an increasingly competitive market?
Where is the Black capital investment in high-growth entrepreneurs? There are many exciting business incubators and accelerators, like Plug and Play Tech Center in Silicon Valley, TechStars in Colorado, Jumpstart, Inc. in Ohio and many more across the nation. But where is such training, mentoring and investment within Black communities?
Where is the investment in channels of access to capital for entrepreneurs? There are more than 500 angel and venture capital groups within the developed mainstream national infrastructure. But there are very few Black American groups. The Minority Angel Investment Network is such an effort. But where are collaborators to help it grow?
A recent rising star, H360 Capital, aims to address this virtually vacant space by raising $100 million in venture capital. How much more effective would its Black principals be in generating the funds they need if they received eager investments from thousands of high net worth Black Americans and collaboration with other like-minded groups?
Black Americans MUST be willing to invest in Black America. How embarrassing is it to beg White power brokers in government and corporate America to do exactly what we are not willing to do?
Investment Capital Infrastructure
Allow me to be clear on the point.
The Kauffman Foundation is the nation's largest nonprofit focused on investment in entrepreneurship. It reports that all net new jobs since 1980 were the result of companies less than five years old. That sort of high-growth entrepreneurship is the direct result of capital investment from private sector angels and venture capitalists.
The high-risk private capital investment industry is relatively new. Angel groups that invest in seed stage and early stage companies have just one main trade organization: Angel Capital Association. It's only six years old.
In 2008, venture capital-backed companies produced nearly $3 trillion, roughly 21% of GDP.
In 2007, all of the nearly two million Black-owned businesses combined produced $137.5 billion, less than 1% of GDP.
Since 1970, venture capitalists have rained torrential buckets of cash ($456B) into more than 27,000 companies.
Black Investment Required
There are three things we know:
Private equity capital investments did not rain down upon Black entrepreneurs to any appreciable degree over the past three decades.
Black America was, and is, disconnected from the private capital equity investment infrastructure and high-growth entrepreneurial ecosystem.
Black America has failed to develop its own investment infrastructure and high-growth entrepreneurial ecosystem.
There are three main reasons I believe Black America has remained economically devastated for decades since its Civil Rights Era victory, despite boasting nearly $1 trillion in annual consumer spending last year:
Black America does not invest in nor focus on STEM education (to any appreciable degree) as its highest education priority to fill the creative technology funnel with Black innovators.
Black America has not developed its own angel and venture capital networks and connected them to the existing private capital infrastructure.
Black America does not energetically and enthusiastically invest in high-growth entrepreneurship through development of an entrepreneurial ecosystem.
The Black Innovation and Competitiveness Initiative (
) is the only national voice in Black America specifically focused on connecting 20th century Black America to the 21st century "Innovation Economy," comprised of three core pillars: STEM Education, Capital Investment and High-Growth Entrepreneurship.
There is no excuse for Black America to go another decade enduring severe economic depression. Consider the progress Blacks have made in other hostile arenas within a very short time span:
Television Industry: In 1988, Bill Cosby was juggling Jello alongside a popular family show that carried his name and re-defined how America viewed Black families. Today, the name Cosby is an iconic name in American entertainment.
Pro Football: In 1988, Doug Williams was the first Black quarterback to win a Super Bowl. Matching wits with Hall of Fame quarterback John Elway, Williams out-Elwayed Elway in a masterful comeback from 10-0 at the half to lead the Redskins to a 42-10 victory in Superbowl XXII. Today, the NFL has many talented Black quarterbacks, coaches and front office personnel. Some Blacks in the pro sports world are now team owners.
Music Industry: In 1988, Whitney Houston was on top of the music world after her second album release the previous year debuted at No. 1 on the Billboard 200s music chart. Today, she remains the most awarded female artist of all time. We see Black music moguls today who compete on a level that Motown never could in its heyday.
Wherever Blacks have concentrated our time, talent, efforts and monetary investments, we have succeeded in transforming the space.
Black Angels and Entrepreneurs
It is time for Black America to invest in developing a private capital equity investment infrastructure and a high-growth entrepreneurial ecosystem. Black America's experienced academic, political, business and community leaders, as well as its high net worth asset class, must be willing to come to the table of collaboration to leverage their influences in generating the type of exponential economic impact Black America MUST produce to save itself from a potential future as a permanent underclass.
Popular in the Community