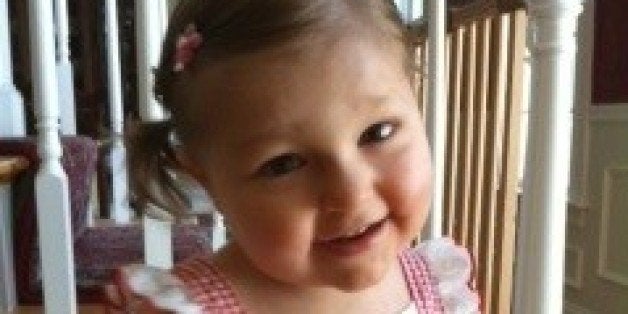 For six years I lived with fear's tight grip on my heart. Then, one year ago, on September 26, 2012, my greatest fear came true -- I lost my beautiful daughter Avalanna.
Diagnosed when she was just 9 months old with a rare pediatric brain cancer AT/RT (atypical teratoid rhabdoid tumor), Avalanna fought a valiant fight for nearly seven years before she was taken from us. As her parents, our determination to find a cure for our daughter consumed our lives and infiltrated our every thought.
When Avalanna was first diagnosed we were simply devastated. It brought us to our knees, but our Avalanna brought us back to our feet. With difficult times beyond imagination, Avalanna fought the battle with a greater sense of humor and grace than one could ever expect.
Avalanna was so little, yet she was so big. She may have had trouble walking sometimes, but it seemed like we could never keep up with her. She had an adorable little lisp, though she was quite the linguist. She did everything with enthusiasm and had the beautiful gift of spreading her joy wherever she went.
We still find ourselves laughing at the cute things she would say. Like any kid, bedtime was not a favorite time. Avalanna had too much life to live to waste time sleeping. We would tell her that she needed her beauty sleep to which she would reply, "I am too beautiful to have to worry about that."
From The Today Show, to the Apollo Theatre, telethons and fundraisers -- Avalanna never found a microphone she did not fall in love with. One of her greatest adventures was meeting Justin Bieber. In typical Avalanna fashion, she was completely unfazed by Justin's fame. She fell in love with a cute boy who was mesmerized by our girl because she radiated life, love, laughter and so much mischief. She was the light of our lives and still shines so bright.
Since the day I physically lost my brave, funny, beautiful daughter, I have been working on keeping the pieces of my broken heart held together. I have tried to allow just small amounts of grief in at a time. Of course, waves of painful feelings still come and some continue to knock me off my balance, especially on days like today -- Avalanna's Angel date. I still cannot believe that I have survived an entire year without the person who is as important to me as life itself.
I have lost my greatest love, my brightest spark. But I know what I need to do. I need to fan that unique spark of life that was my Avalanna. Because when I look at Avalanna's life, I see so much more beauty than pain. And in my heart of hearts, I know that Avalanna came here with a purpose, to send a message to the world.
In 2008, in conjunction with the Dana Farber Cancer Institute, my husband and I started a foundation www.cureatrt.org to create awareness and raise funds for a cure for AT/RT. Today, we continue the work on our foundation with more passion than ever. Avalanna, through her unique relationship with Justin Bieber, created a global awareness for AT/RT. She has nearly 450,000 Twitter followers who continue to contribute to our foundation. We have held many fundraisers including a "Meet Justin Bieber" contest. Each night, we mail Avalanna bracelets globally -- a simple purple and yellow bracelet (her favorite colors) emblazoned with Avalanna's name and the three words: Live, Laugh, Love.
We direct all of the funds we raise to Dr. Charlie Roberts, a dedicated, compassionate and brilliant doctor at Dana Farber who is committed to finding a cure for AT/RT. Dr. Charlie introduced us to Stand Up To Cancer (SU2C), which raises money to support Dream Teams of scientists who work collaboratively to develop new treatments quickly in order to save lives now. This past April, Stand Up To Cancer worked with the St. Baldrick's Foundation to bring together a new Dream Team focused exclusively on pediatric cancers. I wish there had been a SU2C-St. Baldrick's Pediatric Cancer Dream Team years ago -- then we might still have our Avalanna here with us.
I cannot tell you how important it is for me to keep Avalanna's legacy shining bright and to honor our girl by translating the awareness she helped raise into action and additional funding for research. She was a beacon of light and we will not allow her bright flame to go out. We need to continue to Stand Up To Cancer and make our girl proud.
If I could have chosen any daughter in the world, I would have chosen my Avalanna. I have never asked myself, "Why me?" Despite my broken heart, I am the luckiest mummy to have loved and to have been loved by my perfect little girl. I would choose my Avalanna again and again -- whatever the outcome.
To learn more about the Pediatric Dream Team, please visit SU2C.org .
WATCH: SU2C Patient Story: Avalanna