Martin Macias, Jr., a credentialed freelance journalist who contributes to Vocalo.org, the online and new media outlet for Chicago Public Radio, was turned back from the Canadian border late Saturday night.
Martin was a lead organizer for No Games Chicago, the all-volunteer citizens group that opposed the Chicago bid for the 2016 Olympics. Martin was part of the No Games delegations that went to the International Olympic Committee's international headquarters in Lausanne, Switzerland and then to Copenhagen, Denmark to deliver materials documenting the reasons why Chicago should not have been awarded the games. Martin was an invited guest a conference critical of the 2010 Vancouver games and the Olympic industry.
"I was in the passport line in Vancouver," said Martin, "and I told them I was a radio journalist and a student a Malcolm X College. The agent put a big circle and x on my ticket. I was pulled out the line and questioned aggressively for two hours. They wanted to know what I was going to do in Vancouver, who i was meeting with, who organized the conference and what they looked like. They took all my contact information and business cards of journalists and other people I was to connect with while in Vancouver."
Martin also said that he asked for a lawyer and was denied access to one. He demanded to know what his rights were. "You don't have any, they told me."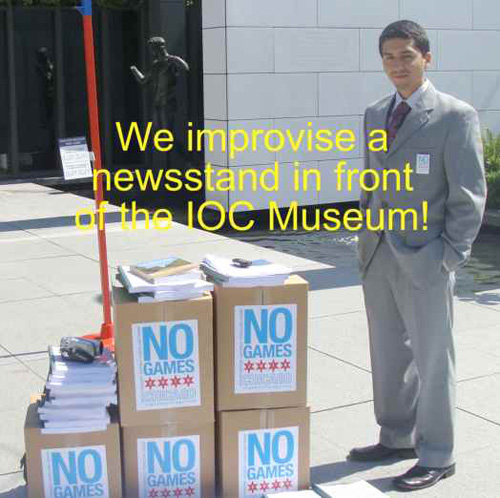 This image is from in front of the IOC Museum, June 2009, when No Games Chicago delivered it's "Book of Evidence" to the IOC and international press.
After the questioning, the authorities put him on a plane to Seattle, where he is on his own. He is staying at a hotel using his pocket money for now until he can find another place to stay. His return ticket is still valid and Martin plans to stay in Seattle for the moment until he can figure out what to do next.
Messages can be sent to Martin via his Facebook profile or email him at nino.azteco89 at gmail dot com.
I had the pleasure and privilege of working with Martin on the No Games campaign and can say that Chicago is lucky to have such a young person so talented, knowledgeable and passionate about social justice issues. We always said that cities that host the Olympic games surrender their sovereignty to the IOC and must subordinate their laws to the whim and rule of a Swiss corporation. Now, it seems that this applies to entire nations. And while I am no legal scholar, Martin's treatment seems to violate several clauses of the United Nations Universal Declaration of Human Rights.
What happened to Martin could happen to you if you run afoul of the large corporations that now dominate international affairs. If you dare to criticize Big Policy that is closely aligned with Big Business, you also might find yourself on a watch list and thrown into a detention room and grilled by security forces with no recourse to legal counsel and then flown against your will to a destination not of your choosing.
If you care to express your opinion about this treatment to a law-abiding U.S. citizen, you may want to contact the Canadian Consulate General at Chicago Two Prudential Plaza, 180 North Stetson Avenue, Suite 2400. Chicago, IL 60601. Tel: 1 (312) 616-1860 .
Support HuffPost
The Stakes Have Never Been Higher
Related
Popular in the Community