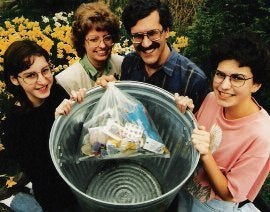 Once Chris and Cindy Burger of Whitney Point, NY, fill a brown paper trash bag, they will take it to the landfill. They have been filling the same bag for twenty years -- and there is still room. Chris figures their family of four produces about 12 ounces of garbage per person per year. No joke.
Chris's personal philosophy, "If you take something into your life, you are responsible for it. If you don't want the responsibility, don't buy the item." he adds, "And responsibility does not end when the trash is taken to the curb."
But Chris is quick to point out that this reduction in garbage production did not happen overnight. He and his wife, Cindy, were affected by the first Earth Day celebration in 1970. As people around them commented on the government's or business's responsibilities, the Burgers thought about individual actions. They decided to look at two things -- personal energy consumption and their waste production -- and address both.
When they began recycling, there was no county recycling program. They took their cans to the scrap yard and their jars to a glass factory. Subsequently, they helped create and establish a recycling program in Broome County.
Chris's tips include shopping with care. If you don't compost, start now. Be aware of all packaging. And, pretend you don't have garbage service. "Your choices will begin to change." he assures. And if your county does not have an adequate recycling program, advocate for one, and volunteer to help out. Become part of the solution. Eventually you will be ready to pull the plug!
Inside the Burger's trash bag, one would mostly find composite packaging, such as foil lined plastic tubes. When Chris accidentally buys anything with fused materials, he calls the 800 number invariably listed on the package and asks how he should dispose of their packaging, since he does not have trash service.
The partially filled paper bag is a testament to the Burger's Earth Day commitment. Chris says, "Unlike most American homes, my children never had to take out the trash when they were growing up. Instead, they will probably inherit it!"
REAL LIFE. REAL NEWS. REAL VOICES.
Help us tell more of the stories that matter from voices that too often remain unheard.