It was last week that MSNBC's "Morning Joe" Scarborough and co-host Willie Geist yukked it up about the Olympics, choosing to get their laugh lines in the area of Men's Figure Skating:
WILLIE GEIST: Joe, I know you're very, very excited about the uh Men's Figure Skating tonight. It should be a real battle.
JOE SCARBOROUGH: Well, it's always, every four years I look forward to it. It's a great chance for me to do a couple things at once. It's usually where I get my nails buffed and polished while sitting there watching Men's Figure Skating.
GUEST COMMENTATOR: One thing it does do though, it gives you a preview of what Willie will be wearing when he comes back here to New York.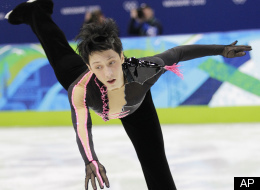 Perhaps Joe and company should be congratulated for keeping their homophobia and gender stereotyping to at least a PG level. What, with talk radio personalities like Dallas KRLD-FM's Gregg Henson "quipping" about US figure skater Johnny Weir: "We know you're gay, queen. It's your choice to live that 'lifestyle.'" Gotta love talk radio for not holding anything back, huh?
As noted in GLAAD Blog's coverage analysis, in both national and international sports media outlets, homophobic comments and jabs about male figure skaters who break gender norms, Johnny Weir in particular, dominated sports-oriented talk radio and television throughout the Vancouver Winter Olympics. One commentator even suggested Weir should undergo gender verification testing and another suggested Weir become a U.S. entry into the Women's skating event.
The list of famous Olympians who are or were openly gay or lesbian is, well, short. And it's easy to see why when outlets like the Chicago Tribune post polls asking whether people 'cared' whether Weir was gay or not when he competed during the 2006 Winter Games. The sports commentator's impulse to analysis - even apparently harmless polls like the Chicago Tribune's--is born of a deep and deeply troubling assumption in the minds of sports commentators that "it's a man's world" and that means gay people or those who break gender norms aren't welcome.
The Olympics are intended to bring together a global community to celebrate diversity and sportsmanship. Can it be -- even if for just these two weeks -- Morning Joe lets Johnny Weir do his triple lutzes and lets the rest of it go? Or that editors and producers sit up and take notice: the whole world is watching and that means they're watching the homophobic coverage and commentary, too, that perpetuates stereotypes, feeds a climate of intolerance, and ultimately can lead to violent acts against gay and transgender people.
At GLAAD, we triage cases everyday of bad behavior in the media because such anti-gay ridicule trickles down to shape how individuals treat members of our community and families. How does that happen? Here's a story. A personal one. My son was ridiculed to the point of tears on his third day of baseball practice last year because he told some of his new teammates that he had two dads. Where did these boys get the idea that it was okay to say these things? We already know the answer--and that's why Morning Joe and all the other put-down artists who call themselves journalists need a wakeup call.
Is this muzzling the media? How about we ask the question back to them: why are you refusing to cover those lesser-known Olympians who are out as gay or lesbian? This year's problematic Olympics coverage comes after a refusal by mainstream press to cover those openly LGBT Olympic athletes like diver Matthew Mitcham during the 2008 Summer games and omit mentions of their partners in profile pieces.
To be sure, after GLAAD spoke with editors and producers regarding coverage of Weir, apologies issued forth. Stories were corrected online. That's all important. But the real question is why it happened in the first place. And why it will happen again. To the sports media: Heal thyself. The industry needs to reflect deeply on how it covers sports, and how that coverage perpetuates stereotypes that can lead to intolerance and violence.
In the end, it seems Johnny Weir's words sum it up the best:
"I'm totally for freedom on speech and voicing your opinion [but] I want them to think before they speak. I want them to think about not only the person they're talking about but also the other people like that person. I want them to think about the other generations of people that they're affecting by talking like that."
-------------------------
Popular in the Community