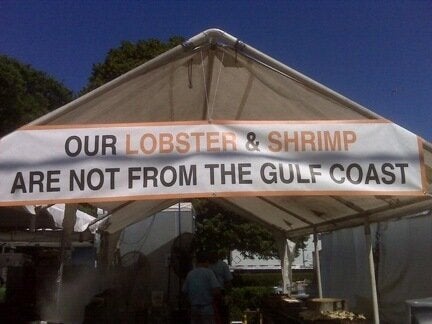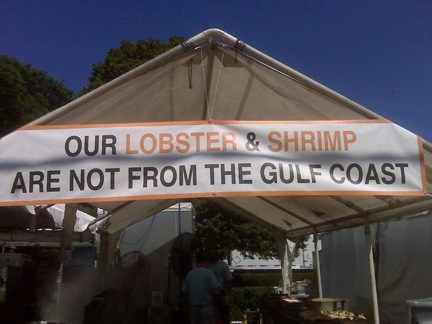 When it comes to misinformed signage, bad news travels fast. A news producer in Chicago sent this booth sign to a New Orleans friend writing, "Sorry to say, I snapped this picture at the Taste of Chicago yesterday afternoon." It was then forwarded to New Orleans food writer Lorin Gaudin who posted it on Twitter. That's three degrees of separation, since Gaudin is originally from Chicago.
"I was at the very first Taste of Chicago when Jane Byrne was Mayor. I am sick, just sick about that photo. Disgraceful," she says of the "Our Lobster & Shrimp Are Not From the Gulf Coast" sign.
Top Chef Judge Tom Colicchio talked about the perception problem at a Friends of the Fishermen event in Grand Isle last month. He told me he's heard stories from fellow restauranteurs about customers saying, "I can't believe you still serve seafood." As if every fish in the ocean is tainted by the BP oil spill. To push back on some urban legends, seafood vendors do not generally order lobster from the Gulf Coast; there is no Gulf Coast walrus crossing; and Gulf Coast seafood is now being tested for safety more than any other source in the country.
So Dear Chicago: We gave you Louis Armstrong. We gave you the playoffs of 2007. We gave you Gulf Coast seafood. Please investigate for yourself whether our seafood is safe and tested.

* Thanks to the commenter pointing out that only Oak Street Beach Cafe had the sign. Some commenters correctly point out that it isn't the view of the majority of Chicago restaurants. But other comments indicate that there is a strong national backlash affecting the seafood industry in this ongoing debate.