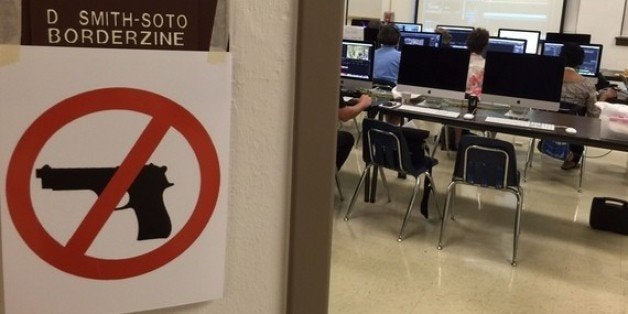 The latest notable gun killings (as opposed to the daily carnage now routine in our cities) at Delta State University in Mississippi echoed in my classroom in Texas.
This time, one professor shot another educator on September 14. It was not a case of an alien killer dropping in from hell to cause havoc. It was simply an angry man shooting another, which can happen anywhere a gun is present.
That is why I say that the Texas State Legislature went one gun too far when it passed the so-called "campus carry" legislation this year, which would allow individuals to carry concealed firearms on public university campuses in 2016.
That means that any person with any motive or in any state of mind can carry a gun on campus unchallenged by law enforcement or any authority. And I don't want those guns in my classroom.
When Gov. Greg Abbott signed the legislation into law in June, I immediately posted a "no guns in my classroom" sign on my door.
That lonely act of protest in the basement of a building on the border at the University of Texas at El Paso began to reverberate and a movement gained traction in the University of Texas system. A rally protesting the law is scheduled for Thursday, October 1 at noon on the West Mall of the University of Texas at Austin campus.
"In September, with virtually no notice or organization, it took a group of faculty only two days to find more than 100 faculty members who pledge to refuse to have guns in their classrooms," said Prof Joan Neuberger of the Department of History at UT Austin.
"Organizing through words of mouth, email and Facebook (Gun Free UT) Gun Free UT was formed to express our opposition to Campus Carry. Our FB page now has over 800 members and our petition has over 2000 signatures," she said.
Speakers will include faculty, staff, students, parents and alumni, and will include Texas State Rep. Donna Howard. The rally is sponsored by Students Against Guns, a group organized last spring to prevent the passage of the law.
Since the law allows schools to designate some areas of a campus as "gun-free zones," the professors are also working hard to expand those zones to the maximum in number and in area. Ironically, the exemption that allows schools to designate zones as "gun-free" proves to me that this law is bogus.
Why should one part of the campus or one program at the university be selected to be gun-free? Would that be because the presence of guns is disruptive, dangerous, threatening? Then that reasoning should apply to the entire campus. It implies that carrying a concealed gun on campus is so dangerous that some areas, perhaps programs such as childcare and some laboratories, should be gun free. Therefore, the entire university should be gun free.
And it is not our job as university professors to engage in gun battles in our classrooms. In a civil society of laws, we must depend on law enforcement to battle the gunmen.
That is why I consider the "campus carry" law a betrayal by our elected officials. Instead of protecting us and contributing to the common good, they are putting us in mortal danger. While they revel in this little victory in their make-believe world of right wing politics, we are left facing real guns in our lecture halls.
Calling all HuffPost superfans!
Sign up for membership to become a founding member and help shape HuffPost's next chapter