We don't need a functioning government to tell us that the job market is lousy. But we do need one to help make the job market better.
It's the first Friday of the month, usually the day we get a bunch of random numbers from the government telling us what we already knew: Good jobs are scarce. This month, the government is too busy being held hostage by House Republicans to give us those random numbers. But there's plenty of evidence already that September was grimly similar to many of the months that came before it in this grinding recovery.
With sagging consumer confidence and hiring surveys, September may even have been worse than August, which was itself not a great month for jobs.
And October could be worse still, given the political chaos in Washington, which Republicans are threatening to turn into a full-blown financial crisis. That is starting to worry financial markets and could already be affecting hiring.
Whenever Bureau of Labor Statistics workers stop being furloughed by a government shutdown, economists, on average, expect it to report 185,000 new jobs on nonfarm payrolls in September and an unemployment rate holding at 7.3 percent, according to a tally by MarketWatch.
But earlier this week a report on private job growth by the payroll-processing firm ADP and a service-sector hiring survey by the Institute for Supply Management was worse than economists expected, suggesting September's official jobs numbers would disappoint.
September's job report will probably look a lot like August's, with less than 170,000 new jobs and an unemployment rate probably still well north of 7 percent, mainly because people keep checking out of the labor market. When you give up looking for work, you're no longer "unemployed" in the eyes of the BLS, et voila, lower unemployment rate.
These numbers are certainly an improvement over the depths of the Great Recession, when unemployment hit 10 percent. We have recovered about 7 million of the jobs lost during the recession, but are still about 2 million jobs below the peak before the recession began. (Story continues after chart of frustration.)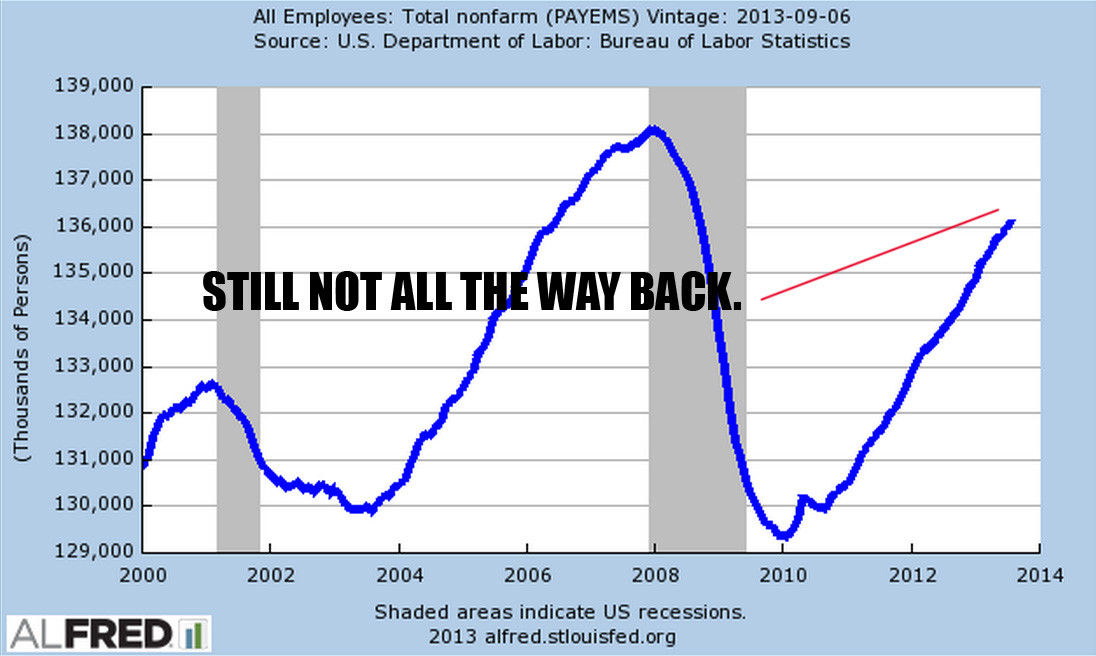 This grind has made for the slowest job-market recovery since the Great Depression, as you can see from this chart updated monthly by Bill McBride of the Calculated Risk blog: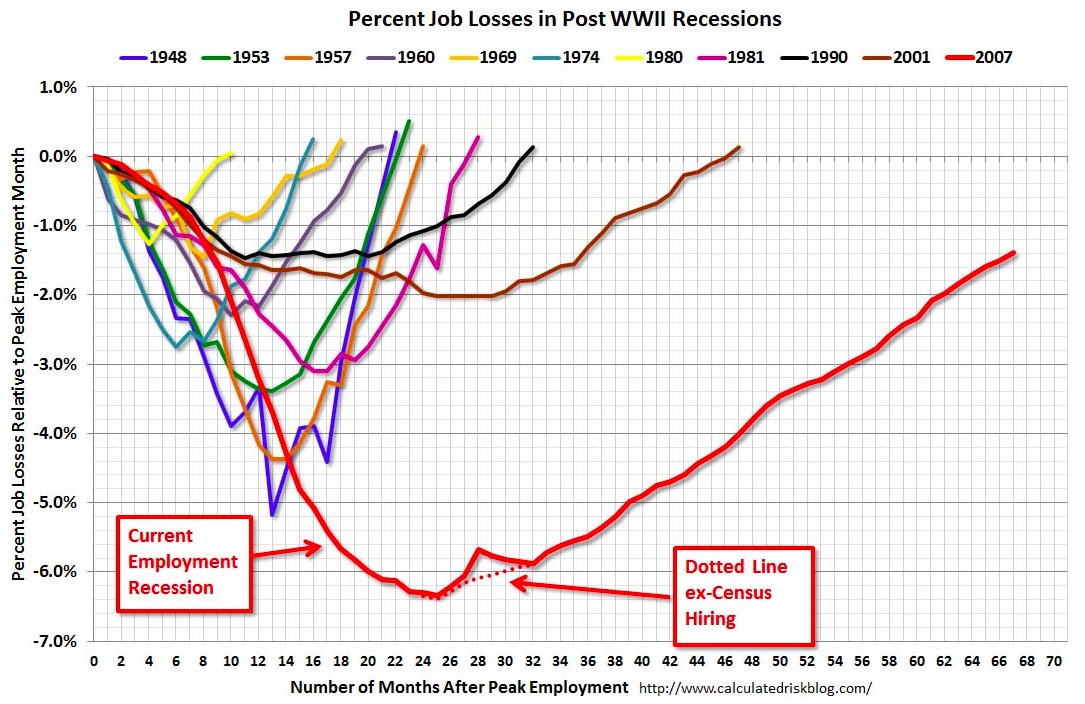 The jobs that have been created are mostly low-paying jobs:
Which is one reason wages have lagged far behind the stock market and corporate profits: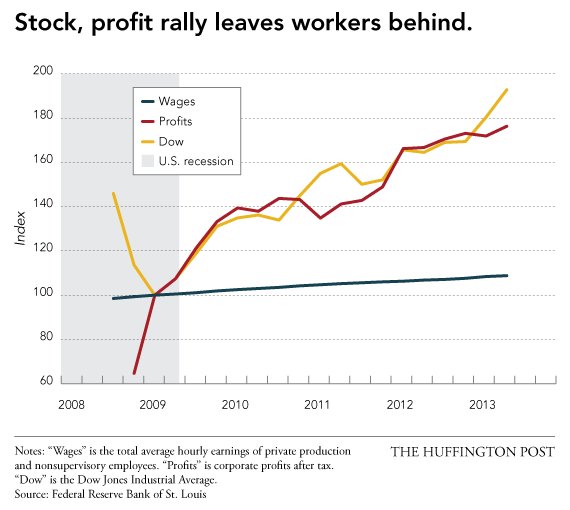 Despite what amounts to an employment crisis, Congress and the White House have spent most of the past couple of years locked in nonstop pointless battles over the federal budget. The austerity that has resulted has kept the recovery slow and painful: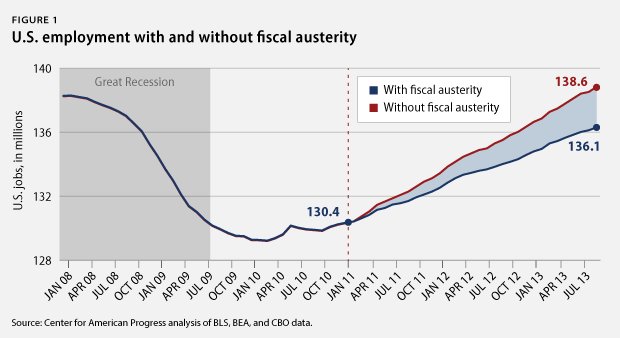 Now House Republicans are making the situation even worse by shutting down the government and threatening a government debt default. That could turn a weak recovery into another recession.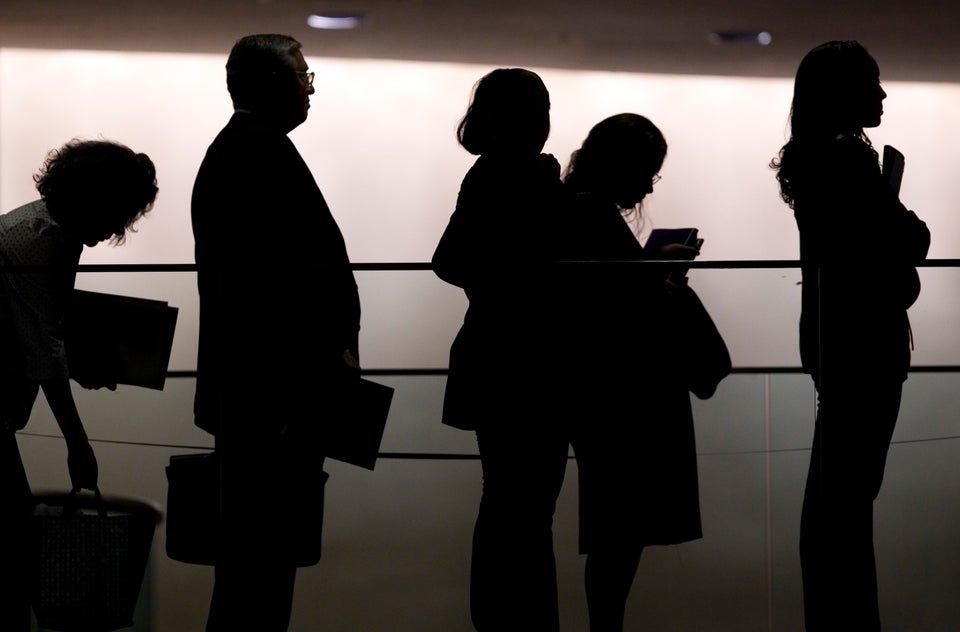 9 Ways Americans Haven't Recovered