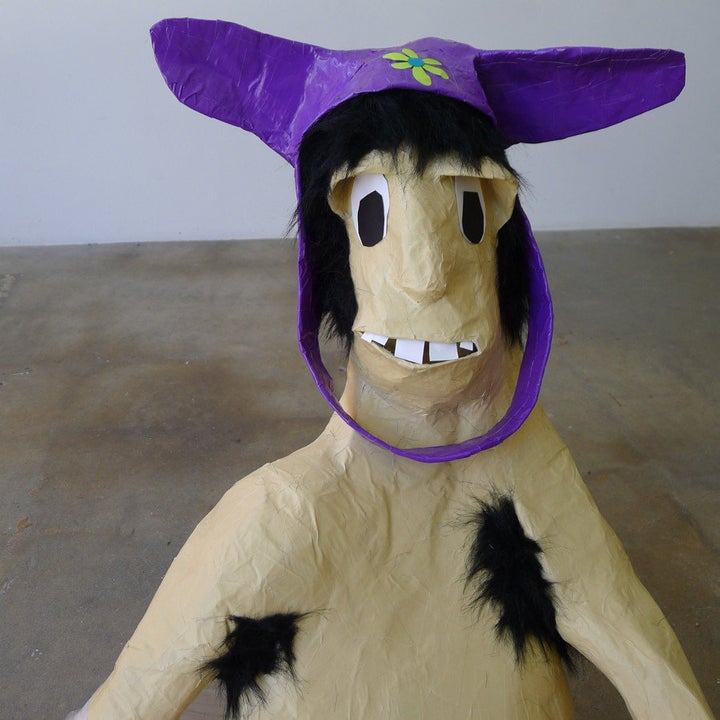 So why did Los Angeles art provocateur and Huffington Post Arts blogger Mat Gleason open an art gallery of his own? "If the galleries and museums are not going to show good art and curate great shows, somebody has to," states Gleason in the press release.
Coagula Curatorial showcases artists who work in the language of cartoons and animation yet steer clear of its traditional association with Pop or commercial art. The motley cartoon collection is part playful, part dark, yet all avoid the cheeky distance of glossy pop.
In the inaugural exhibition, we see a mixed group of artists on view.Rochelle Botello creates oversized sculptures from household materials that resemble the rejected and deformed cousins of kids TV shows' biggest stars. Grotesque, humorous and pathetic, we fight between urges to run away and take it home. Lethargic Artist shows his first public work of art outside of his Facebook page. The cardboard cartoon is unassuming while possessing a power that lures you to play its game and feel the failure it promises. The surprising array of untapped talent gives weight to Gleason's notorious attacks on heterogenous (and perhaps lazy) established galleries.
Gronk is a founding member of ASCO, an East LA multi-media arts collective in the 1970s. The collective conducted strange performative happenings on the streets of LA. Mostly known for his murals, the artist has also worked with stage design for the Los Angeles Opera and Santa Fe Opera. His work incorporates German Expressionism, cartoon, Chicano tradition, the LA street scene and craft culture. His exhibition features cinematic craft sculptures that combine the drama of the movies with the anticlimactic tactility of handmade goods.
We urge you to stop by Gleason's space and determine for yourself how you think this exhibition compares to more conventional spaces. You've heard him talk the talk... now what do you think?
The exhibition features work from Rochelle Botello, Jim Caron, The Death Head, Carol Es, Jeff Gillette, JERK, Turner Lange, Jose Lozano and Lethargic Artist, and is on view until July 8 at Coagula Curatorial in Los Angeles.