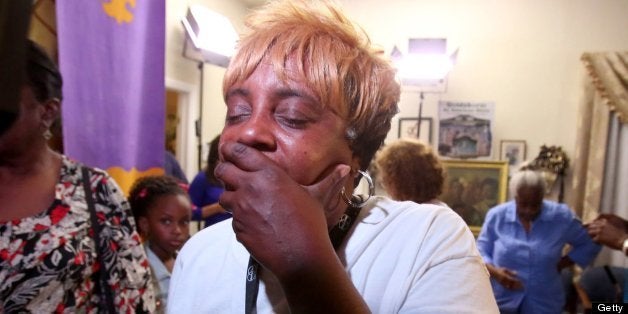 To me the phrase "No Justice, No Peace" is not so much a threat as much as it is a cry of the heart. It is not simply a call to protest, but also a naming of the powers and what those powers have done.
A lack of justice has resulted in a lack of peace.
So many of the people of color, in particular the people of African descent in my life went to bed on Saturday without a sense of peace. And I am not sure that some of my non-Black friends understand why.
There is a lack of peace because of the painful reminder that historically black lives are valued less than the lives of others. This painful truth is reiterated by the invoking of names like Emmett Till, Amadou Diallo, Oscar Grant III, and Trayvon Martin. It is reinforced through disparities in legal sentencing, in execution rates, and in drug policing.
Heavy hearts now lack peace because of the lack of justice in our nation.
But there is a lack of peace also because of the very real fear that many of us parents who have children of color, will feel every time our kids walk to the store. It is the twinge of fear and lack of peace that I and other black men feel every time we are profiled just because of the way we look.
No peace because of no justice.
Soon after the story of Trayvon's killing became national news I found that many of my white friends did not understand the hurt and anger that I and many others felt. Likewise after the verdict was read, I again received messages from friends who didn't get the powerful response that they witnessed on social media sites. A lack of understanding is alright, but a lack of care, a lack of concern is not.
After the jury's verdict came down I like so many others was stunned. Dumbstruck. Silently screaming. My first instinct was to go for a walk and cry. To be quiet. But there is a time for silence and there is a time to raise our voices. Mine is now raised in calling for justice, in calling for divine intervention, grace, and guidance, and in calling out to all of us to work for change.
So now that we see that there is neither justice nor peace, what is next?
We must work for both: To fix a broken justice system and a to fix the broken peace within our hearts and within our communities.
A lack of justice and a lack of peace is a call for action on two different fronts. This means organizing to change dangerous laws like the "Stand Your Ground" and the "Stop and Frisk" policies as well as heartless gun laws in our country. But it also means working to restore peace on an individual level. This is reaching out to those who are hurting. Preaching and writing about this not only prophetically, but also pastorally. It's working not only to change laws, but to change a culture that is far too violent in the first place. It's not only ensuring that the taking of black life is prosecuted just the same as when a white life is lost, but it is working to build a beloved community in which no lives are lost to unnecessary violence. Change laws, get guns off of the street, and change our culture.
Let us work for both justice and peace. And Trayvon. And build with the tools of faith, hope and love.
Support HuffPost
The Stakes Have Never Been Higher
Related
Popular in the Community