Grace under pressure.....
In 2012, Dr Ellen Jefferson, licensed veterinarian and Executive Director of Austin Pets Alive! took a call from a volunteer with APA!'s sister organization San Antonio Pets Alive!. The volunteer was fostering a female dog named Starlight who'd just given birth to five puppies. Over the course of three days of phone calls and texts, and based on the volunteer's description of the mother dog's symptoms, Jefferson made a diagnosis which did not require the dog to be taken to an emergency vet. It was an honest, albeit tragic mistake. Though all five puppies survived, the mother dog died, most likely from hypocalcemia, a rare, but potentially lethal condition who's symptoms can mimic other illnesses. As Executive Director of APA!, Jefferson lives and breathes No-Kill's "save them all" philosophy. She felt horrible that she had gotten it wrong this time. The foster volunteer was, understandably very upset as well. But she was also angry and filed a complaint against Jefferson with the Texas Veterinary Board.
The Texas State Board of Veterinary Medical Examiners is the organization charged with regulating and preserving the integrity of the veterinary profession. They uphold the Veterinary Practice Act which contains the rules and statutes that vets must follow. However, in Texas, a statute was put in place stating that their Practice Act does not apply to vets who work in shelters and shelters are not required to have a veterinarian on staff. This is because vet boards focus on promoting the business of private practice and have traditionally taken very little interest in animal shelters or the systems they operate by. The board gets involved with a shelter only if a formal complaint is lodged and they have long considered shelters to be little more than killing places. 'Why would a licensed veterinarian want to treat a bunch of animals who are just going to be killed?' has been the general attitude toward animal shelters.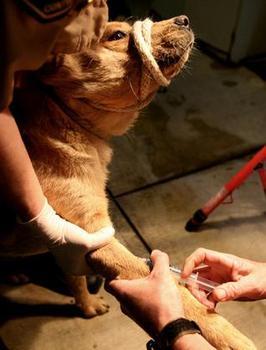 So who euthanizes the nearly 700,000 animals put to death in Texas shelters each year?
According to legislation passed in the 1970s, anyone who takes a 12 hour "Euthanasia Certification" class is then able to administer lethal injection to animals. This allows shelters to easily obtain the barbiturate drugs used for euthanasia (just a byproduct of the original reason for the statute, allowing cattle ranchers to obtain and administer penicillin to their cows, thereby saving the cattle industry truckloads of money.) and for 40 years or so the killing machine has rolled efficiently along without much fuss. But then Austin TX became the largest city in the nation to achieve and maintain No-Kill status (90 percent live outcome or higher, a feat long considered impossible for a city of that size) and Austin Pets Alive! became a source of inspiration and hope in the movement to end the mass killing of pets, garnering the attention of the animal-loving public as well as the media.
They also caught the attention of the Texas Vet Board.
Animals are being saved in record numbers now, and public opinion on animal rights is changing. Pets are no longer automatically considered just the property of their owners; many people feel their animals are family members. In progressive cities like Austin, people are taking up the fight to give animals the right to life and long held beliefs about how animals should be treated, especially animals in shelters, is giving way to a more compassionate collective mindset.
And then the complaint against Dr. Jefferson was filed and the eyes of the Vet Board settled squarely on her, the leader of this upstart little non-profit that has been consistently rocking the status quo.
The main issue the Board initially took regarding the complaint against Jefferson is that she diagnosed a condition and prescribed meds over electronic means (the phone) which is prohibited by the Vet Practice Act. But since, by the board's own statute, vets in shelters are exempt from the Practice Act, Jefferson thought she was in compliance. During the course of the investigation interviews, she made clear the reasons why the APA! model works. She explained the programs they've developed that empower volunteers to help care for the animals, that all of their processes are automated and that this has made it possible to develop a cost effective, high volume shelter that can actually compete with the euthanasia machine. The shelter is not in competition with private practice at all. In fact they are saving thousands of animals per year who's adopters then seek out the services of private practice veterinarians to care for their new pets.
Since those facts came to light, a whole new issue of jurisdiction has been raised and suddenly the Vet Board has taken an interest in what's going on in Texas shelters. Now that far more animals are being saved instead of killed, shelters are dispensing a lot of vaccines, heart worm meds and flea and tick protection that could potentially be supplied by veterinarians -- thereby benefiting vets financially. Now the Board is seeking to amend its statutes to require shelter vets to abide by the Vet Practice Act. This may sound logical enough, but the reality of it would mean that volunteers and fosters would not be allowed to administer medicine to the animals, draw blood for tests or otherwise offer medical care. Shelters would be required to have a licensed vet to personally examine every animal on intake. No one but paid staff supervised directly by the veterinarian would be able to even give so much as a pill to an animal.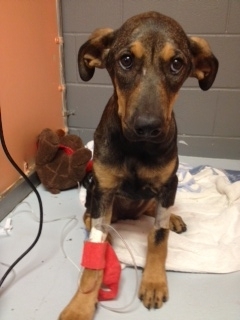 It hardly needs saying that the vast majority of Texas shelters just don't have the luxury of employing a vet, and the proposed amendments would have a catastrophic effect on the shelter system state-wide. Shelters would essentially have to chose between saving lives with the established standard of animal rescue care, or staying in compliance with the state board's rule. This would automatically mean more killing because that would be all they could afford . The case has been ongoing for the past several years now with the Vet Board continuing to press forward with proceedings to get jurisdiction over shelter vets, despite State law which clearly prohibits it. As with any other legal proceedings involving any State Board, the Office of TX Attorney General Greg Abbott and his legal team are overseeing the lawsuit and Abbott is defending the Board's egregious actions.
As for the case against Jefferson, the next court date is August 4 when a judge will at last decide whether or not the Vet Board actually has jurisdiction and can move ahead with penalizing her. If so, they are seeking to put her veterinary license on probationary suspension for several years, along with two thousand dollars in fines and mandatory continuing education classes.
One assumes they won't be sending her to Euthanasia Certification.....
REAL LIFE. REAL NEWS. REAL VOICES.
Help us tell more of the stories that matter from voices that too often remain unheard.